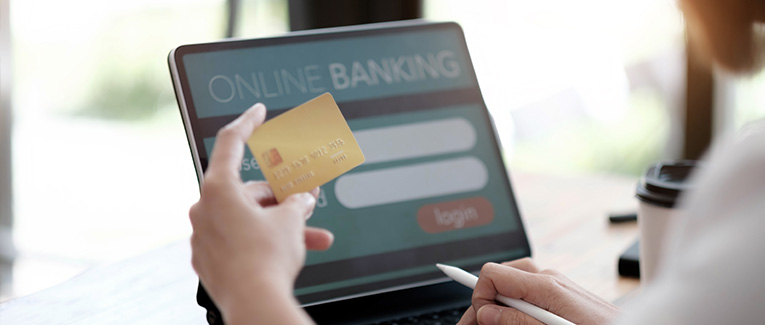 Online banking is also known as e-Banking, electronic banking, internet banking, home banking, or PC banking. Online banking is very useful and convenient, especially if you travel often. Of course, it is very important for any bank to provide a secure and easy to understand website. Many banks don't charge extra for online banking. Some banks provide online banking for free, but may charge for online bill pay. It may also depend on the type of bank account you have. The higher the minimum balance requirement, the more likely you'll receive extra services for reduced charges or for free.
Unlike regular branches, you can access online banking 24/7. Online transactions may be processed more quickly than regular transactions. There may be a learning curve in using online banking. However, if the bank's website is straightforward, and if you are generally familiar with operating a computer, you shouldn't have any trouble learning quickly.
Whether you use regular banking and/or online banking, make sure to reconcile the transactions in the bank statement with your own records every month. Check whether there are any unauthorized transactions or if there are any discrepancies. It is better to resolve any problems as soon as possible.
Getting Started
Banking online can be performed in two different ways: Your regular bank may offer online banking, or you can sign up with a bank that is solely online.
If your account is with a regular bank, you can go to the branch for tasks that can't be done online, but you can also perform many tasks online. These banks are referred to as "brick-to-click" banks.
If you choose an online bank that has no physical branches or ATMs, they may offer you better interest rates at lower fees. However, you will have to mail your deposits to them and may have to pay a fee to use ATMs that belong to other banks. When choosing a strictly online bank, make sure the bank is FDIC insured, has good customer service, and long customer service hours. Ally Bank, Barclays Bank, Synchrony Bank, etc. are completely online banks.
Getting started with online banking is quite straightforward. Contact your bank and express your interest in online banking. They may ask you to sign some forms. You will be assigned a username and password, or you can just go to the bank's website and register yourself. Keep your username and password a secret. Some banks may have more protection mechanisms than just a username and password, e.g., Bank of America has a "site key".
Safety
Safety of your confidential information may be the biggest concern in online banking. However, if you are careful and follow these tips, you will enjoy the benefits without compromising safety.
Always use an internet browser that supports secure websites (https at the start of the web address and a yellow color lock symbol) and supports high (128 bit or higher) encryption.


Make sure that the bank website you are visiting is really the bank's authentic web site. Make sure that you have not made any typing mistakes in the site address. There may be a fraudulent website that looks just like your bank's website but has a slightly different domain name. You can consider bookmarking your bank's website.


If you receive an email that appears to be from your bank, but it asks for your username, password, or any bank account information, don't click on any of its links. The website may look just like your bank's website but it may be a phishing site trying to collect your information. If you have any doubt, don't call the phone number provided in that email. Call the bank phone number you know is genuine and ask your questions.


Never reveal your PIN number or password to anyone, even to a bank employee.


Whenever you perform an online transaction, make sure to print the confirmation of the transaction and keep it with you until you see that transaction in the monthly statement.


Before you decide to put your money in a strictly online bank, make sure that it is a legitimate bank. They must have a physical address and legitimate contact information. You can also contact the FDIC to confirm they are insured. Not all banks are insured by the FDIC, as they may be chartered overseas.

Online Tasks
Depending on your bank, you may be able to do many financial transactions and related tasks online:
You can view several or all of your bank accounts, credit cards accounts, CDs, IRAs, and securities online. If the account is only in your name or in a joint name, you can view them without difficulty. However, if some accounts are only in your spouse's name and if you want to see the consolidated view, your spouse may need to prepare, sign, and submit a durable power of attorney for the same in your name.


Checking account balances.


Instantly transfer funds between accounts.


View credit and debit transactions. They are usually posted within 1-2 days. You don't have to wait for monthly paper statements to arrive in the mail.


Balance a checkbook.


Electronically pay bills online. More details in the section below.


Order regular checkbooks or order travelers checks and cashier's checks


Order stop payment requests.


Apply for various loans, such as personal, home equity, mortgage, student, auto, etc.


Retrieve copies of past statements. You may also choose not to receive any paper statements by mail. If this is the case, you may be able to retrieve past statements for a duration such as 7 years. In fact, some banks may not send paper statements by mail at all.


Retrieve copies of cashed checks. There may be a limit on the past duration for which you can retrieve the images. Depending on the bank, there may be a limit to how many images you can retrieve per month, and there may be a charge (like $1/image) for extra images.


Receive information about investment products and services.


Set up an email or SMS alerts for a wide variety of tasks such as for your daily balance, whenever a check cashes, a deposit is posted, balance falls below a certain level, etc.
Financial Software Integration
If you use financial software like Quicken of Microsoft Money to track your income and expenses, your bank may allow you to directly download transactions into the software. This means you don't have to enter the transactions by hand. You save a lot of time, and you may reduce the number of errors due to manually entering data.
Your bank may charge a small monthly fee for this convenience. However, it is well worth the price for most people.
Online Bill Pay
Online bill payment is an integral and important part of online banking. Some banks may charge you a monthly fee for online banking, while many provide it at no charge. Once you are set up with online bill pay, you will find it very convenient. You don't have to spend time and money licking envelopes, affixing stamps, and worrying about checks lost in the mail.
Most people pay various monthly bills, such as rent or mortgage, water bills, gas bills, electricity bills, phone bills, car loans, cable bills, internet bills, newspaper delivery bills, and credit card bills. Therefore, online bill pay is convenient.
Payee
Before you pay a bill to anyone, you will have to add the payee. Many large banks already have a lot of payees on their list. Commonly used payees, such as for the gas bill, electricity bill, water bill, cable bill, phone bill, and internet bill, may already be there.
If you can't find a particular payee, you can easily add them by entering all the relevant information, such as their name, address, and your account number.
You have to add the payee just once. Of course, you can change or delete payees and add more payees at any time.
Sometimes companies (payees) change their mailing address or your account without giving an advance notice or warning. You should make sure that all the account details are accurate before scheduling bill pay.
Payments
You can opt to pay a particular payee once, or you can set up recurring payments so a particular amount of money is paid to that payee every month.
You may also be able to specify the particular date for the payment.
Some payees (especially utility companies) are able to accept electronic payments. If this is the case, money will be automatically deducted from your account and deposited into the payee's account. If a payee does not accept electronic payments (e.g., the person who mows your lawn), the bank will print and mail a physical check a few days before the scheduled date. Money will be deducted from your account when that check clears.
There may be an activity page on the website that will list paid bills, scheduled bills, pending bills, etc.
Electronic Bills
Many payees may send electronic bills rather than paper bills. You may be able to integrate electronic bills with electronic bill pay for even more convenience.

We are sorry that this post was not useful for you!
Let us improve this post!
Tell us how we can improve this post?