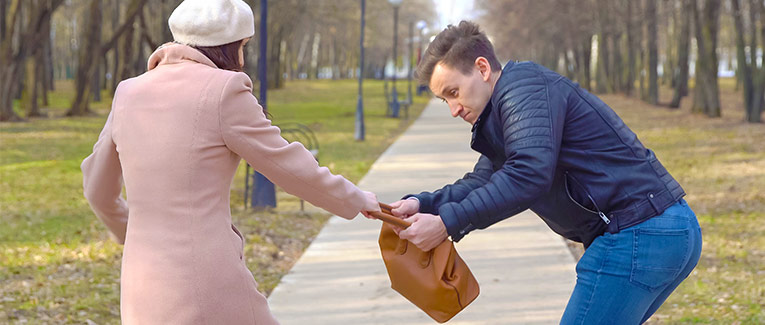 One travels for a sense of satisfaction, a keenness for discovery, and hope for recharging. No one expects to be robbed when traveling.
That said, let's acknowledge that all is not lost. Let's discuss what to do if robbed on a trip. Then, you can get up, dust yourself off, and enjoy your vacation.
What To Do If Robbed On A Trip – 4 Tips
1. Don't Let the Situation Cloud Your Judgement
Do not panic when you realize that you've been robbed while abroad. Take a breath and calm down.
A study published in Sage journals found that such an event can have a long-term effect on the victim's life. One such effect is increased fear of crime.
Despite all of the above, you can stay calm enough to handle the situation. Slow down and gather information about your surroundings and what you lost. Think about what you need to do next.
No matter what, never ask yourself "what if?" It is one of the worst questions you could ask yourself during a crisis. If you need help calming down, call a friend or someone you trust and talk to them.
2. Call the Police
Now that you have picked yourself up, we can go on with how to deal with robbery on a trip.
Always get the local law enforcement involved. After reporting the robbery to the police, inform whoever is in charge of the location of the crime.
Also, get a copy of the police report after filing it. You will need it to replace all of your documents and credit cards. Additionally, you will need the police report to claim your loss on your travel insurance policy if you have one.
The police might direct you to local aid offices or other organizations that may be of help to a traveler like you. The police report will help also the cops find you if someone hands in your belongings at the station.
3. Steps to Replacing Your Belongings
Besides a lot of paperwork, you will need to produce evidence to support your claims. You will have to produce a police report to prove that you lost your belongings. You will also have to produce identification documents to show that it is in fact you that is making the claim.
If you lost all your identification documents too, it is very easy to get your hands on them. You can ask your family to mail a scanned copy of whatever documents are necessary. You can also download any documents you might have stored in the cloud.
Always make sure that you have electronic copies of your important documents like your ID or your passport.
You will also need the contact information of your credit card issuer, insurance provider, and embassy.
4. Replacing Your Passport
It should be your top priority to get a replacement passport. Contact your embassy or consulate and ask them if you need an appointment.
It would help if you printed out all the required forms and filled them out beforehand. Don't worry if you do not have a photocopy of your passport; the embassy staff can look you up on their database.
If you are an American, you can visit travel.state.gov to get information about the procedure. The American Citizen Services (ACS) office will help you replace your lost passport. A replacement passport costs around $140, and you'll get it within a few days.
If you are a Canadian, you will have to report the loss to your embassy or consulate, as well as the local police. The report will take some time to process since Canadian authorities will conduct an investigation of their own. You will have to submit an application form, a declaration, two passport photos, and proof of citizenship.
Don't Let the Robbery Continue
Unless you want to make yourself a repetitive victim, you need to know the correct steps to follow after being robbed.
In the present day, a lost credit or debit card can turn out to be a bigger crime than what it looks like. There are plenty of methods that robbers use to steal money from your account. You must cancel all your lost cards as soon as possible.
By now you will have already filed a police report. Up next, call your credit card company, report the theft, and ask them to block your card. Once this process is complete, you will get a new card, and your old one will be blocked from further purchases.
Reporting a lost card as soon as possible is advisable to avoid any unnecessary charges. According to the Federal Fair Credit Billing Act, you need not pay any charges if you report the loss of your card before unauthorized use. You can find the contact information to report a stolen or a lost card issued by major card issuers below.
| | |
| --- | --- |
| Card Issuer | Reporting Theft or Loss |
| American Express | Call 800-528-4800 |
| Bank of America | Sign in to online banking, or Call 800-732-9194 or 757-677-4701 (if you're outside the U.S.) |
| Capital One | Use your online account or the Capital One app. Call 800-227-4825 (U.S.) or 800-934-2001 (outside the U.S.). |
| Chase | Call 800-432-3117 or 302-594-8200 (if you're outside the U.S.) |
| Citi | Call 1-800-950-5114. |
| Discover | Call 1-800-DISCOVER or 1-801-902-3100 (if you're outside the U.S.). You can also use the Discover mobile app. |
Making an Insurance Claim
To make a claim with your travel insurance, you will need the police report that was filed earlier. Having written reports from other authorities involved can also be of great help. Also, note any time limits for reporting a theft on a trip or loss in your insurance policy documents. File your claim before such stipulated time is over.
Additionally, provide your emergency contact number to your insurance provider. This might come in handy during situations when you cannot make the call. Also, make sure you hold on to the receipt of any purchases you made. Travel insurance companies need you to produce receipts as proof during claims.
If your insurer rejects your claim, it does not mean that you cannot appeal. Ask why they rejected your claim, and what the appeal procedures are.
Throughout the claim process, keep an eye out for emails from recovery agencies. Also, make sure that you avoid negotiating with service providers.
How to Access Your Money if you were Robbed on a Trip
You can:
Receive a replacement credit card within two to three days anywhere around the world
Use internet banking and digital wallets to help you pay until you get your replacement card
Transfer money from your home country to a bank wherever you are
Ask your friends or family to send you money through a money transfer agent like Western Union
It is easier to use digital wallets, as international money transfer requires a few days.
Now that you know what to do if robbed on a trip, you won't freeze if the unthinkable happens to you. If you have taken care of almost everything mentioned above to handle the situation, try to enjoy your vacation. Work out the time required to replace your passport and credit cards, and enjoy your trip. Inform your travel agent, and move your dates around to match your needs. Remember, wayward clouds of trouble are floating everywhere, and one of them bursting over your head shouldn't dampen your spirit.
We are sorry that this post was not useful for you!
Let us improve this post!
Tell us how we can improve this post?