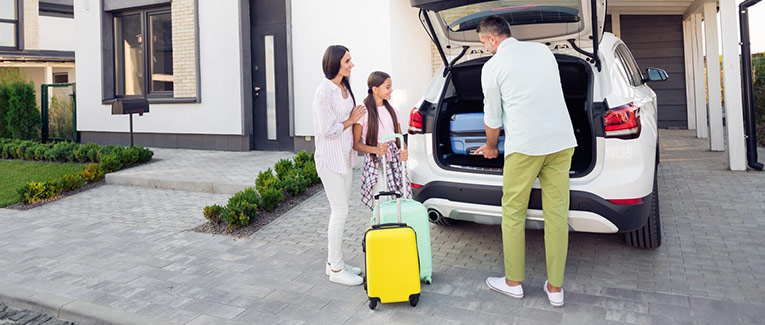 There are many aspects to consider when traveling abroad. You have to book flights, hotels, and excursions. You have to make sure that you have packed all of the necessities, and you have to purchase travel insurance or travel medical insurance to be prepared in case anything goes wrong on your trip.
However, while your mind is so focused on getting away and preparing for everything abroad, you might forget that you also need to keep your home safe while you are away.
In this article, learn the techniques that pro travelers use to keep their homes safe while traveling abroad.
10 Techniques to Secure Your Home While You're Away
1. Inform friends and neighbors
It's easiest for a neighbor to keep an eye on your house, because they live right next door. In addition, ask a friend who lives nearby to drop by once every couple of days. You will feel relaxed receiving an 'everything is okay' text from them.
If possible, alert your local police if you leave town for more than one week. The police can drive by your house while on patrol. This tip is especially beneficial if you're from a small town.
2. Unplug the appliances
The best way to save money on electric bills while you're away is to unplug your appliances.
Devices such as computers, TVs, and set-top boxes draw power even when they're turned off. According to the National Resources Defense Council, the average household in Northern California pays up to $440 a year for electricity due to plugged in devices.
A plugged-in appliance also increases the chances of a fire.
Stay safe and save money by unplugging your appliances.
3. Use a light switch timer
Criminals watch house activities long before they attempt a burglary. Lights always switched off indicate no one is in the house, allowing criminals to make a move.
However, keeping the lights on 24/7 does not quite solve the problem. Imagine a house with all the lights on at 10 in the morning. The scenario draws more attention to the house. The more eyes on your house, the higher the chances of a crime.
Furthermore, light bulbs heat up when they remain on for long hours, and this could ignite a fire. A light switch timer offers a solution to the issue.
Program the timer to be on a schedule, and the device will turn the lights on and off as programmed. You can also connect the timer with your smartphone and turn the lights on and off whenever you wish.
4. Put mail and newspapers on hold
When you pass by a house with newspapers and mail bulging out of the mailbox, you assume that no one is home.
Criminals think the same way.
Always make sure to put mail and newspapers on hold before traveling abroad. You can also ask a friend or neighbor to collect them if you cannot put them on hold.
5. Set the heat at a safe temperature
You might think it is a good idea to turn your thermostat off while you are away, so that you pay lower electricity bills. However, if it is too cold outside you will return to a house with frozen pipes.
Sarah Widder, a research engineer at the Energy Department's Pacific Northwest National Lab, suggests setting the thermostat to 50-55 degrees Fahrenheit if you're traveling in winter. The temperature stops the pipes from freezing.
If you're traveling in summer, set the temperature to 85-90 degrees Fahrenheit. Never set your thermostat higher than 85-90 degrees Fahrenheit when traveling. This could cause damage to any electronics that you have.
6. Leave the curtains as you would every day
Closed curtains block the view of your empty home, so that's how you should leave the curtains, right? The reality differs.
While criminals can't peek inside your house, the same goes for the police, a friend, and neighbors. Leave your curtains as you do every day. Move expensive items such as computers and TVs from view.
In addition, the police, friends, and neighbors will be able to peek in any time to make sure that everything is okay.
7. Round up the spare keys
Security expert Emily Long advises removing spare keys from their usual hideouts.
Hand over the keys to trusted friends and neighbors, so that they will be able to open the house if there's an emergency.
8. Hire a plow company if there's a storm or snowfall
What if there's a storm or snowfall while you're away?
The piled-up snow or leaves are enough to tip off criminals. Ask a friend or neighbor to call you if there's a storm or snowfall.
Then, you can call a plow company to clear up the snow or leaves. You can ask a friend or neighbor to plow for you as well.
9. Install a home security system
A home security system uses sensors placed in your home, and whenever the sensors detect any activity such as doors opening, it alerts you and the police.
Rutgers University School of Criminal Justice conducted a study on the effectiveness of home security systems. The results showed that as more people installed home security systems, burglaries decreased.
It is wise to install a home security system to protect your house against break-ins.
10. Never post about your trip on social media while you're away
Avoid posting about your trip on social media while you're away, as this tips off criminals to the fact that your house is empty.
Never post your phone number on social media. Criminals can link the phone number with your address without much hassle.
Avoid anything out-of-the-ordinary
Keep your house the way you would if you were present. Criminals won't notice that you are not home if they can't spot a difference. Thus, your home will be safe while you're abroad.
We are sorry that this post was not useful for you!
Let us improve this post!
Tell us how we can improve this post?