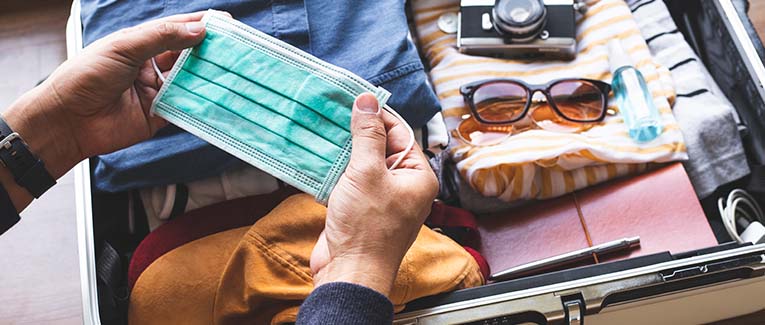 Note: This article was written in 2020, and some of the information contained below may now seem outdated or irrelevant. However, you may still find it useful for general travel safety.
The events of 2020 may have changed travel forever. Travelers need to jump through many hoops — PCR tests, vaccination passports, and accepting the risks of more lockdowns.
Travel packing is not the same anymore. You need to know how to pack for a vacation in a pandemic; it's very different from routine travel, as you'll realize on reading further.
15 Suggestions For How To Pack For A Vacation In A Pandemic
Many are still wondering what to pack when traveling during Covid, and if it is even safe to travel by airplane during the Covid-19 pandemic.
This checklist of Covid travel items and other tips to protect against coronavirus will help ensure your safety on your trip.
1. Bring Seat Covers
Disposable seat covers are designed to fit seats of all shapes and sizes. Use these in high-traffic areas like the airport, or at restaurants for an extra layer of protection.
This accessory may seem excessive to some, but if it'll give you an extra sense of comfort, it is worth packing.
A seat cover makes it a bit safer to travel by airplane. Certainly, among the most valuable tips for flying during COVID, and relevant even beyond it.
2. Upgrade Your Credit Card to Contactless
A traditional credit card is usually handled by the cashier, then handed back to you. This allows for germs to pass between the surfaces.
If you have a contactless credit card, you can wave it over the machine's reader to complete the transaction. This saves time and prevents the spread of germs.
Apply for a contactless card at least a couple of weeks before you take your trip. Some locations may not accept this type of card, so make sure normal transactions are also possible with the new card.
3. Purchase A Multipurpose Safety Key
A safety key is a lightweight, multipurpose tool designed to battle the spread of Covid. It lets you complete tasks without touching surfaces.
You can open and close doors, handle transactions at the ATM, and even push and pull shopping carts without needing to touch anything.
You will have to wipe the safety key after every use, but it is safer than directly touching surfaces.
4. Buy A Mask Case
Extra masks were parts of all traveling kit during COVID peaks; you'd remember.
When you take off your mask to eat at restaurants, it's not advisable to set it down on the table. It will end up collecting germs, which makes it unsafe. Stuffing it into your handbag isn't a good option either.
Instead, put it inside a dedicated mask case. You can buy mask cases that are lightweight and won't add any bulk to your bag. The case can also store your extra masks.
5. Buy A Mask Chain While You're at It
A mask chain is a functional and fashionable way to keep your face mask safe when you're not using it. The chain attaches to the ear loop of your mask and hangs around your neck.
When you want to take the mask off, you can let it hang around your neck. Since you won't be placing the mask on any surfaces, there's less risk of transferring germs.
6. Buy Travel Medical Insurance
Don't be left wondering what to travel with during COVID-like pandemics. Not everything is tangible.
Previously, traveling was a leisure activity meant to be full of fun experiences and mirth. Today, there may be more risks involved, but safe travel is still possible if you take the proper precautions.
It has always been recommended that you buy travel medical insurance or travel insurance before any vacation. But now, it is an indispensable part of your packing checklist. Be sure to look for an insurance plan that can cover Covid-19 just like any other eligible medical condition after the effective date of the policy.
7. UV Sanitizer to Reduce Germs
Another pandemic travels essential.
Treating objects with UV rays is a simple way to rid them of germs and bacteria. A UV sanitizer is non-toxic and effective against SARS-CoV-2 and most of its mutations.
Depending on the type, a UV sanitizer can be used on anything. Most portable sanitizers are compact and suitable for treating mobile devices, keys, wallets, and other smaller items.
8. Hand Sanitizer
Though it features lower in this list, hand sanitizer is a travel essential during coronavirus. Pocket-sized sanitizer bottles are the best for travel purposes. Though you aren't allowed to bring most liquids onboard an aircraft in anything larger than 3.4-ounce quantities, the TSA has made a temporary exception for hand sanitizer. Until further notice, travelers are allowed to bring up to 12 ounces of liquid hand sanitizer aboard commercial flights.
9. Disinfectant Wipes
Even if you've seen a waiter clean a table you're about to sit down at, you might still have some paranoia. When this happens, the only thing that can quell the anxiety is if you wipe down the table yourself.
Always keep a pack of disinfectant wipes handy when you're out and about. Before touching any surface, clean it with a disinfectant wipe. You will reduce your chances of coming in contact with germs, and once you finish using the surface, you can clean it again so you don't leave any of your germs behind.
10. A Selfie Stick (It's Not Hated Anymore)
You don't want to ask strangers to handle your phone to take your picture.
Don't hesitate to pack a selfie stick for your next vacation. If someone gives you the stink eye in public, remind them about the pandemic.
11. Portable Phone Charger
Most public places are equipped with a charging port. The thing is, public charging ports are to humans what lightbulbs are to moths.
So, be a smart person and carry a portable charger. That, or forget charging your phone until you get to a private charging port.
12. Carry Your Own Pen
Who would've thought that such a simple thing as a pen is a potential threat to your life? Well, after the dire events of 2020, every surface could be a threat.
If you lose your luggage at the airport, you will have to fill out an extensive number of forms to get it back. Your hotel may also ask for your signature. It's sensible to always be armed with a pen for any situation.
13. A Separately-Packed Change of Clothes
Ideally, you should disrobe, take a shower, and change your clothes right after you get to your destination. But it isn't prudent to scavenge through your bag to look for clothes when you're all germ-ridden.
This first change of clothes should be packed in an isolated area of your bag. You can also put it in a travel cube to keep it separated from the rest of your possessions. This way, you won't risk getting any of your other clothes contaminated.
If you're going to be meandering around on your vacation, remember to update this area of your bag with fresh clothes every day. Make it a point to pick out a change of clothes before you head out of your hotel room.
14. Personal Water Bottle
You can no longer rely on public water fountains. Always carry a water bottle with you, even if you're only stepping out for a couple of hours.
This reduces costs, and is helpful for the environment since you don't need to pay for single-use plastic bottles. Some governments recommend drinking warm water to fight cold symptoms. So, if you can, carry warm water in a vacuum-sealed water bottle.
15. Covid Travel Kit
To make packing easier for you, you can buy a pre-made travel safety kit for Covid-19. The kit will contain most of the items already mentioned here. You can supplement it with the missing things from this list.
Your first trip after the pandemic may be a scary journey. But, as you get used to it, the fear dies down, and the old excitement of going on vacation returns. Now that you know how to pack for a vacation in a pandemic, strip away your anxiety, develop your personalized checklist, and share it with your friends and family.
We are sorry that this post was not useful for you!
Let us improve this post!
Tell us how we can improve this post?