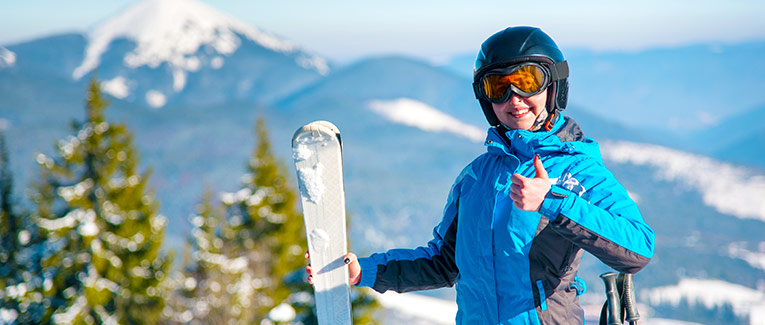 The feeling of zipping through fresh snow is indescribable and unparalleled.
With a 51% increase in ski gear shopping and a whopping 151% spike of people stocking up on split boards, it's safe to say that skiing and snowboarding popularity is skyrocketing.
You might be wondering how safe is skiing. You'll find the answer here.
You might be ready to jump on the bandwagon and plan a snowy adventure, but first, find out how to have the best experience from start to finish. In the next five minutes, learn how to stay safe while skiing and snowboarding.
How to Stay Safe While Skiing and Snowboarding – Before Setting Off:
Keep your body healthy
Your body can only keep up with your mind's daring desires when you're at your best. Focus on building base strength by conditioning your lower body, core, and back. Start training at least 6-8 weeks before your trip.
Try breathing techniques and cold exposure for quick acclimatization. You can start small with a minute-long cold shower, and five minutes of mindful deep breathing every morning.
You should eat nutritiously and hydrate. Carbs and protein are your friends for building those muscles that'll be doing all the heavy lifting. Before skiing, a smoothie is ideal, as it'll be light on the stomach, but dense enough for sustenance.
When planning your ski or snowboard trip, it is essential that you purchase travel medical insurance or travel insurance that can provide coverage for the activity you intend to participate in. If you get injured or sick, or suffer a mishap of some sort, your insurance can provide coverage that could save you a significant amount of money.
Closer to the day that you go skiing, limit or cut out the unhealthy substances. Many of them can undo the effort that you put in towards your mental and physical betterment. Alcohol will dehydrate you, smoking will affect your respiration, and others can impact your mindset. Thus, don't consume these to minimize snowboarding risks. You can't take on the slopes without a clear head.
How to Stay Safe While Skiing and Snowboarding – Pack appropriate clothing and accessories. The essentials are:
Head – Goggles, helmet, beanie, and earmuffs that are sturdy and fit snugly
Hands – Waterproof gloves or mittens made from an insulating material
Feet – Boots or snowshoes that'll give you warmth, grip, and comfort through long hours of wear
Body – Wool, fleece, or synthetic thermal wear, tops, pants, jacket, and socks
Daypack – Lightweight, water-resistant, with straps to secure around waist and sternum
Additional necessities to carry:
Navigation and communication devices – Compass, mobile phone, GPS watch
Safety tools – Snow shovel, snow probe, avalanche tracker, Swiss Army knife
Headlamp or flashlight and spare batteries
First-aid kit and medicines
Snacks and insulated water bottle
How to Stay Safe While Skiing and Snowboarding – Get your gear together
Rent or buy good quality snowboarding safety gear. The price tag shouldn't determine your decision. Rather, make sure that your snowboarding equipment is professionally made and tested for compatibility and endurance. Compare options before buying. Also, don't neglect the upkeep once you're back home if you want the gear to last you beyond a single season.
How to Stay Safe While Skiing and Snowboarding – Be on top of your skin protection game
Wear a moisturizer, lip balm, and a sunscreen that's SPF 30 or more. Keep reapplying them throughout the day irrespective of how mild the sun and cold seem.
How to Stay Safe While Skiing and Snowboarding – Know the weather conditions
Check the weather and avalanche forecast before getting to the area and when hitting the slopes. The last thing you want to be surprised by are unfavorable conditions.
During:
If you're a newbie, learn from an instructor over friends or family. They're experts in the lay of the land and will guide you until your understanding of the basics is solid. Choose between private or group lessons. The former can help you learn fast, while the latter can be cheaper.
Never venture off alone, especially as a beginner. Buddy up with someone, even within a group, so you know exactly who has your back and whose you need to have. It'll be easy to get carried away on the adrenaline rush, but keeping pace with your partner is crucial to get assistance in case of emergencies.
Research and pick the right spot based on terrain, snowfall, proximity, facilities, and your priorities. Remember that soft snow is easier to navigate than icy slush. Start on small slopes initially, and scale up as you get better.
Once on your board or skis, keep your knees bent and hips squared forward for balance and speed control. You'll know your knees are bent enough when they are over your toes without your heel lifting from the back of your boot. Look up to see what's ahead on the trail instead of staring below and becoming prone to tumble.
It is just as important for your shoulders to be steady and facing forward while the lower body works hard. Allow your body to adapt its angle and position until you find the sweet spot. Don't be rigid. Stay aligned and you'll be fine.
When snowboarding, change your dominant leg intermittently to avoid wear out. Prolonged periods of going downhill will put pressure on whichever leg is in front, while the back leg takes the brunt on turns and steering. Switching it up will also prevent you from getting too comfortable in one stance.
Bravado will be tempting as you get attuned, but err on the side of caution. It'll save you from risking major injuries. At the same time, give yourself a pat on the back for every new technique you get right, to appreciate your abilities.
After:
Resting and recovery are key. Stretch to ensure your muscles don't seize, and to minimize the soreness that'll follow. Kick off your boots and sink into a warm bath. Extend the relaxing with a massage, and be sure to get a full night's sleep.
Walk around the gorgeous town, sip on a nice drink, and share laughs over plates of delicacies. You'll be exhausted from the hours you spent outdoors, so try not to go crazy. But, do have your well-deserved fun.
Practice does make perfect. Your gear may gather dust when the season is over, but consistently improving your skills and maintaining wellbeing is the only way you won't be back to square one for the next season.
Now that you know how to stay safe while skiing and snowboarding, we hope you'll have much more fun out there.
We are sorry that this post was not useful for you!
Let us improve this post!
Tell us how we can improve this post?