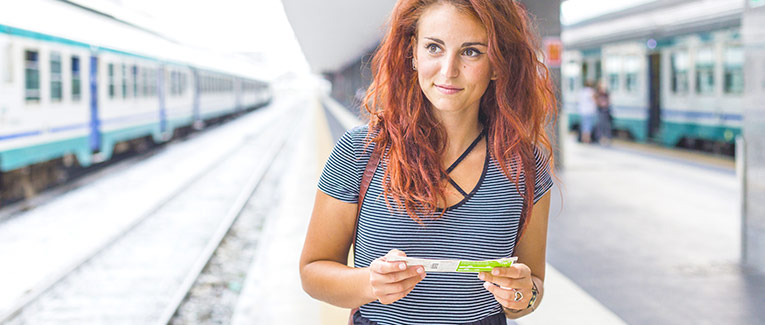 Rail passes offer you the unique flexibility to travel to multiple destinations with a single pass. Travelers on a shoestring budget often consider getting one to save money. But are these rail passes always worth it? How do you calculate if your rail pass is cost-effective?
If you are planning short-distance travels, a single-way ticket may be cheaper than a pass. On the other hand, if you are planning a whirlwind tour, a rail pass might just be what you need. So, which is the better option? To calculate this, the best way is to plan your itinerary ahead. Once you know your destination, sum up individual ticket values, and compare them with the value of the rail pass.
Still confused? We compared three international rail passes to understand the value they bring, and the results might just surprise you.
A Comparison of Three International Rail Passes 
Eurail Pass – Europe
Eurail is a consortium of European railways, spanning across 33 countries, and includes high-speed, intercity, overnight sleepers, regional, and suburban trains. The Eurail Pass is intended only for tourists. You can purchase it beforehand as a printed pass delivered to your residence, or as a mobile pass accessible from your smartphone.
Variants: Eurail Passes comes in two variants – Global Pass and One-Country Pass. To book tickets or compare different options, visit the official Eurail website.
Global Pass
Continuous: Unlimited travel to any Eurail participant country; duration – 15 days to 3 months.
Flexi: 4 to 15 days of travel to any Eurail participant country within a 1 to 2-month period.
One-Country Pass: Up to 8 days travel within 30 days in one specific country.
Participating Regions:
33 European countries including the UK. Eurail does not cover Albania, Ukraine, Belarus, Russia, or Moldova.
Points to Consider:
In most cases, a Eurail pass allows you to board any train, but reservations are almost always charged extra – especially on high-speed, overnight coaches, and long-distance trains. Depending on the region, the reservation fee varies from as low as €10 to as high as €45. For instance, in Italy, there is a flat €15 reservation charge on high-speed intercity trains, while reservation charges to and from France will typically cost you more.
Reservation fees on high-speed and long-distance trains often vary according to the demand. Tickets are cheaper when booked months in advance, and get more expensive as the departure date gets closer. On the other hand, regional trains often have fixed-priced tickets.
Buying single tickets in advance is almost always cheaper than getting a rail pass. But advance tickets are often nonrefundable, which means you lose the flexibility to change travel dates.
When Should You Buy a Eurail Pass?
If you are planning to visit several countries in a short period
If you don't have a fixed itinerary and wish to keep flexible travel plans
Eurail offers discounts on ferries tickets, major attractions, and hostel stays. If you plan to use your pass in conjunction with these, it might be a cost-saver.
Youth Pass, valid for ages 27 and below, provides added discount to young travelers
When not to Buy a Eurail Pass?
If you already have a fixed itinerary, in which case you can pre-book tickets and take advantage of advance-purchase discounts
If you are traveling in southern or eastern Europe where fares are cheaper and train routes are not that widespread
There are other rail passes in Switzerland, Germany, and Spain that may prove to be more cost-effective than the Eurail pass. For example, the Renfe Spain Pass offers a better value than the Eurail one country pass.
JR Pass – Japan
The Japan Rail Pass is a joint offering of six different companies that comprise the Japan Railways Group. Targeted exclusively at tourists, the JR Pass allows travelers with the temporary visa stamp on their passport to use the Shinkansen (or bullet trains), limited express, express, rapid, or local trains. But there are two exceptions to this: The bullet trains – Nozomi and Mizuho – are not included in the pass.
Variants:
The JR Pass comes in two variants – Green Cars Pass and Standard Cars Pass can each be purchased for 7, 14, and 21 days. You can either purchase the ticket online, get it from a ticket counter, or get an Exchange Order at a JR-designated sales office or agent overseas. To compare prices and train options or to book tickets, look up Japan Rail Pass online.
Participating Transport Routes:
Railway:
Tokyo Monorail
Narita Express – From Narita Airport to Tokyo
JR lines within Tokyo
Aoimori Railway – valid only for local or rapid service trains for the segments between Hachinohe and Aomori, Aomori and Noheji, and Hachinohe and Noheji.
IR Ishikawa Railway – valid only for traveling the entire segment between Kanazawa and Tsubata on local or limited express.
Ainokaze Toyama Railway – valid only for traveling the entire segment between Toyama and Takaoka on local trains.
Bus:
Local Lines of JR Bus – Hokkaido, Tohoku, Kanto, Tokai, West Japan, Chugoku, Shikoku, Kyushu. Not valid for express bus routes operated by JR Bus.
Ferry:
JR West Miyajima Ferry. Not valid for Hydrofoil ferry service (JR-KYUSHU) between Hakata and Pusan (Korea).
Points To Consider:
The JR Pass might be cheaper if you purchase it outside Japan, through Exchange Order, and is valid for 30 days from activation.
Some trains may not have non-reserved seats. If you need to book reserved seats, you can do so at a reserved-seat ticket machine, or any JR station ticket counter. Seat reservation doesn't cost any additional money. You can check which trains require compulsory reservation through HyperDia.com.
When to Buy a JR Pass
If you plan to take at least one long-distance trip on bullet trains, a 7-day JR pass might be cost-effective. A round-trip ticket from Tokyo to Osaka (including airport transfer fares) will cost you more than a 7-day pass.
If you plan to use multiple modes of transport (e.g., bus, ferry) within the eligible routes
When you have already planned your routes and individual ticket fares seem higher than getting a pass.
When not to Buy a JR pass
If you are a foreign national residing in Japan, you are not eligible for the JR pass
If you plan to explore only a specific region, a regional pass may be the more prudent choice
If you wish to explore regions not covered under the JR Pass routes. For example, if you are planning a trip to Mount Fuji, your JR pass can get you only as far as Odawara
Amtrak Pass – USA
A nationwide railroad service under the National Railroad Passenger Corporation, Amtrak derived its name as a colloquial lingo – an abbreviation of "America" and "Track". Amtrak covers over 500 stations in 46 states, and offers attractive discounts from time to time, making them quite an affordable option to travel within the U.S. Anyone, irrespective of their citizenship, can buy an Amtrak pass. To book tickets or consider different options, check out Amtrak's website.
Variants:
Amtrak offers 2 different variants of Rail Pass –
The U.S.A. Rail Pass with 15 days (8 *segments), 30 days (12 segments), or 45 days (18 segments) of travel validity
California Rail Pass for traveling on any 7 days during a consecutive 21-day period
*A single travel segment is a city-to-city pair. So, each time you get on and get off a vehicle will be considered a segment.
Participating Transport Routes:
Valid across the U.S., for regular coach-class travel on all Amtrak trains except Auto Train, Acela Express, Metroliner, certain Thruway motorcoach connections, and the Canadian section managed jointly by Amtrak and Via Rail Canada.
Points To Consider:
You must use the Amtrak Pass within 180 days of issue. Seat reservation is free and mandatory for all Amtrak Pass holders, and seats are assigned at the time of boarding. Moreover, a pass holder can travel through a single city a maximum of 4 times.
For those not interested in buying a Rail Pass, Amtrak also offers 5 distinct classes of fares – Saver, Value, Flexible, Business, and Premium. With limited availability, Saver fares need to be purchased in advance and include web-only fares, flash sales, and other discounted fares for reserved coach and Acela Express business class seats. They are usually nonrefundable for 24 hours or more after booking, but travelers may receive a 75% nonrefundable e-Voucher in case of cancellation before the train departs.
Value fares are fully refundable up to 15 days before departure, after which they charge a 25% cancellation fee for cancellations up to 24 hours before departure. Flexible fares are fully refundable even after the train departs. With so many fare options, an Amtrak pass may not be the most workable option for a traveler on a budget.
You can often find the cheapest tickets online through Amtrak's flash sale discounts. Opting for single/multi-ride tickets at a discounted price is a more prudent choice than buying an Amtrak Pass. A good way to know about discounts is by signing up for their newsletters.
When to Buy an Amtrak Pass
If you have a planned itinerary that covers multiple locations
If you are not short on time and wish to indulge in a cross-country Amtrak experience
When not to Buy an Amtrak Pass
If you book your ticket in advance, you can get discounted fares that will be cheaper than getting a Pass
When you are traveling only to specific cities and are hard-pressed for time
Tips and Tricks to Save on Travel Fare
Not all rail passes are made equal. While it may be worth buying the JR Pass when in Japan, getting a Eurail Pass for Spain is not a feasible option. It is also worthwhile to remember that the railway systems in different countries operate on different levels of efficiency.
What may be an exceptional experience in one country can prove to be a nightmare in another. Researching and comparing each option individually will accord better clarity for your specific situation.
When you are on the road for so long, last-minute cancellations and changes of plans are almost a given. For further cost-saving, consider getting travel insurance. A small premium can go a long way in helping you get reimbursed due to unexpected cancellations and delays that are covered by the policy.
Moreover, a comprehensive travel insurance plan can give you an umbrella of protection against a score of other travel mishaps, like accidents and medical emergencies. Visit Insubuy to compare different travel insurance policies.
If you want more thrifty ideas on how to cut down your travel expenses, consider the following guidelines:
Plan your travel months in advance. This will not only help you get discounted fares, but can also help you decide whether you need a rail pass at all.
Calculate the opportunity cost of each option – time vs. flexibility vs. price. Tickets booked in advance might come cheap, but can be nonrefundable. An extended rail journey (over 10 hours) can eat up on your travel time.
Compare the cost of traveling using other modes of transport (e.g., flight, car) before getting a rail pass.
Get point-to-point tickets if you are traveling a short distance.
Lookup online sales and discounts. Sign up for travel newsletters to get information on early-bird discounts.
We are sorry that this post was not useful for you!
Let us improve this post!
Tell us how we can improve this post?