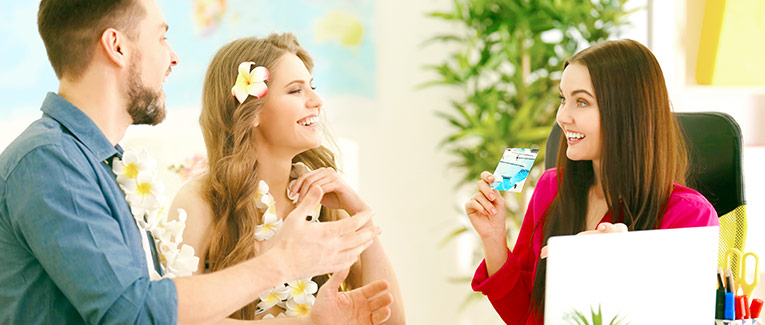 The internet has actually increased the need for verified, reputable, and affordable travel agents.
Search engines have made booking flights, reserving hotels, and confirming tables at restaurants very convenient. However, dishonest people exist in every industry, and the travel industry is no different.
There are thousands of fake travel agents out there just waiting to steal your money. These days, all it takes to look legitimate is a cheap, but well-designed website, someone to man the phones, and an image editor.
Three Reasons Why You Still Need a Travel Agent
1. They're convenient.
If you run an internet search for "Good Hotels in Cannes," you get approximately 86 millionGoogle search results.
Assuming you spend just five seconds vetting each result, it would take you about five thousand daysto go through each one of them.
On the flipside, any decent travel agent will be able to tell you three different types of hotels for different budget ranges in Tuscany off the top of their head.
2. Reduces the risk of scams.
While finding information for our trips, we bump into fake news, outdated details, and completely wrong advice all the time.
Using a decent travel agent will help save you from losing your hard-earned money because, unlike most travel advice websites, a travel agent is actually accountable for your experience.
Another thing that a travel agent can offer you that a search engine currently can't is personalizedtrips.
Travel agents can build individuals absolutely stunning trip itineraries within 20 minutes.
3. They offer perks, benefits, and help when you need it.
Travel agents, more often than not, get bulk booking discounts at hotels, on cruises, and on flights.
During natural disasters such as earthquakes and floods, or during civil disputes, they are your go-to people because they will often have contacts at the local embassy to help their clients get out of sticky situations.
This can save you a lot of money, especially if you are traveling on a budget.
Three Things to Look for In a Travel Agent
1. Reliability and Reviews
These two things go hand-in-hand. The longer an agent can prove that they've been around, the better.
They should have a decent portfolio of destinations they service, across a wide range of holiday package types.
The best agents will also offer to custom-build your holiday itinerary for a small fee.
2. Certifications and Accreditations
Your agent should have a few relevant certifications in their field, along with work experience.
They should also be accredited members of union-type organizations such as The American Society of Travel Advisors (ASTA) or equivalent.
This is because these organizations charge a membership fee, and also have an extremely rigorous vetting process for their members. This makes it hard for any scammers to slip through the cracks and steal your hard-earned money.
3. A Reputable Online Presence
This means that their website should have SSL encryption (padlock in the top left corner of the address bar), a pleasing layout, and a well-designed customer experience.
Beware of travel agents with a website but with generic emails like Gmail and Yahoo. This is usually the telltale sign of a scammer out to get you.
Three Ways to Find a Travel Agent Who Is Perfect for You
1. Know Thyself
The first question any good travel agent will ask you is "How may I help you?" or "What can I do for you?"
You should be able to answer these queries at the drop of a hat. Being specific in your answers always helps. Instead of saying "I want to go on a cruise with my wife," say "I would like to experience the Caribbean on a cruise."
Also, if you are a specifictype of traveler, such as someone who exclusively prefers cruise holidays, don't go to a general travel agent. Seek out agents who specialize in your preferred vacation.
You can find travel agents within all sorts of fortes, including adventure sports, camping and backpacking trips, cruises, food tours, and more.
Bear in mind that the two things that you need to be upfront and firm about are your budget, and the time frame for your holiday. These are your limitations, and they cannot be changed.
When booking with a travel agent for the first time, make sure you ask lots of questions. Make sure that they are asking lots of questions too. Not doing so is a major red flag.
Travel agents can only give you the best experience and value for money when they understand who you are and what you want, so make sure to give them as much information as possible.
2. Look Up Directories and Associations
When you have decided whether you want a specific travel agent, or if you'd rather go with a general agent, it's time to start the hunt.
Check directories and associations for travel agents. They're sort of like the Yellow Pages, but exclusively for travel advisors. A great example of such a site is Virtuoso's Travel Advisor Catalog.
Alternatively, you can also look at travel advisor association websites, such as ASTA's travel agent finder tool.
ASTA and Virtuoso are pretty much the benchmarks when it comes to finding new agents for the first time, so rest assured that they are reliable sources of information.
Conversely, organizations such as ASTA also maintain a list of rogue agents involved in suspicious and illegal ventures that you should avoid at all costs.
3. The Old, Faithful Print Media
Print media is still relevant today because there are still a lot of very, very good travel agents out there who haven't come to terms with the internet yet.
However, these hidden gems still use traditional forms of advertising such as newspapers, flyers, and magazines.
Keeping a sharp eye out while leafing through any of the aforementioned materials may introduce you to the travel agent of your dreams.
The time when travel agents were merely a quaint luxury has long since passed us by.
A travel agent can ease your life considerably, and along with your travel insurance, can make life less stressful while giving you a tailored experience to a new location.
We are sorry that this post was not useful for you!
Let us improve this post!
Tell us how we can improve this post?