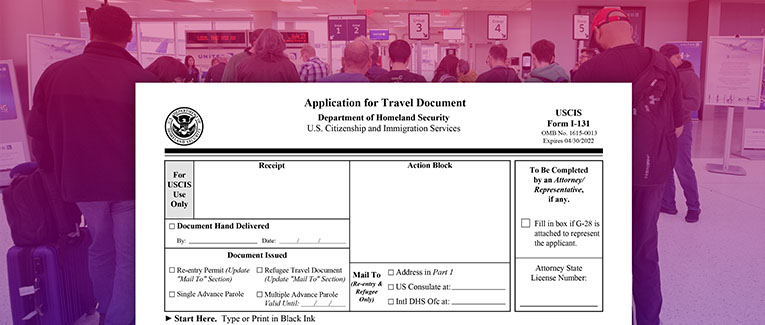 By being a permanent resident of the U.S., you can travel without restraint outside of the U.S. For readmission into the U.S., you need to present your green card (permanent resident card). If the trip duration is less than one year, presenting your passport to enter the U.S is not necessary. If the trip duration is greater than one year but less than two years, then a re-entry permit is also needed to enter the U.S. A re-entry permit is also issued to Lawful Permanent Residents who want to travel outside the U.S. but cannot get a national passport from their country of nationality.
Traveling outside the U.S. without a re-entry permit could have severe consequences for permanent or conditional residents, because it could be determined that you abandoned your resident status. The benefit of having a valid re-entry permit is that you do not have to obtain a returning resident visa from a U.S. embassy or consulate. However, the permit does not relieve you of any of the U.S. immigration laws' requirements. Possession of only a re-entry permit does not guarantee admission into the U.S., because you are still subject to immigration inspection at the port of entry to determine admissibility into the U.S. You also may be subject to a "secondary inspection", in which you will be taken into a separate room and asked questions.

If you intend to travel or live outside the U.S. for more than 5 months of the year, it is advisable to get a visitor visa instead of getting a green card, because you may lose your green card based on the assumption of abandonment of intention.

Permanent residents must be physically present in the U.S. when filing their application.
Leaving the U.S. before a decision has been made does not affect the application process. However, if biometric (fingerprint) collection is required, and you depart the U.S. before the collection, your application may be denied.
You may request that your re-entry permit be sent to a U.S. embassy or consulate or Department of Homeland Security (DHS) office abroad when you file the application. There is a place on the Form I-131 to furnish the information necessary to receive a re-entry permit outside of the U.S.
We are sorry that this post was not useful for you!
Let us improve this post!
Tell us how we can improve this post?