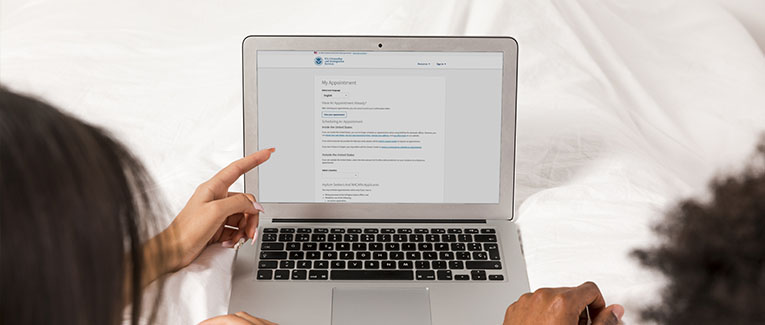 InfoPass is an Internet-based system that enables the public to go online to schedule appointments with immigration information officers at U.S. Citizenship and Immigration Services (USCIS) offices. If you have a complex immigration question or a need that is best addressed in person by a trained USCIS officer, InfoPass offers a convenient alternative to waiting in line for assistance. InfoPass is a secure Internet site.
InfoPass provides you the opportunity to speak with an immigration information officer about your case. With InfoPass, people who come to the busiest USCIS offices can be assured they'll get the assistance they need. They can also schedule their appointment for a date and time that is convenient for them.
For many things, you may not have to go to the local USCIS office.
You can use either this website or USCIS to find a lot of information about immigration.
You can get the forms online. Many of the forms can also be filed online.
You can check the status of your pending case online.
Making an Appointment
Visit the InfoPass website. InfoPass is available now at many USCIS offices.
Choose your preferred language. InfoPass is currently offered in many languages.
Follow the screen prompts asking for your zip code, name, date of birth, phone number, and desired appointment type, date, and time.
InfoPass generates an electronic appointment notice, which appears on the screen.
InfoPass appointments are usually available two weeks after the scheduling date.
Documents to Take to the Appointment
Bring a printout of the appointment notice. The notice gives the date and time of the appointment, the USCIS office address, and instructions on any additional documents required.
Be prepared to present personal identification, such as a government-issued ID card, passport, valid driver's license, I-94, Work Authorization Card, or green card (I-551).
Bring any forms, receipts, translations, and original documents related to your inquiry.
You can cancel and reschedule appointments over the Internet using the identification numbers at the bottom of your appointment confirmation notice.
If you lose your appointment notice, you may generate a replacement by accessing InfoPass and entering the information.
Appointment Difficulties
When making an appointment, sometimes, you may keep getting the message that there are no appointments available at this time. You should keep trying.
You may also try using the website during "off-peak" hours such as late evenings, early mornings, just past midnight, etc.
If you need to make more than one appointment (e.g., one for each family member that needs passport stamping for I-485 approval), you may need to wait at least 30 minutes before the system will accept additional appointments. Alternatively, you can use another computer with a different IP address.
We are sorry that this post was not useful for you!
Let us improve this post!
Tell us how we can improve this post?