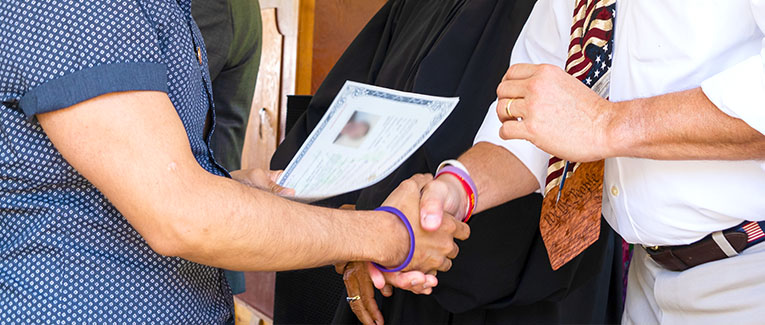 Introduction
E Pluribus Unum – From Many, One
– Motto of the United States of America
The United States is a nation of immigrants. Throughout its history, immigrants have come here seeking a better way of life and have strengthened the nation in the process. Deciding to become a U.S. citizen is one of the most important decisions in a person's life. If you decide to apply for for naturalization, you will be showing your commitment to the United States. You will also be showing your loyalty to its Constitution and its people. When you are naturalized, you agree to accept all of the responsibilities of being a citizen. In return, you are rewarded with the rights and privileges that are part of citizenship.
Naturalization is the way immigrants become citizens of the United States. If you were not born a citizen, you must be naturalized to become one.
This guide is to help people understand the naturalization process. It is for people 18 years or older who want to become citizens.
Before you decide to apply, please review the Benefits and Responsibilities of Citizenship.
Naturalization Process
Preparing to Apply
Read this guide to naturalization
Completing Your Application and Getting Photographed
Preparing to Apply
Read this guide to naturalization
Reading this guide to naturalization is the first step in the naturalization process. Some naturalization requirements may be difficult to understand. If you read this Guide before beginning the naturalization process, many of your questions will be answered.

The information in the Guide will help you prepare your application. If you are well prepared and send the necessary information and documents, the USCIS can process your application more quickly. It is your responsibility to enter the naturalization process fully informed and ready to provide the necessary information and documents.


Complete the Naturalization Eligibility Worksheet
Complete the eligibility worksheet to decide if you are eligible to apply for naturalization. If you do not meet all the requirements, you may save both time and money by waiting until you are eligible to apply.

If you complete the eligibility worksheet and have questions about your eligibility, you should seek advice by:

calling the National Customer Service Center at 1-800-375-5283;
reviewing the information on this website, immihelp.com;
going to an USCIS information counter;
contacting a community immigrant assistance organization; or
talking to an immigration attorney.


Get an Application for Naturalization (Form N-400)
Once you have completed the eligibility worksheet and believe that you are eligible for naturalization, you should obtain an application. The application is called the "Application for Naturalization" (Form N-400).

Download a fillable Form N-400.
We are sorry that this post was not useful for you!
Let us improve this post!
Tell us how we can improve this post?