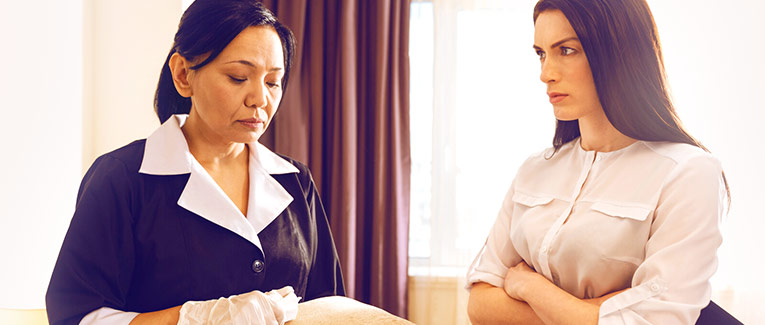 It's no secret that some hotel guests can be unbearable.
Some offenders may throw a tantrum over minor problems, some are noisy neighbors, while few others are downright rude.
The last thing you want to do is offend your fellow travelers or the hotel staff.
We're here to help.
Rude Things Travelers Do at Hotels (and should avoid at all costs)
1. Accuse the Hotel Staff of Stealing
It is quite normal for guests to lose or misplace their belongings. But, many times, hotel guests believe their personal items have been stolen.
That's a serious accusation.
It comes with bigger repercussions. This default move can cost someone their job. You can't jump to a conclusion like that in an instant. When the misplaced item is found, the damage is already done.
Such a thoughtless action puts a damper on everyone's mood. Sadly, housekeeping and management have to deal with such mishaps quite often.
2. Roaming Out and About in a Bathrobe
We tend to forget we're not at home sometimes.
When you're at a hotel, you want to relax. But, that doesn't mean you can make everyone else feel awkward.
Do not visit the hotel restaurant in a bathrobe. It is not just that it doesn't complement the environment; there are other aspects to consider.
The hotel staff has other guests to deal with, and some aren't so tolerant. When they file a complaint, it's the hotel staff that needs to deal with these awkward conversations.
We're not saying you can't wear your bathrobe over your clothes or bathing suit to the hotel spa or the pool, but a shared space like the lobby isn't your personal den.
There is a time and place for everything.
3. Rude Gestures at the Hotel Staff
Have you often noticed guests pointing fingers at the hotel staff?
Some hotel guests can be very demoralizing. Many like to snap their fingers at the staff just to get their attention. This is offensive.
Let's call it what it is: Bad manners.
When you're listening to music, snap all you want. When you're waiting on service, snapping fingers is the worst faux pas.
Some guests do this while dining in at the hotel restaurant or laying by the pool. You shouldn't be rude to the staff. It's not going to get you speedy service.
4. Letting Your Kids Run Amok
Kids are cute and fun to talk to, but not if they're running around wild in the hotel lobby. When parents don't respect hotel etiquettes, the hotel staff can do little to prevent mishaps.
It's not the children who annoy the hotel staff, but the parents that let them loose. The unattended children can be a huge nuisance, and it is up to the parents to control their children.
What happens when the hotel staff requests parents to keep an eye on the kids?
They ignore just about everything that's been said. Some parents turn a blind eye to the havoc caused by their kids. Imagine the chaos.
5. Berating the Hotel Staff in Public
Ignoring room service calls, demanding to speak to the manager, and shouting at the staff — there are so many ways in which guests can be downright insensitive.
What's the worst? Berating the hotel staff at their workplace.
It's a cheap move to get attention. Not only is it a major problem, but also disrespectful. In this case, hotel staff is trained to deal with guests in a tactful and courteous manner.
But, bear in mind that such behavior is quite often not tolerated at a luxury establishment.
6. Reserving More Than You Need
Some guests love hogging the luggage carts. There are others who crowd around the check-in area. Another example is when guests over-reserve public spaces, like the pool-side zone.
During peak season, there are many travelers who need to use hotel resources. Occupying these resources when there's no need is bothersome.
This kind of behavior can also lead to issues for the hotel staff.
Over-reserving can cause strife amongst hotel guests. This isn't easy to subdue. It is an inconsiderate trait with hotel guests.
So, be mindful and avoid over-reserving.
7. Skipping the Tip
Tipping the hotel staff is not an ironclad rule, but it is customary.
Many hotel guests follow this practice without fail. It's a small price to pay for getting quality service during your stay.
Instead of leaving behind a large tip, it's easier to leave a small tip every now and then. This gratuity can go a long way.
But, there are guests who skip the process altogether.
Failing to tip the housekeeper or the valet shows the hotel staff that you do not appreciate their services. Even if you're in a scramble to vacate the room, don't forget your gratuities.
8. Checking Out Late
As a rule of thumb, most hotels allow guests to check in early if the room is ready. These are considerate measures taken from their end.
Guests can repay this kind gesture by checking out on time. When you ask for a late check-out at the last minute, it's very impolite.
Many guests like to check in early, but when the time comes to move out, they take their own sweet time. Some tend to ignore friendly reminders from the hotel staff.
Late check-out of one guest simply means late check-in for another. Hotel guests forget to be mindful in these situations.
9. Acting Like Hotel Royalty
Demanding a room early, late arrivals at the breakfast buffet, and being rude to the hotel staff: these are common situations with hotel guests who expect royal treatment.
It isn't doable unless you really are royalty.
Hotel staff get irritated when they have to deal with guests who feel they are an exception to the rule.
As an example, quite often there are tardy guests who miss out on the breakfast buffet. In these scenarios, they think the service is extendable despite their late arrival.
As per hotel policies, this is not the case.
This complete lack of self-awareness is an annoying habit.
10. Complaining About Everything
There's always that one guest who remains unsatisfied until the end. Despite the hotel staff's continuous efforts to subdue each complaint, it never ends.
Some guests make minor complaints just to get an upgrade, so every small thing becomes an issue. Then, there are guests who threaten to leave behind a bad review.
This puts the hotel staff in a compromising position. The management is always worried about their hotel's reputation online.
Complaining about the bedding, making claims on water quality, or expecting a super quiet room: it's a shallow move to score a complimentary night.
11. Being Loud in Shared Spaces
Hotel guests like to complain about noise, but sometimes aren't respectful of it themselves. Quite often, there are guests who turn the hallway into their personal space.
Kids playing in the hallway, or speaking loudly on the phone when you're at the lounge or the restaurant are just a few of the rude habits of hotel guests.
When you're not cognizant of people who are around you, it is indeed disrespectful.
Some guests fail to understand that these habits are annoying. It's rude, and disturbs guests who are within earshot.
12. Trashing the Hotel Room
While you don't need to make your bed at a hotel, you certainly don't need to leave behind a mess. It reflects poorly on your character.
Housekeeping isn't an excuse to trash a hotel room. They will tidy the room and rearrange items; however, they won't pick up your dirty laundry.
You shouldn't expect them to either.
It's not just about showing gratuities, it's about having a basic sense of hygiene.
Be a Good Hotel Guest
Booking a hotel room is, in essence, entering into a contract with the hotel. You agree to pay a certain price, and the hotel agrees to provide you with a clean, comfortable room with all aforementioned amenities and housekeeping services. There are of course other benefits if you are staying at a resort, but these are the basics. While staying at the hotel, you are expected to be respectful of the staff and fellow guests, and abide by all of the hotel's rules. If you have a complaint, bring it up politely with guest services. Most hotels will go out of their way to correct any oversights.
In regards to the that price you're paying, you've probably booked a certain number of nights at the hotel beforehand. However, if your flight is cancelled or delayed, you may arrive a day later than intended. Do not expect the hotel to refund you for the unused night, and certainly don't make a scene about it. After all, it's not their fault there was a travel delay. Instead, purchase travel insurance well before your trip begins, closer to making trip arrangements. This way, if your trip is delayed or cancelled, you can have a way to receive compensation for your prepaid, nonrefundable bookings. It's one more way you can be smart, respectful hotel guest.
We are sorry that this post was not useful for you!
Let us improve this post!
Tell us how we can improve this post?