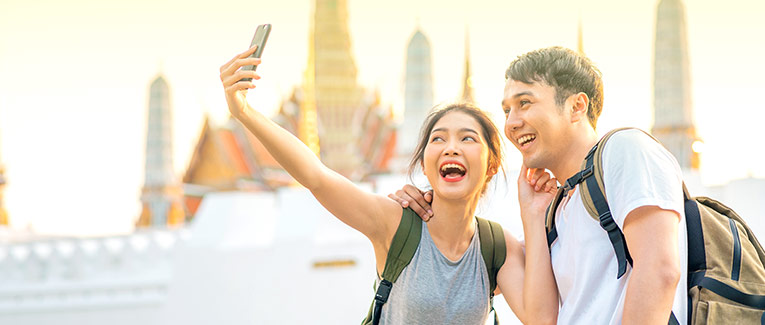 If you're about to travel with your partner for the first time, you're going to have a lot to think about. Traveling with your boyfriend, girlfriend, spouse, or potential partner for the first time is an exciting prospect. But it could also come with its fair share of challenges. As Mark Twain wrote, "I have found out there ain't no surer way to find out whether you like people or hate them than to travel with them."
There's something about traveling with your partner for the first time that brings up feelings of excitement, fear, and maybe some anxiety. You're going to be sharing a lot of space with this person in the coming days; you've got to get along, and you don't want anything to spoil it. Here are some tips for how to avoid conflict with your partner while you travel.
Before You Travel, Plan
Your travel experience largely depends on the quality of your planning. When you travel with your partner for the first time, the key to a good experience is meticulous planning. Luckily, making travel plans with your partner can be kind of fun. Here are a few things to remember:
Divide and conquer. Before you plan, divide up your tasks. For example, if one of you looks for hotels, the other one should search for flights. If one of you decides the cities you will visit, let the other one plan the activities.
Always involve your partner. Even when you divide your tasks, show that you value your partner's choices too. If you are in charge of booking hotels, show them a choice of five hotels that caught your eye. This will show your partner how serious you are about your trip, and is a great way to prove how much their opinions matter to you.
Set an overall budget, and daily budget for your trip. Money is a sensitive subject. It is a subject of conflict people try to avoid. But how well you handle money together is indicative of how smooth your future life could be. Plan money matters ahead of the trip to show your partner how mature and wise you are.
Before traveling, invest in travel insurance. What is a better way of showing your partner that you care about their safety and wellbeing? The fact that you have considered every detail and possibility will be sure to impress them.
Adjustment Is the Key
You are traveling together because you want to enjoy each other's' company. Having a good time together should be the central focus of your trip. Everything else is secondary. Follow these tips during your trip to make sure it goes well:
Your goal should be to make your partner happy, but also vice-versa. When you compromise for your partner, make sure that you are not the only one making compromises. Have a clear conversation with your partner about your likes and dislikes, and learn about theirs.
Now that you know about your partner's preferences, make small gestures throughout the trip that show how much you care. For example, if they have dietary restrictions, pick places to eat that serve food fitting their diet.
Give in to some whims of your partner. It may be fun. Do they want to take a picture in a local costume, but you think it may look silly on you? It is a small compromise to make for the happy memories you will carry back home.


Get Some Alone Time
This may sound strange, but you will be spending a large amount of time with your partner for the first time. This can be overwhelming. Many people experience anxiety or feel irritated if they have to be in someone else's company constantly. This applies especially to those who are accustomed to living alone. This is alright, and totally normal.
Constantly being with someone can be difficult if you aren't used to it. Being with your partner is even more stressful if you are anxious to impress them. Wanting to be alone on occasion does not make you a bad partner, and it does not mean you like them any less. It's simply a way for you to destress and relax.
Just let your partner know that you're going for a quick walk. Maybe mention that you're going to see a sight they aren't interested in. You may even be able to do this before they wake up in the morning, or after they've settled in for the evening. On your way back, grab them a cup of coffee, a snack, or maybe a souvenir. This will let you know you're thinking of them even when you're apart.
Speak Your Mind
Conflicts often occur due to lack of communication. When you don't express what you're thinking, your feelings can build up into anger or resentment. This can result in unproductive outbursts and hurt feelings.
To avoid this, speak your mind calmly whenever you feel misunderstood or mistreated. Explain why you feel the way you do in a non-accusatory way. This way, a simple misunderstanding doesn't have to turn into anything more. The increased communication could very well bring the two of you closer.
Plan a Relaxed Itinerary
If you have romantic expectations from your trip, it's best not to pack it full of too many stops and activities. Leave time for those long walks on the beach, those relaxed afternoons at a café, or romantic dinners. If you have a hectic schedule to stick to, it may be difficult to make time for these things. If the goal of your trip is to further your relationship, focus on that; not seeing as many sights as possible.
Traveling Together: Some Final Words
You are almost ready to take your first trip with your partner. Before you go, consider these final suggestions.
Keep little things that remind you of the trip. Later, you can get them framed or compile them into a scrapbook. These can be things like photos, your tickets, plans, and anything else that comes to your mind. It can make for a great surprise gift in the future.
Communication is the best way to avoid conflict. Whenever you feel like you may be on the verge of a conflict, talk it out.
Do not travel without adequate insurance coverage. An emergency during your trip can really put a damper on things. The only thing that can make the situation worse is a financial crisis. A travel insurance plan is a small price to pay for your peace of mind.
We are sorry that this post was not useful for you!
Let us improve this post!
Tell us how we can improve this post?