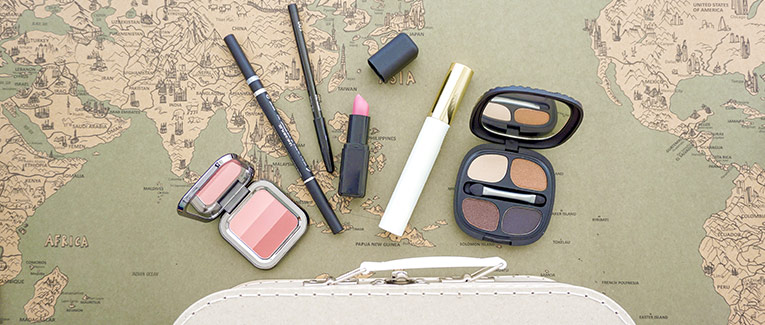 Full glam or natural, odds are, you will be wearing some makeup on your trip even if it's just moisturizer and sunscreen. The thing with makeup is, it can be a hassle to pack and take places. Compacts break, foundations spill, and everything is a mess.
It doesn't have to be. With this guide, learn how to pack products to minimize spills and messes. If you're in a dilemma about what products to take with you, this guide will tell you about that, too.
Makeup Bag Must-Haves
1. Moisturizer or BB Creams
Going on vacation typically comes with enduring lots of weather and water changes. Using your daily moisturizer will trick your skin into believing nothing has changed. If you're heading to a dry and cold country, you need to have a moisturizer.
If you're not particular about a full-coverage foundation, then you can switch your regular moisturizer for a tinted one. This will double as a foundation and moisturizer.
2. Sunscreen Lotion
You are more than likely going to be spending a lot of time outside when you're on vacation. Your skin needs sun protection during this time. Ensure that you use a product with at least SPF 30. There are many sunscreens with moisturizer that will save you space when packing.
3. Primer
You may not be inclined to using primer for your everyday routine. But, always bring primer with you on vacation. This makes makeup application easier, and also increases the staying power of your products. It will be your best buddy on a sweltering day spent outside.
4. Concealer
To achieve a made up look in seconds, concealer is the only base product you need. It is easier to blend and tends to stay on for longer stretches of time. If you don't mind sporting a bare face, you can use concealer to just cover the spots and get on with your day.
5. Foundation
For a bit more coverage and a put-together look, you might want to use a foundation. Choose the foundation formula depending on your skin type and the climate to which you're traveling. If you have oily skin, use an ultra-matte foundation. This way you don't have to bring setting powder, which tends to spill.
6. Mascara and Lip Balm
These two products alone will elevate your look, and they make the perfect lazy-person routine. Make sure to use waterproof mascara when traveling.
7. Eyeliner
Eyeliner is another Holy Grail product for many. The best part is, it looks good just by itself without a full-glam face. Your travel eyeliner should be waterproof to last throughout the day.
8. Lipstick(s)
Arguably, lipstick should be the only product of which you can bring multiple. Carry one lipstick for every 3 days you'll be on vacation. This way, you can change up the colors and remove monotony from your look. Did you know you can use lipstick as eyeshadow and blush as well?
9. Bronzer, Blush, Highlighter Palette
If you can take only one palette on your flight, take a face trio palette. They not only are face products, but they can also double as an eyeshadow.
10. Applicators
Applicators are the last thing most people think of when packing makeup. But, they are very necessary.
If you're in a space crunch, you can use just two brushes to complete your entire look. Use a bigger and stiffer brush for foundation and face powders, and use a small, fluffy blush for your eyeshadow.
Alternatively, you can also purchase travel-friendly brush sets. These are compact and lightweight, making the perfect travel companion.
Making Makeup Travel-Friendly
Weight limit is a crucial factor to look out for when traveling by air. Here's how you can take your most important products with you in a travel-friendly way:
1. Mini-sized products
You know those adorable little foundation bottles? They are your best friend while traveling. Many brands make their products in miniature versions. Just purchase a replica of your daily routine in miniature for your vacation.
2. Re-pack into smaller bottles
A cheaper alternative to the previous method is to rebottle the products yourself. Most convenience stores carry empty bottles and canisters. Use these to rebottle foundation, moisturizer, and any cream products.
3. Makeup store samples
An even cheaper workaround for travel-sized products is to get free samples. Depending on the store, a few dollars can get you two or three samples. If you're a makeup fiend and frequent Sephora a lot, stock up on samples to use while traveling.
Spill/Break-proof packing
The feeling of having your cherished products break on you is almost similar to heartbreak. Here's how to best protect your makeup when traveling:
1. Tape Containers
Yes, an inch of tape will go a long way in making your makeup spill-proof. Tape palettes, bottles, and vials shut. This will prevent caps from opening by force from being tossed around. Remember to take a roll of tape with you for the journey back.
2. Add Cushion Layers
Compacts are easily breakable, and next to impossible to put back together. So, it's best to add padding around the compacts. Wrap your compacts individually in plastic, and then use the clothes you're packing to wrap it. The plastic is so that broken compacts don't damage your clothes.
3. Preparing for Catastrophe
Despite dire preparation, casualties may occur. To save your makeup bag from the repercussions of exploded makeup, line it with tissue paper or plastic. If your bag is cloth-based, you definitely have to do this. Otherwise, washing the makeup off will be a challenge.
4. Plastic Wrap Before Screwing the Cap On
For liquid products like shampoos, conditioners, and toners, use the plastic wrap method. Unscrew the cap and cover the opening with a layer of plastic. If the cap does open or comes loose, the plastic will prevent major spills.
Traveler-Certified Hacks
1. Cotton Pads + Toner or Makeup Remover
Put a bunch of cotton pads in a zip-lock bag or small Tupperware container. Drench them in your favorite toner. This saves you space and reduces the weight you carry. If you use micellar water to remove makeup, you can use the same method with that as well.
2. How to Cut Down on the Makeup You Pack
When you're packing for a trip, you're confident you'll wake up early and have a complete glam session. In view of this, you pack an over-the-top makeup kit that you barely touch. Here's how to prevent that:
Put everything you think you'll need for the trip in a bag. Use only this bag to do your makeup for two weeks before the trip. Every time you use a product, put it in a second container. At the end of the two weeks, pack only the items that are in your second container.
3. Separate Makeup Bag for Liquids and Powders
This is recommended so that powder explosions and liquid explosions don't combine to form a sticky mess in your bag. Having them separated will also come in handy when the airport staff is checking your liquid weight limit.
Look your best even on vacation. Does that mean a smear of eyeliner and some lipstick, or is it a full face of glam make up for you? Either way, now you know what to pack and how to pack it.
And now that you have your packing technique down, there's one more step to take: Buying travel insurance. Lost or delayed luggage can be a big hassle, especially if your makeup was inside. With insurance in place, you'll have less worry. It can provide financial compensation if something happens to your luggage that's covered by the policy, as well as many other benefits. This way, you won't have to spend an arm and a leg to replace your favorite products.
We are sorry that this post was not useful for you!
Let us improve this post!
Tell us how we can improve this post?