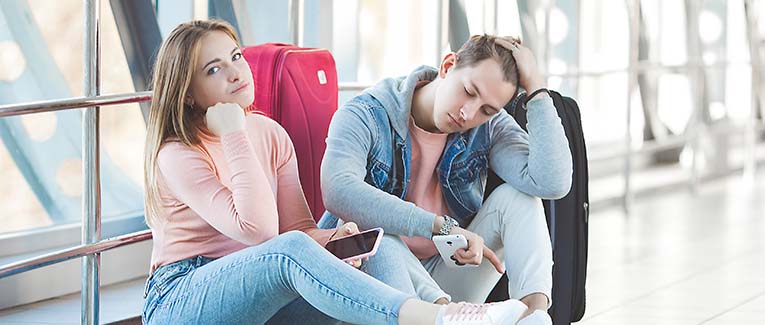 No one likes it when their trip gets cancelled. But, whether seen or unforeseen, it's best to be prepared for all contingencies.
Why Have a Plan B?
To avoid financial losses
To help you deal with post-cancellation blues
Here is a checklist to help you plan your travel better by making a Plan B beforehand:
Get Wise About Travel Insurance
Although most travelers buy travel insurance, the devil is in the details. Travel policies vary in the benefits they offer. Research the following before getting a policy:
Coverage of Nonrefundable Costs
Travelers with recurrent changes of plans prefer travel insurance policies that offer maximum coverage for refundable and nonrefundable items. While most insurance policies can cover flight, train, or cruise cancellations due to a covered reason, you'd do well to check the extent of nonrefundable costs covered, such as hotel, restaurant, or local taxi bookings.
Trip Cancellation Coverage vs. "Cancel for Any Reason" Coverage
Cancellation policies usually offer coverage for only a few reasons, whereas a "cancel for any reason" (CFAR) policy can provide cancellation coverage for, well, any reason.
What Reasons Can Be Covered by General Trip Cancellation Policies?
While CFAR policies are ideal, they cost more. On the other hand, trip cancellation policies can cover a host of reasons, including
Sickness, death, or injury of yourself, a family member, or travel companion
Natural disasters like hurricanes, floods, earthquakes, etc.
Jury duty
Sudden unemployment or work-related emergencies
Political unrest or insurgent attacks in the travel destinations
The exact scope of coverage will vary depending on the plan you select, so be sure to read the fine print.
​What if Your Plans are Subject to Change Outside of These Reasons?
Many people end up canceling trips due to last-minute changes in plans, or simply because they changed their minds. To ensure you never end up in such a fix, opt for CFAR policies, as they can include any reason for cancellation. For example, whether you canceled the trip to attend a friend's wedding or accommodate a medical procedure, these policies can cover the cancellation.
However, there is one important thing to remember when it comes to CFAR policies: They can only cover cancelling your trip for any reason. If you want to change your trip for any reason, it would not be covered. If you want to delay your trip for any reason, it would not be covered. Remember: Cancellation only.
Understand Refund Policies
Read the refund policy documents while booking hotels and restaurants. Hotels often refuse to offer full or even partial refunds in case of last-minute cancellations.
Hotels usually offer the following types of cancellation policies:
Cancel by date: Customers are allowed to cancel by a certain date and get a full refund without any cancellation fee. However, if the date passes, you will need to pay the standard cancellation charge, or the full reservation payment.
One-night penalty: The other cancellation policy most popular with hotels is the one-night penalty policy that allows hotels to use one night's fee as the cancellation fee. This policy usually requires customers to make the full payment in advance.
OTA policies: In case you have booked through an online travel agency (OTA), their cancellation policies will apply, not the hotel's. Most hotels only apply their cancellation policies to bookings made organically by walk-in or dial-in customers, or bookings made on their website.
Several new and non-traditional hotel chains have started offering full and easy refunds.  Picking popular chains like Airbnb with more public and effective customer care support might help. But, remember to read the fine print on your cancellation document. Airbnb, for instance, puts the onus of refunds entirely on hosts, who may sometimes not be able to pay back immediately.
Look Beyond Cash Refunds
Cash refunds are not the only way to get your money back. Look for cashback, discount vouchers, or coupons that you can use on future purchases or cancellation deals. These are similar to the ones offered by airlines that allow flyers to modify bookings instead of canceling them, at no additional cost.
Some airline cancellation policies also give refunds in the form of frequent flier miles for frequent travelers or members of loyalty programs.
Seek Professional Help
If you are unable to devote time or energy to the cancellation process, use the services of a professional travel consultancy company. Even if you are not a client of a travel company, consultants still onboard customers seeking easy cancellations for complex travel plans that may include multiple bookings across locations. In addition, travel companies can read between the lines of refund and booking policies and help you make sense of the financial jargon, so you can get the best deal out of a bad situation.
Devise a 'Plan B'
Now that you are sorted in regards to refunds, what should you do when a trip has been canceled? You may have had to cancel your travel plans abroad due to bad weather or other occurrences beyond your control. But, that does not mean you have to miss out on the travel experience. Here are some tips:
Travel local: A canceled trip can be the perfect opportunity for you to turn to some local destinations. Most cities have hidden gems and attractions that are waiting to be discovered. Plan a day checking out local markets or rarely visited monuments. Drive out to the suburbs or outskirts and stay in local motels or bed-and-breakfasts on the way. Visit a relative, or plan a party with friends at a popular restaurant that's hard to book.
Book a virtual tour: Today, many public institutions and tourists spots like museums, art galleries, and even wildlife sanctuaries are offering online experiences that you can enjoy virtually without having to leave your home at all. As a result, virtual travel is a growing industry, and a viable option for finding alternatives to a canceled trip.
Explore the world of literary travel: While this one might be a cliché, books and travelogues continue to bring solace to countless weary travelers who have been hemmed into their homes due to unforeseen reasons. National Geographic's travel editor Amy Alipio suggests diving into books that offer a peek into a new culture such as Little, based on the turbulent life of Madame Tussaud in France; the award-winning Indian fiction novel The White Tiger; or Without You There Is No Us that offers a glimpse into life in North Korea. These can be used as viable literary alternates in case your actual plan gets canceled.
Invest in Your Dreams
Perhaps the only good thing that comes out of a canceled travel plan is the refund. With the trip being canceled, you are now free to use the money as you like. Invest it in some cryptocurrency, or get that expensive home theatre you had always wanted. Pay for an educational course, or home decoration projects. Plan your investments on things that can help you feel more grounded and fulfilled in the long run.
Grief and disappointment over canceled plans are real and can be hard to deal with. However, acknowledging that is the first step to moving on to your next travel plan.
We are sorry that this post was not useful for you!
Let us improve this post!
Tell us how we can improve this post?