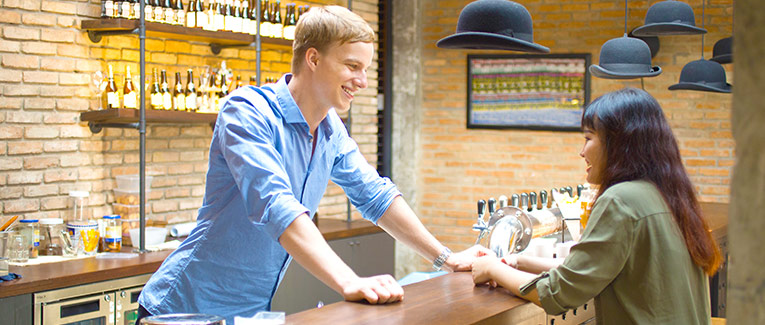 It's no wonder that travelers have a hard time making a choice when it comes to locating the best bars in a city. Almost every major city has a vibrant nightlife scene, or a popular watering hole that locals will swear by. Enjoying nightlife like a local requires the right mix of planning, research, and a touch of bravery.
Turn to Social Media
These days, almost every business is on social media. Their social media pages will be full of photos, reviews, and even drink menus. Leverage your social network to research popular bars and clubs.
You will also find savvy travelers sharing their own experiences online. Travel blogs often include offbeat bars that are worth a visit. Reach out for recommendations from fellow travelers to benefit from their experience. However, be cautious of paid influencers, as they might give a biased report.
Ask Your Hotel Staff
Chances are, the staff at your hotel has been asked about the best local bars many times before. They will be more than happy to make suggestions and point you towards a suitable destination. There is also a good chance that they visit these places themselves, so they will be able to recommend places that they have personally enjoyed.
Befriend the Bartender
For an unforgettable night out on the town, reach out to local bartenders online. Many bartenders will have their own Instagram or Facebook pages. You can even reach out to the local bartenders in your city. Bartenders usually have a vast network of friends worldwide made up of fellow bartenders working in different cities. Not only can they hook you up with the trendiest place in town, but they can also suggest ways that you might be able to get free drinks or good discounts.
Ask the Locals
Few people actually go through the trouble of connecting with locals during their travels. More often than not, the awkwardness of speaking to strangers comes in between what otherwise could have been an eye-opening interaction. If you have friends who are locals, you are in luck. Otherwise, make an effort and reach out. It could be at the roadside diner you stopped at for lunch, or at a public park. Generally, you will find people to be courteous and eager to help.
Look for Bars with Good Food
When you visit a bar, it is not just for the drinks. Good food and ambiance are an integral part of any night out. Don't decide on a bar solely based on the drink reviews that you read online. Select places that combine cool cocktails with an equally sumptuous spread. Don't forget to stay hydrated, as your body will thank you for it later.
Visit During Weekdays
Unsurprisingly, the most popular bars in and clubs in any city will be at their busiest on weekends. Unless you're looking to be part of the biggest party in town, it might be a good idea to visit these places on weekdays instead. The crowd will be sparser, and you'll have a better chance to enjoy the ambiance.
You can also choose to visit popular bars and clubs earlier in the evening, before they get too crowded. One advantage of being on vacation is the free time you have while many others are working. Heading to a popular bar before the evening rush can allow you to enjoy yourself with a little more elbow room.
Utilize Event Apps
There are numerous popular apps that list parties and events happening near you, and they usually take place at the hottest bars and clubs in town. However, keep in mind that these events can be very crowded. To avoid the rush, take note of the venue, and go there at a different time than when the event is happening.
Don't Go by Online Reviews Alone
Online reviews can be helpful, but they don't give you the complete picture. Some positive reviews can be written by paid endorsers, and negative reviews can be subjective. If you are reading online reviews, don't go by just the first few you see; read several to get a better idea of what to expect.
It's also important to remember that some of the best bars may not have a lot of online reviews. Locals often don't publicize their favorite watering holes online to avoid them being overrun by tourists. These "hidden gems" sometimes require a little more research to discover than simply reading online reviews.
Go for a Pub Crawl
A pub crawl is one of the most fun-filled ways to check out several bars in a single night, especially if you are traveling solo. Mostly organized by tour operators, pub crawls include predesignated popular venues that can be reached on foot. These are a great way to meet new people and get a taste of the liveliest party scenes in a city. Another way to do this is to go barhopping with your traveling companions. Start early, and be sure to plan out your route for the evening to avoid last-minute confusion.
See Where the Night Takes You
Sometimes, the best plan to discover a new city is to have no plan at all. Find an interesting-looking bar or entertainment district, and check it out. Inside, you can talk to locals about other places to discover that are nearby. This can help you find those "hidden gems" you may never have come across otherwise. Always carry a map and your phone to help you get back at the end of the night.
Tips to Stay Safe
Partying in a new city can be a lot of fun, but it's important to keep your safety in mind. Excessive drinking can have health consequences, and impaired judgement can put you at increased risk of illness or injury.
To have an enjoyable, yet safe time, you have to remember to drink responsibly. Stay within your limits, and never leave your drink unattended. Also, be sure you have travel medical insurance. If your night leads in an unexpected direction, you'll be glad to have the financial protection travel medical insurance can provide.
We are sorry that this post was not useful for you!
Let us improve this post!
Tell us how we can improve this post?