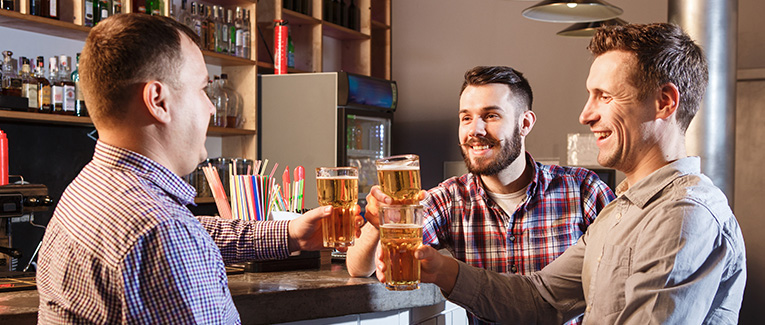 Most American bars are dark and decorous with various themes. Bars are called pubs in the UK and in India. Social drinking is usually done in bars in the U.S. There are many different types of bars: sports, piano, singles, music, hotel lounge, business, gay/lesbian and many others. Most bars will provide both full bar services as well as dining services, as is the law in certain states. American bars range in themes, from billiards and sports bars to bars offering cultural experiences, such as Irish pubs and Mexican cantinas. Regardless of which bar you choose, you will almost always be given great service and provided with quality food and drinks.
When you visit a bar, you are waited on at your table. You can either pay after each round or "run a tab," which you "pick up" when you leave. Americans usually buy their own drinks when in groups.
Of course, the prices of drinks are more expensive at bars than at stores. Upscale bars are more pricey, and singles bars generally cost more, too. You are, after all, paying not only for beverages, but the chance to socialize with persons of a different (or the same) sex. Most of the bars are noisy and play music, sometimes even live music. However, where live music is performed, there may be a cover charge (entrance fee) or the price of drinks may be much higher. You should tip your servers well, as they are usually paid very little, even less than the minimum federal wage. Most have a salary of $2.13/hour. Please be kind to them.
Liquor Laws
Just like many other laws, liquor laws are not federal. They vary from state to state and sometimes even county to county. However, there is one common rule across the nation: you must be at least 21 years of age to drink alcohol (some areas allow beer or at least 3.2 beer starting at 18 or 19 years). You will be asked for a photo ID (US driver's license for those who have it and foreign passports for others) before you will be allowed in a bar where alcohol is served.
There are varied rules regarding liquor across the country, e.g., you can stand while drinking, you can't buy liquor on Sunday, etc. In some states like Virginia, hard liquor (such as whiskey) is sold only by state shops (such as VA ABC) and is not available in other stores. Some counties only allow the sale of beer. Some states allow beer and liquor sales seven days a week, but only until midnight. Some counties in Mississippi and Texas are dry (no liquor available legally). Nevada has the most liberal liquor laws; Las Vegas is in Nevada. In some states, offering a drink to anyone under the age of 21 is not allowed anywhere, even in a private house or dinner party. Some states don't allow alcohol advertising but allow the sale.
Drinking in public places is prohibited almost everywhere. Drunken behavior is socially unacceptable and looked down upon.

For visitors, travel, student and other international travel medical insurance.
Visit insubuy.com or call 1 (866) INSUBUY or +1 (972) 985-4400

Smoking Laws
Many American bars still allow smoking in the bar and restaurant areas. Some allow cigars and cigarettes after 10 p.m. There are some counties and states that have banned smoking in all public bars and restaurants (California, New York, and Florida, among others).
Drinking and Driving
In all states, drinking and driving is not tolerated. You can spend three days in jail and lose your driving privileges for 6 months or more for a first-time offense. Each state varies as to what their legal level of intoxication is, and it is essential that you know these levels and refrain from driving when you have had more than the legal limit.
Beer
Most American brands of beer are lighter and have lower alcohol content than in other countries. A good American bar, however, will serve these lighter beers as well as European brands of beer and other imported beers such as Guinness. The most popular American beers served in bars are Miller Lite, Budweiser, Bud Light, and Coors Light.
Most American beers are pasteurized draught lager, and brewed from maize or rice, not from barley.
Low-alcohol beers are also called three-two beer; they contain 3.2% alcohol.
Beer glasses, bottles, or cans usually contain 12 fl. oz. of liquid. Beer is also available by the pitcher, which is usually a quart or half gallon.
Indian beers like Kingfisher, Taj Mahal, etc., can be found in Indian restaurants or ethnic bars.
Cocktails
If you are looking for a quiet chat over a drink, you could try a cocktail lounge during lunch or after work. Drinks like gin and tonic, rum and coke, or whiskey and soda are collectively referred to as "highballs."
A cocktail is essentially a mix of several beverages. The most popular cocktails include margarita, martini, bloody mary, screwdriver, pina colada, and black russian. In addition, many places make up their own names for drinks and customers aren't always familiar with the ingredients. For example, you might encounter a Stinger, Angel's Kiss, Cement Mixer, or Dog's Nose. You should not pay much attention to the name itself.
Cocktails are generally served with cherries (or other fruit) and little umbrella cocktail sticks.

For visitors, travel, student and other international travel medical insurance.
Visit insubuy.com or call 1 (866) INSUBUY or +1 (972) 985-4400

Whiskey
American whiskey is sweeter, fuller-bodied, and less expensive than Scotch whiskey. Of course, you can get Scotch and other European whiskeys in most American bars.
The most popular American whiskey is "bourbon" whiskey, which originated in Bourbon County, Kentucky. It is made primarily from corn. The federal government maintains the position that bourbon whiskey is a distinctive product of the U.S., and any imports of bourbon whiskey are not allowed into the U.S.
Scotch whiskey is also very popular, but the price is at least double that of American whiskey. Johnny Walker (Red Label, Black Label, Blue Label etc.) and Chivas Regal are popular brands.
Canadian rye whiskey (called rye) is also quite popular. Canadian Club and Seagram's 7 are popular brands of Canadian whiskey. They are often mixed with 7-Up.
Naming Convention
"On the rocks" means that your drink is served with ice.
"Straight up" means that your drink contains no ice.
Happy Hour
Many bars have what is called a "happy hour." Happy hours are usually in the late afternoon, such as 5:00 p.m. to 7:00 p.m. Drinks are usually discounted from their regular prices at this time. At some places, there may be free "crunchy" food available with the drinks during happy hour.
We are sorry that this post was not useful for you!
Let us improve this post!
Tell us how we can improve this post?