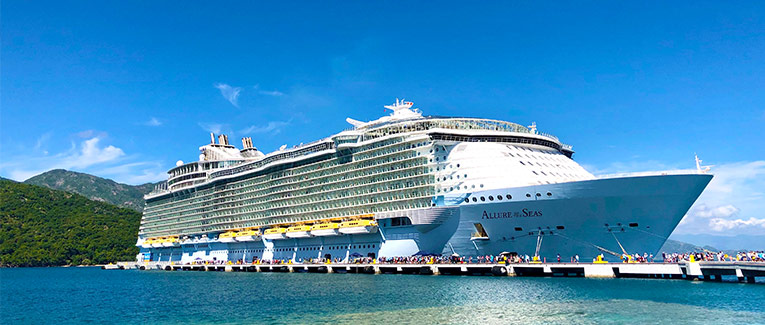 Cruise travel is, of course, not a new concept. But, the novelty of this method of travel is yet to wear off. Over the years, cruises have only gotten more extravagant, and now we traverse the waters in opulence.
Outlandish Cruise Liner Features
Cruise liners often feature some of the most outlandish features:
Crystal Cruises' Crystal E-spirit has its own submarine! The sub can house three people, made up of two passengers and the operator. It also has a fully see-through hull for marine life viewing.
The Norwegian Bliss boasts offer the world's longest go-kart race track on a cruise liner.
Royal Caribbean cruise liners have the world's first-ever robotic bartenders at sea. The ship, Anthem, has the robots 'Shaken' and 'Stirred,' while Harmony has 'Mix' and 'Mingle' manning its state-of-the-art bionic bars.
The Snow Grotto is a tantalizing feature on all Viking cruise ships. It is a small, glass-enclosed room filled with man-made snow. It is constructed based on the Scandinavian bathing ritual that involves alternating hot and cold therapies.
Apart from these eccentric features, most cruise ships have necessary amenities on-board such as plumbing, emergency food stocks, and of course, medical aid. While all cruise liners have medical staff, medical emergencies at sea can cost a tiny fortune and then some.
It would be wise to purchase travel insurance before booking your dream cruise trip. If you encounter a medical issue, or a trip cancellation or delay, your insurance could save you a boatload of money.
Hidden Features in Your Cruise Ship You Didn't Know Existed
Did you know that there are a bunch of features all cruise liners have that you probably had no idea about?
1. The Brig
The jail on the ship, also known as the brig, isn't something the staff will want you to know about. It is almost always hidden away in a secluded part of the ship. Every cruise liner has a brig to deal with unruly passengers.
2. The Morgue
We know this morbid line of thought would barely cross your mind while booking a cruise trip, but ships come equipped with their own morgues.
The morgue on a ship is a dedicated room, usually on the lowest decks, that contains stainless steel, refrigerated, individual compartments.
If a death were to occur at sea, cruise liners have specially trained crisis management teams to handle the final disposition of the body with the next of kin. All of the costs, however, would have to be borne by the family. Having a travel insurance policy that covers repatriation of remains is highly recommended.
3. The Print Shop
Thanks to the advent of technology, print shops on cruises are just a separate room with a giant printer and all different types of paper. Often, a person is specifically assigned to manage all the onboard printing.
In earlier times, cruise ships had print shops complete with mechanical printing presses. Many cruise liners used to print their own daily newspapers for passengers, and some still do.
4. The Magnetic Walls
The walls of cruise ships are magnetic because they are made of metal.
You can use this to your advantage by bringing magnetic hooks to organize your clothes in your cabin.
5. Water Filtration Systems
Notice how there's always clean water to drink on a cruise, and how the shower pressure always leaves you satisfied?
Most cruise liners have a water filtration system onboard that filters the surrounding seawater. In addition, some ships even use water conservation and filtration methods like condensation and reverse osmosis.
6. Deck 13 (Or Lack Thereof)
Maritime superstition has the fear of the number 13 instilled deep into its roots. Most ships have decks that go directly from 12 to 14.
As many cultures around the world also consider the two-digit numeral unlucky, most cruise liners, the same as many hotels and even lift panels, skip out on using the number at all.
7. Friends of Bill W. And Dorothy
Frequent cruise passengers may have stumbled upon this often on their ship's activity itinerary.
It might seem odd how Bill and Dorothy are present on every cruise ship. But, these aren't a bunch of friends hanging out, these are anonymous meetings.
Friends of Bill is a meeting of Alcoholics Anonymous (AA), named so after AA's founder, William Griffith Wilson. AA supports recovering alcoholics through its Twelve Traditions throughout the world. One of the tenets of the Twelve Traditions is absolute anonymity. Thus, AA members identify each other and build rapport through 'Friends of Bill' meetings.
Friends of Dorothy, on the other hand, is a similar anonymous social gathering of LGBTQ+ people and the allies of the community. The story goes that it is derived from the character Dorothy Gale of Wizard of Oz, which was played by Judy Garland, an LGBTQ+ icon of her time.
Bonus Feature: Cruise Ships Have Godmothers
Cruise ships have godmothers which are said to bring good luck and protection to the vessel. They have to be present during the ship's ceremonial launch, and also name the ship.
Some well-known ship godmothers are:
Queen Elizabeth II for the aptly named ships Queen Elizabeth, Queen Elizabeth 2, and Queen Mary 2.
Oprah Winfrey for Holland America Line's Nieuw Statendam.
Kate Middleton, Duchess of Cambridge, for the Royal Princess.
Mariah Carey for the Disney Fantasy.
Malala Yousafazai for Celebrity Edge.
Keep all of these features in mind the next time you are on a cruise, and you might find something that you have never seen before.
We are sorry that this post was not useful for you!
Let us improve this post!
Tell us how we can improve this post?