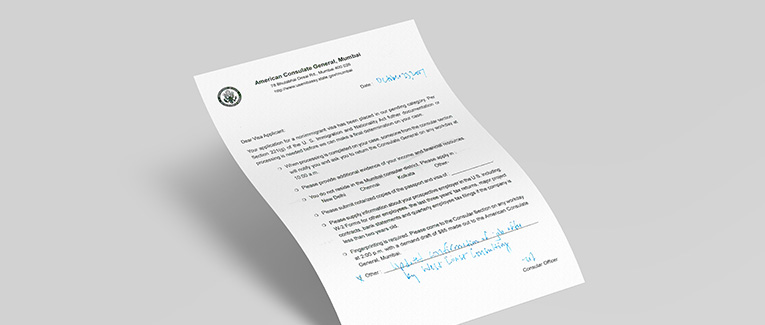 American Consulate General, Mumbai
C-49, G-Block, Bandra Kurla Complex
Bandra East, Mumbai 400051
https://in.usembassy.gov/embassy-consulates/mumbai/sections-offices/

Date: October 23, 2018
Dear Visa Applicant:
Your application for a nonimmigrant visa has been placed in our pending category. Per section 221(g) of the U.S. Immigration and Nationality Act (INA), further documentation or processing is needed before we can make a final determination on your case.
_____When processing is complete on your case, someone from the consular section will notify you and ask you to return the Consulate General on any workday at 10:00 a.m.
Please provide additional evidence of your income and financial resources.
_____ You do not reside in the Mumbai consular district. Please apply in:
New Delhi Chennai Kolkata Other-
_____ Please submit notarized copies of the passport and visa of:__________
_____Please supply information about your prospective employer in the U.S. including: W-2 Forms for other employees, the last three years' tax returns, major project contracts, bank statements, and quarterly employee tax filings if the company is less than two years old.
_____Fingerprinting is required. Please come to the Consular Section on any workday at 2:00 p.m. with a demand draft of $85 made out to the American Consulate General, Mumbai
Other: _________________________________________
Consular Officer
We are sorry that this post was not useful for you!
Let us improve this post!
Tell us how we can improve this post?