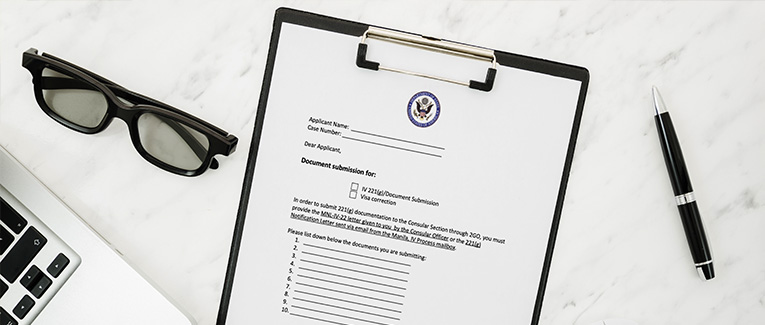 If your U.S. visa case is pending under 221(g), and you are instructed to submit the documents when they are available (or at a maximum, within one year), please follow this procedure to submit the documents.

Procedure
When you are issued a 221(g) color slip, it will have a case number which will start with the year of the interview date, such as 2019-xxx-xxx-x, and will be followed by your assigned case number.
Sometimes the documents can be submitted electronically, while at other times they must be submitted in person—especially if they need some original documents. Those details will be specified in the 221(g) letter you will receive.
If you are required to submit additional documents, you must do so within 12 months of the date of receipt of the 221(g) letter. Otherwise, your application refused under Section 221(g) will be terminated per Section 203(e), and you will have to apply all over again, including paying a new visa application fee.
Download Document Submission Letter, print it, and complete the checklist manually.


Visit the nearest document drop-off location and submit:

221(g) submission slip
221(g) letter given at the consulate
All documents requested in 221(g) letter
An authority letter from you in case a representative is visiting the visa application center for the submission of your documents.



Once you drop off the documents, CGI will acknowledge the 221(g) submission slip.


CGI will deliver your documents to the consulate.


If you have not already submitted your passport, and they complete the processing and determine that you are eligible for the visa, you will be asked to submit the passport.


CGI will return your passport and documents to your chosen document delivery pickup location or at your specified address (such as a home) if you opted for Premium Delivery Service. If the U.S. visa is issued, it will be in your passport.

Otherwise, you may get a new 221(g) letter and you will have to start the above-described process all over again. You will get all of your original documents back except for Form I-797.

For visitors, travel, student and other international travel medical insurance.
Visit insubuy.com or call 1 (866) INSUBUY or +1 (972) 985-4400

We are sorry that this post was not useful for you!
Let us improve this post!
Tell us how we can improve this post?