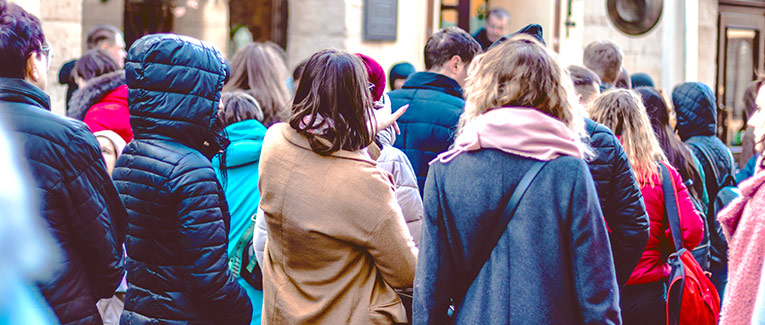 Avoiding lines at popular tourist attractions can be very frustrating. Long waits in lengthy lines, and having to rub shoulders with strangers lessens the thrill and joy of the traveling experience. But, you don't have to let the crowds make you skip an attraction you've wanted to see for years.
You can stop searching for how to avoid lines at sightseeing places. Here are some tourist spot hacks to avoid lines at tourist attractions and legally cut to the front of the line at busy tourist attractions:
1. Avoid Lines at Tourist Attractions by Making the Line Bigger
Getting a group together for a trip is always a great idea. You'll have the company you enjoy, and you also stand a good chance of avoiding lines. A lot of popular tourist attractions, including monuments and museums, plan tourist activities around large groups (20 or more people). The supervising authorities look to expedite the tour for large groups in order to prevent overcrowding.
Self-guided tourist groups also tend to gain quicker entry through the gates. Even if you haven't hired a guide, or your group is less than 20 people, your group of five or six can easily join other small groups and gain early entry.
2. Book in Advance
If you plan to visit an attraction that requires a ticket, booking online in advance can help you avoid long queues at the ticketing line. Attractions such as the Eiffel Tower in Paris, the Vatican, and the Acropolis in Greece all allow visitors to book tickets ahead of time.
You can book tickets for the Eiffel Tower, as well as the Vatican, up to two months before your planned visit. For a tour of the Acropolis, you can even pick the actual hour of your visit.
3. Avoid Lines at Tourist Attractions With Tickets
Plenty of popular tourist attractions around the world offer express passes or skip-the-line tours that allow visitors to gain quick entry. The tickets for these tours are priced higher than regular entrance tickets, but help you save valuable time.
You can find skip-the-line tickets for attractions such as the Colosseum in Rome, and the Skytree in Japan at their official websites, as well as third-party travel agencies. Skip-the-line tickets typically have a refund policy and allow you to pick a preferred time for your visit. They may also include additional facilities such as an onsite host to receive you, dedicated customer service, and a tour guide.
4. Book a Small Group Tour
You can still get past the masses by booking a small group tour at local or international travel agencies that have an exclusive partnership with your favorite attraction.
In addition to early, no-wait admission, these small group tours can also give you access to spots that are inaccessible to regular visitors. Many of the world's busiest tourist attractions, such as the Louvre in France, and the Sistine Chapel in Italy, can be visited through these special access tours.
5. Get a Citywide Pass
Numerous tourist hubs offer citywide passes for tourists who want to explore the whole city instead of visiting a select bunch of attractions. Citywide passes usually avoid tourist traps and pack a good number of attractions into a short period. You can also expect perks such as expedited entry, complimentary meals, and free or cheap transportation between different tourist spots.
Citywide passes can also lead to significant savings. The packages usually cost considerably less than the sum of separate entry fees for each included attraction. These packaged tours typically last a week to 10 days and have you traveling around the city with the same group of people.
For lone travelers, these tours are a wonderful way of getting to know people from different countries and cultures, creating a more meaningful travel experience.
6. Find the Right Hotel
If you're traveling to attend events such as concerts or exhibitions, finding the right hotel is one of the ways to avoid the crowds. Search the event's official website for names of local hotels that are associated with the event. Next, contact the hotels and inquire whether their package includes fast-track entry into the event.
7. Research Destinations to Avoid Lines at Tourist Attractions
One of the best travel tips anyone can give you is to research the place you wish to visit. Plenty of sights around the world are closed off to the public on certain days of the week. Many of Paris' popular museums, for instance, are closed on Tuesdays. In the absence of due research, you can end up facing a closed gate, wasting precious time.
Simply finding out the days that a particular attraction is closed isn't enough. In order to escape the crowd, you need to anticipate crowd behavior. While the Palace of Versailles is open on Tuesdays, it experiences heavy foot traffic on that day since the other nearby attractions are closed.
Another key area of travel research is finding out the free entry days for each of your favorite attractions. If you're headed to Rome, you'd do well to remember that the Colosseum allows free entry on the first Sunday of each month, and that entry into the Sistine Chapel requires no ticket on the month's last Sunday. If you want to avoid crowds at tourist spots, it is best not to visit any popular sites on these free entry days.
8. Watch the Clock
Always make sure to check the opening and closing times of the site that you're visiting. The most popular attractions are the least crowded around the opening and closing hours. Local guides, tourist guidebooks, and online forums can help you get a good idea of the best time of the day for visiting a particular spot.
Many well-known tourist spots across the globe are open until much later on one or more days of the week. London's Tate Modern Museum, for instance, remains open past regular hours on Fridays and Saturdays. These extended hours usually see fewer visitors and are the best time for your visit.
9. Look for Other Entrances
Self-service kiosks and souvenir stands can help you gain quicker entry into famed attractions around the world. If you buy your entry ticket at the self-ticketing kiosks at the Louvre and Versailles, or the souvenir stands at the Tower of London, you can skip the long queues and walk right in.
The Louvre's underground entrance is definitely less spectacular than the breathtaking glass pyramid at the main entrance. But, it's also a lot less crowded on any given day.
St. Mark's Basilica in Venice is another of the world's busiest tourist attractions, with mile-long lines outside the main entry point. Visit a neighborhood church and check-in your backpack or bag. You can then walk to the front of the line, show your baggage claim tag, and head inside.
Last-minute guided tours to popular places of interest such as the Vatican Museums in Italy, and the Colosseum are a clever way of getting in quickly instead of waiting several hours in line. Local guidebooks and online travel forums can give you similar insider travel tips and shortcuts for jumping the queues.
One of the worst things you can do as a tourist is to be reluctant in looking for alternatives and try your luck. Stay sharp, constantly look for opportunities, and be willing to change your plans when caught in a jam. These traveling tips will help you minimize crowd-delays, and maximize the fun no matter where you travel.
When Plans Change
Booking ahead of time is undoubtedly one of the best ways to skip the line at tourist attractions. However, when traveling internationally, things don't always go to plan. Flights and trains can be delayed or canceled for a multitude of reasons. When this happens, the attraction tickets you've already paid for can be useless if they're only for a specific time. To avoid being out all the money you've spent, be sure to purchase travel insurance. No, travel insurance can't help you avoid lines at tourist attractions. But it can provide compensation for prepaid, non-refundable event and attraction bookings for a reason that's covered by the policy. It's a great way to gain additional peace of mind when planning your next dream holiday.
Now that you know how to avoid crowds at tourist spots, go ahead with getting your tickets booked and enjoy a hassle-free vacation.
We are sorry that this post was not useful for you!
Let us improve this post!
Tell us how we can improve this post?