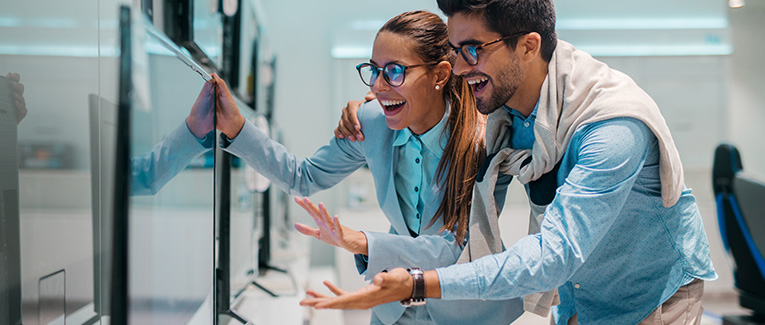 The allure of the latest flatscreen LED/LCD televisions is irresistible. However, the lure can cost a foreign returnee 36.05% of the TV's cost in customs duties at an Indian international airport.
Size Doesn't Matter
Though there have been reports that the duty applies only to TVs larger than 32 inches, real-world experiences quash these as rumors. Indian customs charge import duty irrespective of the TV's size.
The 50k Allowance
The ₹50,000 duty-free allowance isn't for indulgences like flatscreen TVs. You may take advantage of this allowance for lesser things, like an oven or a blender.
Cheap and Latest Models
The latest models at cheap rates will lure you when you stare at the dazzling displays of electronics in retail stores. However, remember that the Indian airport customs officer assessing your imports puts a value on it and imposes a duty that's 36.05% of that assessed value.
The valuation sheet is not available to the public. However, customs officers indeed use such a sheet. The customs officer checks the make, model, and year of the TV and compares it with the valuation sheet.
At the end of the day, the final duty charged on your TV depends upon the assessor's judgment. Some officers strictly follow the customs database, while some are more lenient. A lucky few have escaped with a duty fee that justifies their foreign purchase. Many more have rued the purchase.
Will Purchase Receipts Help?
No. As mentioned earlier, the customs officer relies on his database of various brands, models, and makes to arrive at a fee. However, the receipts can help the customs officer in the assessment and help you establish the year of the TV's purchase. Older TVs attract smaller fees. The customs duty fee on flatscreen LED/LCD TVs applies to all foreign returnees, even if they return for good.
Is Foreign Currency Accepted?
Yes. Most foreign currencies are accepted at Indian international airports to pay the duty fee. However, the assessment is done in Indian rupees.
We are sorry that this post was not useful for you!
Let us improve this post!
Tell us how we can improve this post?