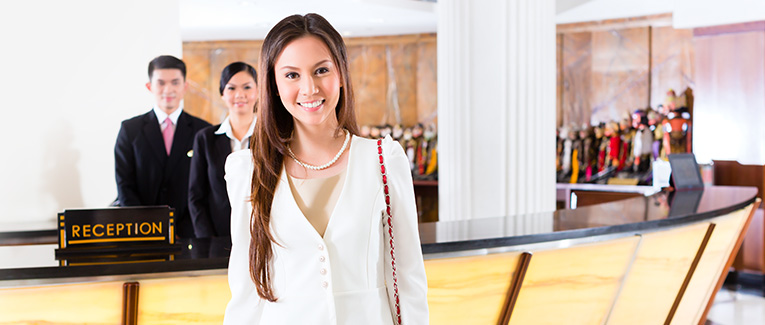 Avoiding Hotel Fees and Surcharges
Nothing is worse than discovering your hotel has charged you more than the booking price.
You've had a wonderful vacation, but as you prepare to check out and take the cab to the airport for the flight back, a nasty surprise awaits you: Hidden hotel fees and incidental charges.
The final charge is $600 more than what you had expected to pay for the hotel. There is no time to argue, or you'll miss your flight.
You must know what to look for in regards to hidden hotel fees before you sign up for a deal that is too good to be true.
We have the inside scoop on deceptive hotel fees.
Hidden Hotel Fees to be Aware Of
Resort Fees at Hotels
Also known as a hotel accommodation fee, this is possibly the worst offense.
What are resorts anyway, and how do they differ from hotels?
Hotels offer you lodging—which essentially means you get a bed, bath, and food (if you choose to partake in the hotel fare). They may also provide other amenities such as room service, laundry, a bar, nightclub, and possibly a swimming pool.
Resorts are a special category of hotels. They are more spacious and have a large greenspace (besides amenities that a hotel provides).
Resorts are for relaxation, whereas hotels are for businesspeople or tourists. The larger size of a resort means they have an upkeep cost that they pass on in the form of resort fees. It is the cost of using amenities other than the room.
Be sure that your hotel, in the middle of a busy city, that is in no way a resort, does not add this imaginary resort fee to your bill. It can sometimes be disguised as a "facility fee" on your bill, so keep an eye out.
Extra Guest Fees at Hotels
The extra guest fee is a discretionary fee. A hotel room is conventionally booked for two people.
If you have a third person with you, your bill might shoot up by as much as half.
The hotel may argue that the extra person is using the amenities—water, air conditioning, Wi-Fi, and room service that was originally meant for two, and the hotel is charging you for more water usage, electricity usage, etc. From this point of view, it does not sound too unreasonable.
It is also true that an extra person does not necessarily mean 50% more resources will be used by them.
If you have a third person with you, ask about an extra guest charge when you check in at the hotel. Most hotels allow kids under 10 to stay without any extra charge.
Never attempt to hide the fact that an extra person is staying in your hotel room. Housekeeping knows exactly how many guests are on any floor at a given time.
Hotel Wi-Fi Charges
Several chain hotels still charge for hotel Wi-Fi. According to Hilton, nonmembers pay $10.95 per night for Wi-Fi. That is the price of several cups of latte at Starbucks!
Check the hotel Wi-Fi policy before you turn on Netflix for your nightly dose of Wentworth, or upload all of your 4K parasailing videos to the cloud.
Some hotels might have a fair use policy for Wi-Fi, allowing occupants to use 10 GB or a similar amount daily before they impose a charge. In that case, use an app such as My Data Manager to monitor your consumption.
Hotel Minibar Charges
Your hotel room came with a tiny refrigerator packed with goodies—several cans of beer, Red Bull, Perrier, and an assortment of chocolates and candies.
Feeling tired after a long trip, you chewed a handful of Ferrero Rocher and drank two cans of Miller.
These minibar items were mysteriously replaced by a kind soul when you went out sightseeing.
After a week, you have downed 20 cans of beer and nibbled through a half a dozen boxes of chocolates. It was the best vacation ever.
Then the sticker shock hits you. On your hotel bill, you notice that the items in the minibar cost you three times what you would have paid for them at the store.
Some minibars even have sensors in them, so if you remove an item, it's automatically added to your hotel bill.
This also applies to complimentary baskets of fruit and goodies that you might find in your hotel room. Beware before you reach for that apricot. Ask the bellhop if the complimentary basket is actually free. Otherwise, return it immediately. Don't get charged for something you don't even use.
Early Check-In Fees at Hotels
It's a common conundrum to show up at your hotel a few hours before your scheduled check-in time. Not wanting to carry your luggage around, you ask the front desk if you can check in to your room early, and they politely oblige.
What seems like an act of kindness can actually result in an extra early check-in fee on your hotel bill.
Many hotels have check-in and check-out times between 10:00 A.M. and 3:00 P.M. Whatever the time is, it will be clearly noted on your booking confirmation.
If your flight arrives at 7:00 A.M. and your hotel check-in time is noon, you do not have the right to enter your room before them.
You can certainly ask the front desk if you can check into your room early. If the room is ready, they may allow you to; but don't forget to ask about the extra cost too. If the hotel charges for early room access, you'll have to choose between paying the early check-in fee, or lugging your bags around until check-in time arrives.
Oh, and if you can't access your room early, avoid the offer from the front desk clerk to watch your luggage. A busy hotel lobby is one of the most common places for luggage theft to occur.
Hotel Parking Fees
Hotels in busy cities like nothing more than charging hotel parking fees. If you are under the mistaken notion that you can freely park in the hotel's unattended basement garage while you spend the weekend working the roulette table in Las Vegas, it's time to wake up.
Why do hotels charge for parking? Quite simply, because they can. Many guests mistakenly assume parking is free, or is available for a nominal charge. On the contrary, hotels routinely charge $40 or more for overnight parking. Stay for a weekend and it could add up to $150 or more for 60 hours.
Before you check in, ask if hotel parking is complimentary. If it is, well and good. Otherwise, seek out a location that allows free parking. Use an app such as Parkopedia to find the lot closest to your hotel. It's worth a little bit of a walk if you can save $200 on parking over a long weekend.
Hotel Safe Rental Fees
Many hotel rooms come with a safe, but are you really going to use it?
Let's be honest here. For many of us, the most expensive thing we bring on a trip abroad will be our camera, which will be with us whenever we leave the hotel.
A hotel safe is designed for storing things like expensive jewelry (which you shouldn't bring on a trip anyway), and other valuables.
If you need to store those kinds of things in your hotel room, then by all means use the safe. However, if you do not, give the front desk a call. Ask if you'll be charged for the hotel safe, and request that the charge be waived if you do not plan to use it.
Protect Your Savings with Travel Insurance
Just as you don't want to be surprised by unexpected hotel room charges, an unplanned expenditure due to a cancelled trip or medical issue on vacation can be even more expensive.
For this reason, savvy travelers invest in travel insurance or travel medical insurance before any trip abroad.
A travel insurance plan can help protect your finances in case you must cancel or interrupt your trip due to a medical or family issue, or other covered reason, by helping you recoup your prepaid, nonrefundable trip expenses, such as hotel booking charges.
Travel medical insurance is designed to allow you to receive medical care for unplanned health issues while in a foreign country, where your domestic insurance may not be sufficient, and might not even be accepted. This way, even if you do have to pay a bit extra for that candy bar from the mini-fridge, at least you won't have to worry about a big out-of-pocket medical expense if you get sick or twist your ankle.
A Final Note About Hidden Hotel Fees
Hotels are in the business of making money, but we do not mean to suggest that they're doing so by way of extortion.
Quite the opposite. Hotels are a home away from home, and most will go out of their way to provide and care for you during your stay.
Hidden hotel charges most often affect those who do not read the fine print, and fail to ask questions. If you come across an extra hotel amenity or plan to sleep an extra person in your room, assume that you'll be charged for it unless you confirm otherwise. The only way to know for sure is to ask the hotel staff. This way you can have an enjoyable stay, with no surprises when you get the hotel bill.
We are sorry that this post was not useful for you!
Let us improve this post!
Tell us how we can improve this post?