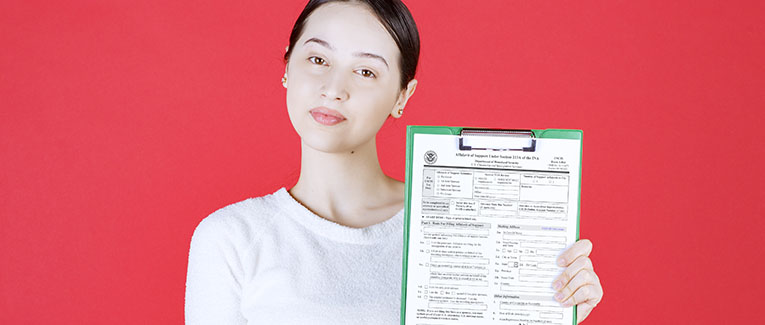 Follow this overall process for preparing and submitting the affidavit of support:
Review this section of the website to familiarize yourself with the affidavit of support requirements and its details.


Look at Exemptions and Exceptions to see if the petitioner is exempt from the affidavit of support requirement. If so, Form I-864W should be submitted. Otherwise, the affidavit of support is required.


Sponsoring an immigrant comes with a lot of liabilities and responsibilities. You should review them carefully and make sure that you really want to sponsor them, because you cannot back out of it later unless the obligation ends according to the provisions of the law. If you do not wish to take on the responsibilities stated in the link above, you do not have to sign and submit the Form I-864, but in that case, the intending immigrant may not be able to become a permanent resident in the U.S.


Look at domicile requirements.


Look at the I-864P – Poverty Guidelines.


Refer to I-864 EZ to see if you qualify to submit it.


Otherwise, Form I-864 and possibly Form I-864A are required.


Using the I-864P – Poverty Guidelines, check if you meet the income requirements for your household size.

If you do not meet the income requirements, check how you can meet them using additional assets and/or joint sponsor(s).

In either case, you should also look at the federal income tax return documents' requirements.


Use the checklist in preparation of forms and assembling the documents.


Submit the affidavit of support, along with all the supporting documents to the appropriate place.

If you are mailing it to the National Visa Center (NVC), make sure to include the bar code sheet for the applicant's case.

The forms cannot be submitted electronically.


We are sorry that this post was not useful for you!
Let us improve this post!
Tell us how we can improve this post?