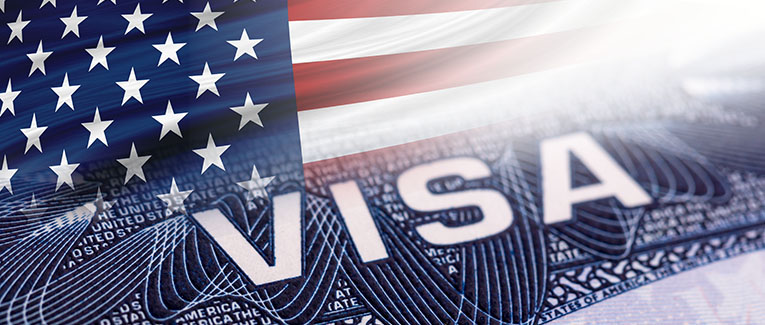 Citizens of foreign countries who wish to obtain permanent resident status in the U.S. generally must obtain immigrant visas at the appropriate Consulate or U.S. Embassy. Unlike nonimmigrant tourist, student, and specialty worker visas, which allow someone to remain in the United States for a limited period of time, an immigrant visa permits the person who receives it to live indefinitely in the United States and to seek employment. In consular processing, the interview for an immigrant visa takes place at a U.S. Embassy or Consulate that has jurisdiction over the beneficiary.


Submit a Petition
The sponsor must first submit a petition to the U.S. It can be a family-based petition or an employment-based petition.

Family based immigration

Employment based immigration

Alternatively, people born in certain countries may apply for Diversity Visa – Lottery. Persons born in certain countries (such as India, China, Mexico, etc.) are not eligible to participate in the green card lottery as already so many people from those countries apply for visas in other categories.


NVC Processing
Once USCIS approves the petition, it will be sent to the National Visa Center (NVC).

Because there are per category quota and within that, per country quota, NVC will not start processing your application until your priority date is current. You can check the monthly visa bulletin to see when your priority date may be current.

Please note that if you don't apply for an immigrant visa within one year of notice of visa availability, you would lose the benefits of that petition, including your priority date.

There is a delay between when you get the notice of approval from USCIS and when NVC receives the petition. After NVC receives the petition, it will create a case record and assign a case number, usually within 24 hours of being received from the USCIS. The case number is used to track the case throughout its duration at the NVC. You should wait at least wait 3 weeks after you get your Notice of Approval before calling NVC if you have not heard from NVC by that time.

If the case is not current, NVC will send you a letter informing you that they have your file at NVC and they will hold it until your case becomes current.
Sample letter

NVC retains the case until it is ready for adjudication by a consular officer abroad. Petitions may remain at NVC for several months or for many years depending on the visa category and country of birth of the visa applicant. When an applicant's case is about to become current (a visa number is likely to be available within the year), NVC will start and complete its processing before the petition is forwarded to the appropriate U.S. Embassy or Consulate overseas. Each petition is reviewed by at least two people before being sent to the consulate, assuring quality control. If an applicant is adjusting status in the U.S., the case will be forwarded to the appropriate USCIS office upon request by that office.

Do not take any action described below without notification from the National Visa Center (NVC). Doing so could result in a delay in processing. Forms received before official notifications will be discarded.

Pay Fees
When an applicant's priority date is close to becoming current, you will pay the Affidavit of Support (AOS) processing fee and Immigrant Visa Application Processing Fee (IV Fee).

NVC fee payment details


Complete Affidavit of Support Form
Once the Affidavit of Support Fee (I-864 processing) fee is paid, NVC will send the I-864 forms and instructions to the petitioner. Instead of NVC sending you the actual forms, you may be asked to download them. In that case, download them and complete them.

The completed I-864 form and supporting documents should be uploaded to NVC, as described below. Do not send it to the consulate. Make sure to include the bar code sheet for the applicant's case.

In addition to Form I-864, you should collect financial evidence and other supporting documents. NVC recommends that instead of sending the tax return, you should consider sending IRS Tax Transcript instead as it has all the information that they need. Larger tax returns may be problematic due to file size limitations. Other documents may include Evidence of Income, Social Security Administration (SSA) Earnings Statement, Proof of Assets, proof or relationship, proof of domicile, and proof of U.S. status, as applicable.


Complete Online Visa Application (DS-260)
Once you have paid the AOS fee and IV fee, and the status in CEAC is updated to 'PAID', each immigrating person must complete Form DS-260, Application for Immigrant Visa and Alien Registration.

Log into your case in CEAC and click the 'START NOW' under IV Application on your summary page.

Once you completed Form DS-260, make sure to submit the Form DS-260 Confirmation page as you need to carry it to the immigrant visa interview at the U.S. Embassy/Consulate.


Civil Documents
Gather civil documents.


Scan Documents
You need to scan all the documents as PDF (preferred) or .jpg or .jpeg files. You can scan them using a computer and scanner or using a smartphone.

The maximum size for each file must not exceed 2 MB (megabytes). If the size is larger, you need to compress the file.

If a specific document has multiple pages, make sure to combine them into one file. E.g., Form I-864.

Zipped files, modifiable PDFs, or password-protected files are not accepted.

Scanned files must be in color. If any document has stamps or writing on the back, you must include the front and backside. Make sure that no parts of the document are cut off and they are clear, easily seen, and read.

Make sure that the document can be read on the computer without the need to rotate.


Submit Documents
Do not send any documents to NVC by mail. Scanned documents must be uploaded to CEAC. Once you log into CEAD, go to the 'Start Now' buttons located under the 'Affidavit of Support Documents and Civil Documents'. You have to upload each document one by one. Once you have uploaded all the required documents for each section, press 'Submit Documents'.

Once you submit the documents, your case will be placed in line at the NVC for review.

NVC Timeframes

If NVC determines that any of the documents are missing or incorrect, you will receive a notification for the same. Follow the instructions to log into CEAC and provide the correct documents or additional information and then click 'Submit Documents'.

If all your documents are complete, NVC will send you an email that your case is documentarily complete. At that time, NVC will work with the appropriate U.S. Embassy/Consulate to schedule an interview appointment for you.


Medical Examination
The applicant and all accompanying family members (spouse and children) need to go for an immigrant visa medical examination.


Interview
Applicant and all accompanying family members (spouse and children) must visit the Consulate on the appointment day for an immigrant visa interview.
Beneficiary already in the U.S.
If the beneficiary is already in the U.S., the petitioner can designate either consular processing or adjustment of status while filing I-130 (Family-based) or I-140 (Employment-based) petition. When the petition is approved by USCIS, it will be sent to NVC for further processing.
If you live in the U.S., you may be eligible for an adjustment of status as a permanent resident. When your case becomes current, NVC will send you a letter stating that you may be eligible for adjustment of status and asking whether you will adjust or apply at a U.S. consular section abroad. If you write back to NVC that you will adjust status, they will note it on your case record and retain the file until a USCIS office requests it to process your adjustment application. If NVC does not get a reply to their letter after 30 days, they will begin processing your case as if you have chosen to process at a consular office abroad. NVC is not involved in adjustment of status and it should be done with USCIS.
If the petitioner indicated that the beneficiary will do adjustment of status in the U.S., and later changes the mind and would like to do consular processing, the petitioner must file Form I-824 to have USCIS transfer the file to NVC for further processing. NVC will start the process as described above. Filing of I-824 can delay the processing considerably.
We are sorry that this post was not useful for you!
Let us improve this post!
Tell us how we can improve this post?