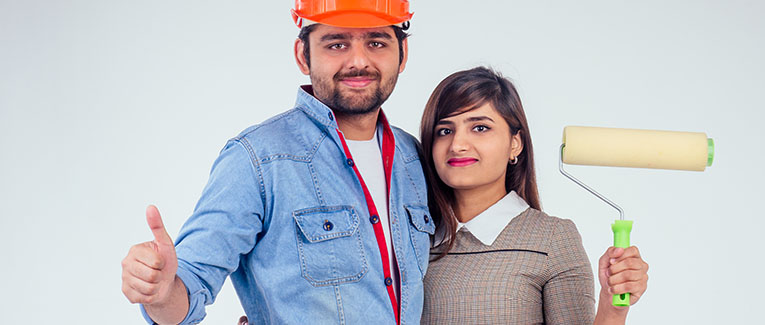 The biggest worry for an NRI owning property in India is maintaining it from abroad.
Most NRIs loathe returning home once a year just to spend their time supervising masons and tripping over cement bags.
Indian dwellings are made of brick and cement walls placed inside a concrete structure. Though very strong, they are prone to developing cracks due to high heat in the summer followed by monsoon rains.
These cracks have to be repaired within a few months, or they grow unsightly. Apart from this, an NRI may wish to redecorate their home, put in a new floor, or build a new kitchen.
Using Property Management Services
If you want to take care of your home from the US, there is no alternative to property management services.
The task of managing a property cannot be easily delegated. There is too much responsibility, and friends and family do not wish to invest the huge amount of time needed for supervision.
Property management services have evolved to take care of this problem easily and affordably. Your house needs regular attention, and they can provide it.
The outer walls need a fresh coat of paint every 2-3 years, and the lawn has to be mowed regularly. The interior will need to be cleaned once a week.
Property management services offer you all of this and much more. You could ask them to collect rent from a tenant and look into any problem with maintenance the tenant has.
How to Sign Up with Property Management Services
You are handing over an asset that costs several crores to perfect strangers. They will have the keys to your house and can enter and leave as they please.
Naturally, there has to be exceptional due diligence.
Check testimonials – Ask the property managers about past clients. Ensure you visit at least 2-3 properties they maintain in the city. Ask customers living abroad how they feel and what is lacking in their service.
Enquire liability – It is easy to sign on the dotted line and enter a contract, but best that you obtain legal advice. A lawyer will be able to read the fine print and point out what financial liability you have from having an agent manage your house.
Negotiate – There is usually no annual fee involved, but a pay-as-you-go agreement. The fees are, of course, negotiable. At this stage, the property manager will be able to provide you details about the report you can expect.
Inventory Check – What is in your house when you leave to go abroad? A detailed inventory of every item is made. This usually takes an afternoon, and at the end, both parties sign the list.
Maintenance – Daily maintenance will vary depending on if a tenant is there or not. If there is no tenant, it is reasonable to clean the house 3-4 times a month. Every six months, a detailed picture collage of the interior and exterior is sent to the client.
Optional Services – You may or may not sign up for optional services that require a lot of care, such as – change to furnishings, remodelling, etc. Of course, such services will be quite expensive since the management agency needs to devote a lot of hours to the project.
We are sorry that this post was not useful for you!
Let us improve this post!
Tell us how we can improve this post?