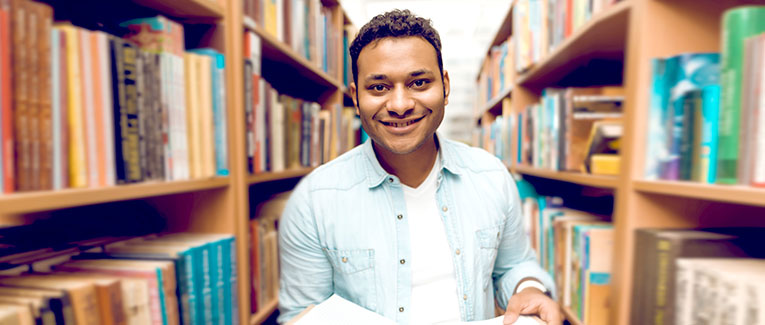 The Non-Resident Indian (NRI) status is hugely important from a taxation perspective. Because taxation is an evolving body of rules and regulations the definition of NRI is also prone to changes. Find out whether you qualify as an NRI or not, here.
Note: For the sake of clarity, this guide refers to both NRIs proper and OCI holders under the umbrella term of "NRI".
Are you searching for the best scholarships for NRI students? Your search is over. Read on to learn about the best scholarships offered by the Indian government to NRI students.
The Government of India does not fail to acknowledge that NRIs, PIOs, and their children are an essential part of the future of India, despite being away from their home. Your education and growth are just as much as a priority as those of other ordinary citizens.
Hence, in 2006, the Government of India launched the "Scholarship Programme for Diaspora Children" (SPDC). This scheme provides financial assistance to Non-Resident Indians and Persons of Indian Origin for specific professional and non-professional undergraduate courses in Indian universities. Medical courses are excluded.
Financial assistance is provided in:
Admission fees
Tuition fees
Post-admission needs
Countries where SPDC is applicable:
| | | | | |
| --- | --- | --- | --- | --- |
| Afghanistan | Australia | Austria and Montenegro | Bahrain | Belgium |
| Brunei Darussalam | Canada | China | Ethiopia | Fiji |
| France | France (Reunion Island) | France (Guadeloupe) | Germany | Ghana |
| Greece | Guyana | Hong Kong – China | Indonesia | Iraq |
| Ireland | Italy | Jamaica | Japan | Jordan |
| Kenya | South Korea | Kuwait | Libya | Lebanon |
| Madagascar | Malawi | Malaysia | Maldives | Mauritius |
| Mozambique | Myanmar | Nepal [SAARC] | Netherlands | New Zealand |
| Nigeria | Norway | Oman | Panama | Philippines |
| Portugal | Qatar | Russian Federation | Saudi Arabia | Singapore |
| South Africa | Sudan | Spain | Syria | Sri Lanka [SAARC] |
| Sweden | Switzerland | Tanzania | Thailand | Trinidad and Tobago |
| U.A.E. | United Kingdom | United States | Uganda | Zambia |
| Yemen | | | | |
The following categories of students are eligible for SPDC:
PIO children (excluding those in Pakistan and Bangladesh)
NRI children
Children of ECR workers – studying abroad
Children of ECR workers – studying in India
Further Information:
PIOs must provide evidence to prove their Indian nationality or origin (eg. OCI card issued by the government)
In order to qualify for the SPDC as a child of an ECR worker left behind in India, the candidate must have cleared the Senior Secondary (10+2) examination or its equivalent from a board acknowledged by the Association of Indian Universities.
ECR countries are Qatar, Saudi Arabia, Sudan, Syria, Thailand, United Arab Emirates, Yemen, Afghanistan, Bahrain, Indonesia, Iraq, Jordan, Kuwait, Lebanon, Libya, Malaysia, and Oman.
Persons born outside India whose parents are neither PIOs nor NRIs are not eligible for SPDC.
Candidates from all other categories need to have cleared grades 11 and 12 from schools abroad.
The candidate must be between 17 and 21 years of age.
A minimum of 60% aggregates in all subjects is necessary to pass the qualifying examination.
In an irresolute situation with regard to eligibility, the Ministry of External Affairs will have the final say.
The monthly income of the parents of the candidate must not be more than $4,000. Parents with a monthly income beyond this will not be eligible.
Candidates who have cleared the qualifying examination for their institution and other eligibility criteria may apply for the SPDC. The admission letter from the institute must be submitted as proof.
About the Scholarship Programme for Diaspora Children (SPDC) – FAQs
How much financial assistance is provided by SPDC?
The maximum amount covered by the scholarship is 75% of the total Institutional Economic Cost (IEC) with regard to NITs and other institutions under DASA. The IEC comprises the tuition fee, hostel fee, examination charges, registration charges, and other institutional charges. It excludes food-related charges. This amount will not exceed $4,000 per annum.
How many scholarships are offered annually?
A total of 150 students are granted scholarships annually under SPDC. Out of the 150 scholarships, 50 are reserved for Children of Indian Workers (CIWG). One-third of these 50 reserved scholarships are earmarked for CIWG who are pursuing studies in India.
Why is NAAC "A" Grade important?
It is important to note that the institution that you choose to study in is NAAC "A" Grade. SPDC is only applicable to NAAC "A" Grade institutions. However, if the status of your institution changes after your admission, your scholarship will not be affected.
What is the procedure to apply for SPDC?
Disclaimer – Certain guidelines for the procedure are bound to change from time to time. Please check with the most current version of official guidelines as you make use of this information.
You may apply for SPDC after you've successfully secured admission in an institute.
All application procedures are carried out online.
All the certificates regarding income proofs, marks, date of birth, admission letter, etc., are to be submitted when applying for SPDC.
What institutes are included in SPDC?
Central Institutions
NAAC Grade "A" institutions
Schools of Planning and Architecture
Can applicants of the Direct Admission to Students Abroad (DASA) scheme apply for SPDC?
Yes, as long as they fulfill the eligibility requirement.
What is Direct Admission to Students Abroad (DASA)?
This scheme is directly regulated by the Educational Consultants of India Lt. It provides direct admission and fee concessions to NRIs and PIOs into engineering and IT colleges in India.
Eligibility Criteria:
Candidates must have passed the examinations after 12 years of schooling or any other examination equivalent to the Senior Secondary examinations in India.
Must have scored a minimum of 60% aggregate in all subjects on the qualifying examination.
Indian nationals should have studied abroad for a minimum of 5 years.
Foreign nationals from SAARC countries are given a 50% fee concession under DASA.
We are sorry that this post was not useful for you!
Let us improve this post!
Tell us how we can improve this post?