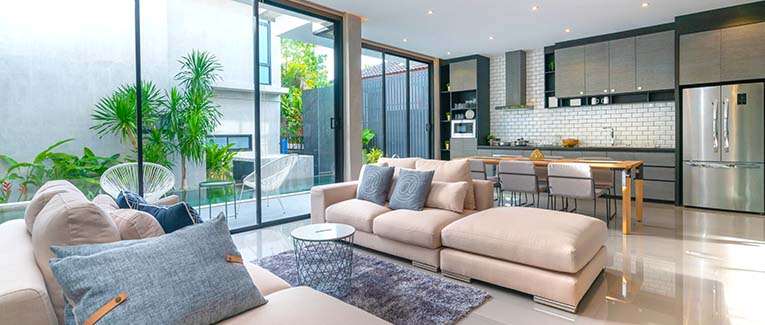 Over the past few years, Airbnb has emerged as a popular alternative to hotels. They are affordable, and accommodation is available at convenient locations without hassle.
The hosts are on the whole quite helpful, providing tips for enjoying a new city, and offering the guest insight into local culture, cuisine, and much more.
But at times, you may run into problems with your Airbnb accommodations.
How can you solve Airbnb problems without hard feelings? Let's take a look.
Five Common Airbnb Problems & Solutions
1. The Host is Out
Sounds weird, but it happens.
You departed Sydney early Tuesday morning and arrived in Paris, bleary-eyed, after a day-long journey and hopping across umpteen time zones. The cab drops you off at Rue de Rochechouart, a block away from the trendy loft apartment you booked.
Alas, the owner is not at home! You have to wait for a couple of hours sipping an espresso and munching on cookies until he returns from the market.
He thought you were due to arrive next Wednesday. Across 10,000 miles and unfamiliar languages, words get lost in translation.
We are human beings, after all. We forget, we misunderstand, and we are inattentive.
To prevent such an episode, call your host before you board your flight. Tell them that barring emergencies, you are arriving in the next few hours. As soon as you arrive at your destination airport while waiting at immigration, call them again.
2. The Place is Unclean
This is by far the most common issue faced by guests. It is exacerbated when your host is elderly and depends on Airbnb as supplemental income.
There are cobwebs here and there, the bathroom has yellow stains, the sheets are unclean, and the pillows smell of stale aftershave.
You have two choices.
If you have not paid the full amount upfront, find other accommodations. Of course, not only does it mean sacrificing the 30% or so you paid as advance but also seeking a new hotel that suits your budget.
After a lengthy trip, that can be a daunting task, especially if you don't speak the language. In peak tourist season, it can be almost impossible.
The other choice is less palatable, but can work if you are flexible.
Help the host clean the place up.
We don't mean get on your knees and clean the bathroom floor, but at least ask for clean bed linens and a broom.
Lend a hand so the host can make it livable.
That is why it is vital to read reviews carefully before you click on the Buy button. The more expensive listings are costly for a reason. They give you fewer headaches and let you focus on enjoyment.
3. I Dislike the Host and/or Another Guest
Unlike a hotel, Airbnb does not offer an insular experience. You have to share a common passage, hallway, and (maybe) bathroom with others.
That means certain leniency is expected from you. The host might be given to stuffing their nose with snuff and wearing an old sweater with a peculiar smell.
Another guest might chain-smoke in their room.
Unfortunately, there is not much that you can do about the situation. It is hardly possible to complain about the personal habits of another person, or their attire and similar idiosyncrasies.
Also, in many cultures, people are easygoing. They do not get upset with others very easily, and are allowed to have quirks.
Be relaxed and try to adjust as best as possible. If you are staying more than a few days, it is hard to put up with something that annoys you terribly and it is best to seek alternate accommodations.
If it's a quick trip, you can probably grin and bear it.
4. There Are Pets
Your host might have cats, dogs, or even an iguana that stares at you with beady eyes while you are having breakfast.
Those who love pets will have no problem. But let's be realistic; some people dislike pets. They wouldn't let a cute dachshund near them, let alone a pointy-looking lizard. For some, pets are a serious health hazard due to allergies and that is not something to be trifled with.
If the fact was not disclosed before you booked, you have a right to complain to Airbnb.
You can also leave a detailed review informing prospective guests of the four-legged inhabitants.
5. No Air Conditioning or Water
This is a tricky issue with Airbnb when you share the same premises with the host.
What happens if the host sets arbitrary limits on the hours the air conditioner can run?
What if there is not enough water? Large parts of Mumbai suffer chronic water shortages. You could return after a day in stifling heat and be unable take a bath.
You can, of course, complain, but Airbnb does not always have alternative rooms available at the same rate.
Even if they did, there is no way to know if you would find similar issues there as well.
Note that the listing does not lack the amenity, but your right to use it is curtailed. Moreover, you have only 24 hours to file a grievance and might not notice the problem until a few days have elapsed.
The way out is to compromise with the host. Maybe offering to spend a bit more could get you unrestricted air conditioning (a dollar goes a long way in many parts of the world).
Perhaps you can arrange for water to be stored, and buy the host a large 100-liter container from Amazon?
Understand that such problems might exist throughout the city, and vacating one place for another is not always a solution.
The Role of Airbnb in Solving Disputes
You have to remember that, unlike Holiday Inn, Airbnb does not own and operate the properties listed on its site. They merely facilitate the transaction and keep a small part as commission. They exert no direct control over the guest or the host.
Both parties are expected to abide by the rules. If the guest or host refuses to follow those rules, there's a limit to how much Airbnb can do.
Both the host and guest can leave scathing reviews about each other, making others think twice before engaging with them. But does that help with local and timely dispute management? Not at all.
Airbnb can try to mediate if you call them and protest, but it's hardly possible for them to hold the host accountable because the air conditioner is two decades old and emits a dying sigh every time one turns it on.
Of course, if the issue is serious enough that you ask for a refund, they will assist to the extent possible.
However, the system is far from perfect (which is why hotels continue to thrive).
Last Words…
One of the caveats of the sharing economy is that it depends on the honesty and respect of individuals, rather than companies. Airbnb has certain standards they can attempt to hold hosts to, but cannot guarantee they will hold up their end of the bargain.
If you're the type of traveler who likes to know exactly what they're getting into, a hotel may be a better choice. If you're willing to take a small risk to stay somewhere unique, Airbnb can offer that. Just follow these tips when booking.
Read the reviews – Trust the opinions of a previous guests. If a listing has few reviews, no reviews, or nothing but lukewarm or negative reviews, there's a reason why.
Look at the pictures – All of the pictures. There should be detailed shots of every living space in the property. If there aren't, look for another property. There's no way of knowing what you cannot see.
Look for a detailed description – If the host cannot take the time to write a thorough description of the property they're trying to use to generate income, who knows what other corners they've cut?
Buy travel insurance – If your trip has to be cancelled for a covered reason, a travel insurance policy can help you get reimbursed for your prepaid, nonrefundable expenses, including hotel and Airbnb bookings.
We are sorry that this post was not useful for you!
Let us improve this post!
Tell us how we can improve this post?