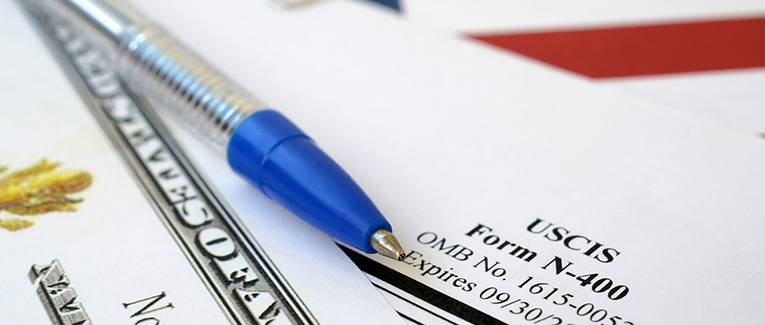 You can either file a Form N-400 online or complete a paper application and send it through mail.
What if I live overseas? If you are overseas and filing a Form N-400, you should send your application to the USCIS Lockbox Facility that serves the USCIS office where you want to be interviewed.
What if I am currently serving as active duty status in the military? If you are applying for naturalization based on qualifying military service and are currently serving in an active duty status, you may go to your service's personnel office for information on how to prepare your application. You should speak to your personnel office even if you are stationed overseas. For more information, see "Naturalization Information for Military Personnel" (Form M-599).
Assembling The Application
Arrange the documents in following order:
Fee payment
A Form N-400 with two photos attached
A Form G-28, if applicable
A copy of the front and back of the I-551 (Permanent Resident) card
Other evidence
Supporting documentation
A cover letter is NOT required. Therefore, don't write a cover letter.
Application filing instructions
We are sorry that this post was not useful for you!
Let us improve this post!
Tell us how we can improve this post?