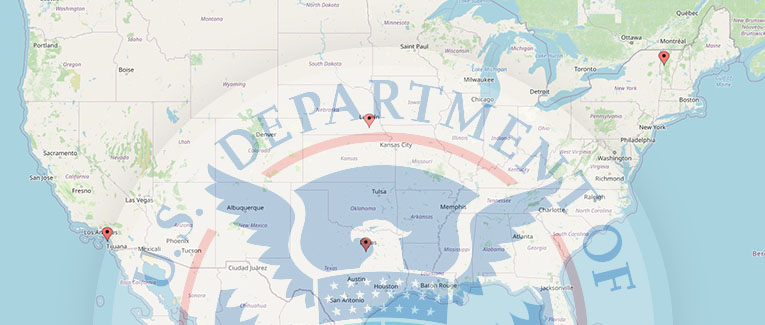 The U.S. Citizenship and Immigration Services (USCIS) Service Centers were established to handle the mail, file, data entry, and adjudication of most applications for immigration services and benefits. These applications should be mailed to USCIS service centers. Service centers are not staffed to handle walk-in applications or answer questions. Service centers have established special Post Office boxes to receive applications mailed to the center by applicants or petitioners residing in its service area. The applications and petitions processed by each service center are listed on its home page, as are the special Post Office box numbers and zip codes by form type for the service centers using them. Prospective applicants should look at this list of forms to confirm that they are accepted by the service center in their area.
It should be noted that if your request was submitted through the USCIS Electronic Immigration System (ELIS) or is being processed online, the receipt number will begin with IOE, regardless of jurisdiction.
Vermont Service Center (VSC)
Jurisdiction: Connecticut, Delaware, Maine, Maryland, Massachusetts, New Hampshire, New Jersey, New York, Pennsylvania, Puerto Rico, Rhode Island, Vermont, Virginia, Virgin Islands, West Virginia, and the District of Columbia

The receipt numbers start with EAC.


Nebraska Service Center (NSC)
Jurisdiction: Alaska, Colorado, Idaho, Illinois, Indiana, Iowa, Kansas, Michigan, Minnesota, Missouri, Montana, Nebraska, North Dakota, Ohio, Oregon, South Dakota, Utah, Washington, Wisconsin and Wyoming

The receipt numbers start with LIN.


Texas Service Center (TSC)
Jurisdiction: Alabama, Arkansas, Florida, Georgia, Kentucky, Louisiana, Mississippi, New Mexico, North Carolina, South Carolina, Oklahoma, Tennessee, and Texas

The receipt numbers start with SRC.


California Service Center (CSC)
Jurisdiction: California, Nevada, Arizona, Hawaii, Guam

The receipt numbers start with WAC.
We are sorry that this post was not useful for you!
Let us improve this post!
Tell us how we can improve this post?