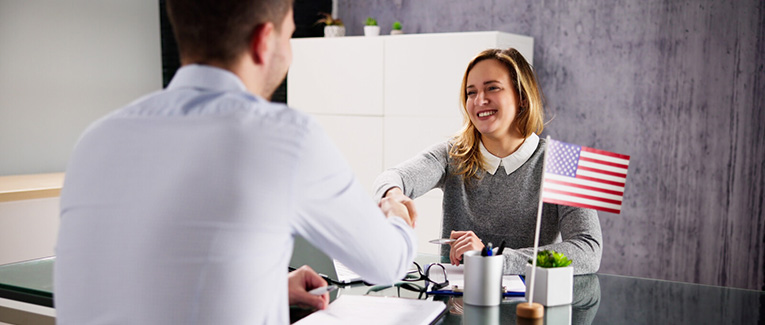 Customer Service
You should expect U.S. Citizenship and Immigration Services (USCIS) staff to be:
Professional
Courteous
Knowledgeable
You should expect the naturalization process to be:
You should expect information on the naturalization process and on the status of your application to be:
Accurate
Readily available
The USCIS also expects certain things from you.
You should:
Treat USCIS employees with courtesy
Read "A Guide to Naturalization"
Read and follow the instructions on your application
Be prepared at each step of the process
Making a Customer Service Complaint
The USCIS realizes that in some offices, it takes a long time to process applications. The USCIS is currently working to reduce processing times.
If you have a complaint about the way that a USCIS employee treated you, you should speak with that employee's direct supervisor if possible. If your complaint is not handled to your satisfaction or you could not speak with the supervisor, you may write a letter to the Director of your District Office. Filing a complaint will not affect your eligibility for naturalization.
You can also use the "Report of Complaint" (Form I-847). This form is a pre-addressed postcard that is sent to the USCIS Headquarters in Washington, DC.
Getting help
There are many resources available to naturalization applicants. Some of these are:
Customer Service. If you need more information about the naturalization process and you live in the continental United States, you may call Customer Service at no charge (1-800-375- 5283) for help. Not all services may be available to callers from all areas.
Community Based Organizations (CBOs). In most communities, there are organizations that assist immigrants who want to become citizens. These organizations often offer classes in English and civics requirements. They may also help immigrants complete their applications. CBOs may charge a fee, or they may offer their services free of charge.
You may locate a CBO by contacting your local USCIS office. You may also look in the phone book under "Immigration and Naturalization" or "Immigration and Naturalization Consultants" or talk to other immigrants who have been naturalized.
Adult Education Classes. In many communities, there are adult education classes to help you learn English. Some classes can teach you English and U.S. civics and history at the same time. To find these classes, you can call your local community college or public school district office, or you can look in the blue pages of your phone book under "Schools – Public." Some CBOs and public libraries also offer English classes.
Important
You should be certain that the organization or attorney you contact is reliable and has a good reputation. One way to be sure of the quality of a CBO is to ask them for references or if the Board of Immigration Appeals (BIA) accredits them.
Immigration Attorneys. If you have questions about your eligibility, you may want to talk to an immigration attorney. Attorneys are usually listed in the phone book under "Lawyers" or "Attorneys." In many cases, the phone book also has a directory of attorneys by the type of law they practice. You may be able to find attorneys who assist immigrants by looking in the directory under "Immigration and Naturalization."
USCIS Information Counters. If you have questions that have not been answered either by this guide or by other resources listed here, you may always go to the information counter at your local USCIS office. There you may speak directly to a USCIS representative.
We are sorry that this post was not useful for you!
Let us improve this post!
Tell us how we can improve this post?