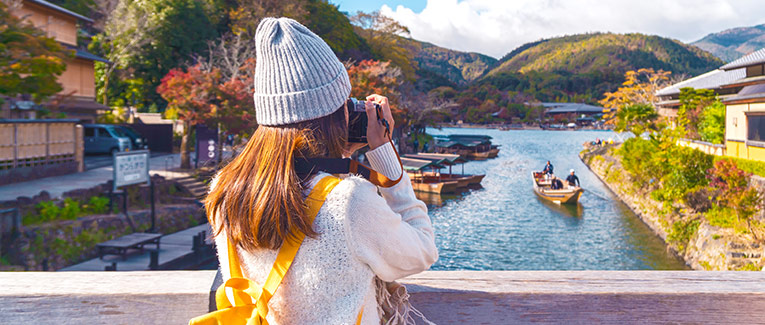 Temperatures soaring over 100 degrees, flight tickets worth $500, and booked up restaurants and hotels: That's what summer travel looks like. The scenario is similar in winter, except you face much lower temperatures and snow.
Fall is the new travel season. Here's why.
When Prices Fall
A round-trip from Chicago to New Orleans can cost $70 in October and November. Take the same flight in summer and you'll pay $170 on average.
You might pay $80 for a round-trip flight from San Francisco to Las Vegas in the fall. Airlines charge $140 on average for the same destination in summer.
Flying internationally? You could pay $330 for a round-trip from Los Angeles to London. In summer, the price shoots up to over $480.
You get the idea.
The reason behind cheaper flights is the age-old equation of supply and demand. Children are back to school in the fall, and travelers think of fall as the offseason, so airlines lower ticket prices. You can use a flight search tool such as SkyScanner or Google Flight to find even better prices.
Hotels join the game, too. Wilson Hotel in Montana charges $350 for a two-night stay in a double room in the fall. However, you'll pay up to $650 for the same room in summer. Similarly, hotels in the Caribbean charge 60% less in late fall than in summer, on average.
Want to try glamping? Book a private tent at Running Spring Ranch in California for $115 per night. If you don't know, glamping is camping with facilities including showers, picnic tables, and bins.
In Dubrovnik, Croatia, you must pay up to $60 a night for a hostel bed from June to September. You pay $20 for the same in the fall.
Smaller Crowds Mean More Space
A study by AAA confirms that 62% of Americans prefer to travel in the fall because of less crowding. Book a trip between Labor Day and Thanksgiving and you will agree.
Stand on the first row of the viewing deck of the Empire State Building, or stroll through the Louvre and get within touching distance from the Mona Lisa (but don't actually touch it).
Fall is when schools are back in session. This translates to smaller crowds in tourist spots. So, forget hour-long lines, jostling for a view of the sunset, or ending up with stranger's faces in your selfies.
Get why everyone is obsessed with fall?
Full of Festivities
What is special about the fall season? The festivities.
If you are in lower Manhattan, join the Village Halloween Parade. The parade happens on October 31st from 7:00 P.M. to 10:00 P.M. Furthermore, watch the giant spider hanging from the Jefferson Market Library Tower. The organizers stream a baby parade that features toy-sized puppets as well.
How about over 7,000 brightly lit pumpkins and lanterns on both sides of the road? The Jack O'Lantern Blaze in New Jersey offers the same. A team of gourd artists carve the pumpkins onsite. You can also visit the Museum of Pumpkin Art and Pumpkin Carousel. The show runs from 18th September to 21st November. Tickets cost $25 each.
Oktoberfest happens in Munich from late September to the first week of October. You'll find beer tents serving pints from the six Munich breweries. The stalls play traditional Bavarian music as well. You'll spot people in traditional Bavarian clothing and lederhosen.
On 5th November, residents of London celebrate Bonfire Night, or Guy Fawkes Night. Watch the fireworks display which showcases the Gunpowder Plot of 1605. People toast marshmallows and cook sausages in bonfires as well.
Jacket Weather
You are at an outdoor music festival in Austin, Texas and you want to dance to the beat. However, your shirt is plastered to your body. You have to stop taking photos every five seconds to wipe the sweat off of your forehead and eyebrows.
Fall offers a perfect solution. The weather stays mild with temperatures ranging from 50 to 75 degrees Fahrenheit (10 to 24 degrees Celsius). The air also stays dry, so you won't have to combat sudden rains.
Visit U.S. cities like New York City and Las Vegas from late September to the end of October. You can stroll down the Las Vegas Strip and dine outside at Lago while watching the views of the Bellagio's dancing fountains without feeling like a bucket of sweat.
Pack a light jacket or sweater, as temperatures can drop at night.
Fall is for Fantastic Food
If there is a season dedicated to foodies, it is fall.
Sweet potatoes, apples, pears — fall is the peak season. You can go fruit-picking with farmers, dine at a farm-to-table restaurant, or you can stroll around a farmer's market.
You can participate in food and wine festivals as well. European countries celebrate the grape harvest with wine festivals. Famous celebrations include Ukraine's Festival of Cheese and Wine in Lviv, and the International Wine Festival in Budapest.
If you are in Belgium, visit the Kookeet Food Festival in Bruges. The festival goes on for three days, and over two dozen chefs participate in cooking challenges. Expect to find chefs from 12 Michelin-star restaurants. You can choose from vegetable and gourmet food options, and you can enjoy wine, beer, or champagne with each dish.
The New York Wine and Food Festival (NYCWFF) offers over 80 events. Events include dinners with television chefs, wine tastings, and late-night parties. Both local and international chefs participate in the festival.
Make your tastebuds come alive with smoked fillet mignon tartars, or curb your sweet tooth cravings with pistachio honey ricotta ice cream.
An Explosion of Color
What is fall best known for? The foliage.
Leaves turn bright red, orange, and gold. Visit U.S. states like New Hampshire and Connecticut to see a kaleidoscope of turning leaves.
Wander through the Boston Public Garden and see elm trees in fiery oranges and reds. Ride on the iconic swan boats, or sit on the bench by the lagoon.
Book inns like The Red Lion Inn in Massachusetts, and Aspen Meadows in Colorado for a stunning view of the foliage.
Your Instagram Will Thank You
What is the best part of fall in New York? Watching the sunset. Grab a seat at Brooklyn Bridge Park or a rooftop bar and you are all set to click those Instagram-worthy pictures.
The leaves color the landscapes into shades of orange, yellow, and red. Stroll through the forest, or drive along a tree-lined road, and you can click photos you can post on social media for a year.
Fall in Love with Fall
Cheaper flights and hotel rooms, fresh food, and picturesque landscapes — fall is the traveler's paradise. Go for an adult-only trip while the kids study, or break a rule to take them with you. Whatever you do and wherever you go, pack a jacket, purchase your travel insurance, and enjoy.
We are sorry that this post was not useful for you!
Let us improve this post!
Tell us how we can improve this post?