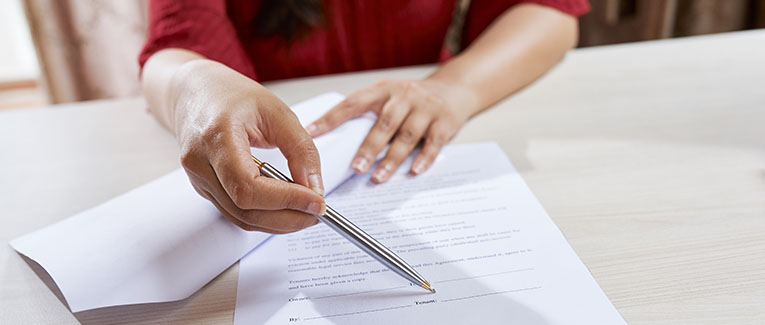 Renting out properties in India is a great source of NRI income. You probably already know that.
But, what you might not know are the hassles of renting a property in India. If you are an NRI gearing up to rent out a property in India, tread carefully.
First things first, ensure your property is maintained well enough to get maximum rental income.
Once you are done with that, start finding the right tenant.
Rental scams, unruly tenants, and illegal possession are among the few aspects that you need to be vigilant about.
To avoid landing in a heated legal battle later, be prepared now.
Screen Your Prospective Tenants Comprehensively
The first impression should not be the last impression when it comes to finding a tenant. More often than not, the first meeting is unlikely to reveal the complete details about your prospective tenants.
Don't hesitate to conduct a background investigation to get clarity. Find the tenant on social media; that's generally a massive giveaway of whether you should take the discussion further.
Insist on the personal details of all tenants. The bare minimum is:
Full name
DOB
Aadhar Card
Driver's license
Complete contact information
Permanent address
Current address (if different than the permanent address)
Over and above the basics, some other information that you should know include the following:
Financial information about prospective tenants: Employment details, income tax details, and business details of business owners would help you ascertain whether or not the tenant will be able to pay the rent on time.
Default on rental payments can be a headache to manage. You don't want to deal with requests from your tenant for postponing a month's rent to the subsequent month.
Legal information: If a tenant has been involved in bankruptcy, convicted of a crime, or evicted from a previous residence, it raises major red flags. For safety reasons, you wouldn't want to rent out your property to people with a documented history of crime or bankruptcy, right?
Make your decision only after you have complete details about your prospective tenants.
Also, check how many people would be occupying the property and if they have any pets. If it is a commercial property, details about how it will be used should be clearly explained.
Insist that the Tenant Get Their Police Verification Certificate
This might seem like you are going overboard with vigilance. But police intimation and verification is necessary for tenants. In some states, it is legally mandatory to get police verification so that undocumented individuals don't find an easy refuge from the law. Not performing a police check in those states is a punishable offence as per the Indian Penal Code.
Be Diligent with Your Rental Agreement
Before you rent out your property, ascertain what type of rental agreement is the best option for you.
The two types of rental agreements are:
Rental Lease Agreement: In this form of agreement, there is a transfer of interest from lessor to the lessee. In other words, possession is transferred to the tenant. In such an agreement, the tenant can sublet the property to a third party. And in case of the death of the lessor, the agreement is not terminated and would be valid for its full duration.
Leave and License Agreement: From an NRI landlord's perspective, this is a better type of agreement, as it does not transfer any interest in favor of the tenant. The premises cannot be sublet. Rent control is not applicable, and advance rent can be charged by the landlord. Also, in case of the landlord's death, the license is terminated automatically.
Once you have finalized which type of rental agreement you want, you need to identify what the agreement should contain.
Some important points that should find a space in your rental agreement include:
The present condition of the property. If you are renting out a furnished property, list the items of furniture that can be used by the tenant and their current condition.
What is included or excluded from the rent? Will the electricity and water bills be payable by the tenant? Will the tenant have to pay for the maintenance separately? What damages will be payable, and by whom?
How much is the security deposit, and when is it to be refunded?
The mode and date of payment of rent.
When and by how much will the rent increase over time? It is normal by Indian standards to increase the rent by 8–10% each year. But, it is better to not take it for granted and clarify the expected hike in rent.
Register the Rental Agreement
Once you have finalized the rental agreement and discussed each and every detail, get the agreement registered and signed.
Section 49 of the Registration Act states that non-registered agreements won't be admissible in court. And it is legally required to register your rental agreement if it is for a duration of more than 11 months.
Even from your tenant's viewpoint, getting the agreement notarized is important. It acts as his/her proof of residence as well as helps get gas and telephone connections.
Most experts would recommend that NRIs be physically present for the duration of these proceedings. However, if that isn't possible for you, you can issue a special Power of Attorney to someone you trust in India.
When renting a property in India, remain vigilant and use common sense and presence of mind. If anything seems too good to be true or somewhat fishy, it is better to call off the deal.
We are sorry that this post was not useful for you!
Let us improve this post!
Tell us how we can improve this post?