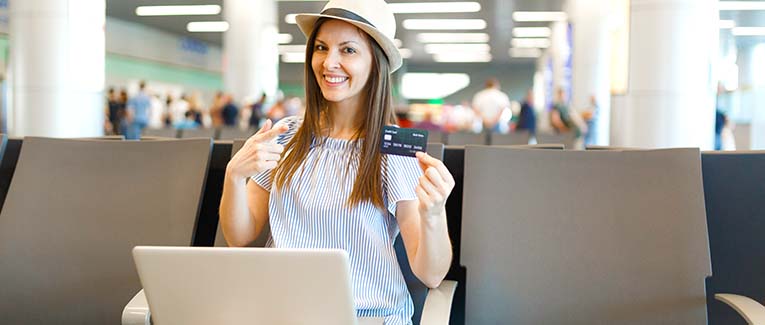 When you think of credit cards, you probably think of debt. How can a credit card be beneficial at all on vacation?
Well, it turns out that certain cards offer benefits that you did not know about. These credit card travel benefits can come in handy while renting a car, flying, or even going on vacation. Read on to find out more about what these cards offer.
Note: the information is true at the time of writing. That is August 2021.
7 Credit Card Travel Benefits To Use On Your Next Vacation
1. Coverage for Rental Car Collisions
When you rent a car, the car rental company will offer you a collision damage waiver (CDW). However, they charge up to $30 a day for this service. You may find a credit card offering that same service and save money.
You can charge the entire cost to your card; however, credit card issuers offer secondary coverage in most cases. This means that your car insurance company first pays for any expenses occurred, and then the credit card issuer picks up any charges your automobile insurance plan won't pay.
Credit cards, including the Chase Sapphire Reserve Card and Chase Sapphire Preferred Card, offer secondary coverage. The coverage applies for physical damages and theft of the car. Furthermore, the credit card issuer may pay for loss-of-use charges that the rental company issues. Finally, if you have to tow the car to the nearest qualified repair facility, the credit card issuer can also pay for that expense.
Credit cards, including the United Explorer Card and American Express Gold Card, offer primary coverage. United Explorer Card offers coverage by default. American Express charges up to $24.95 for the service.
Most credit card issuers cover rental car collision charges for a maximum of 31 days. However, American Express cards offer the service for up to 42 days. You must book the rental car using the card with the collision coverage.
2. Coverage for Delayed or Lost Luggage
This is one of the most valuable credit card travel benefits.
Your luggage arrives after six hours of delay or never arrives at all. So now you must buy new clothes and toiletries, and maybe purchase a new bag, all out of your own pocket.
You can be saved from this dilemma, though, if your credit card issuer offers delayed or lost luggage coverage.
If the airline delayed your luggage, the credit card issuer might cover purchases you have to make because of the event. A change of clothes and toiletries? The credit card issuer can reimburse the cost. Must buy a power bank? You can be covered. However, credit card issuers reimburse the cost up to a specified limit that is different for each card issuer.
Travel cards like Chase Sapphire Preferred Card, United Explorer Card, and Barclays AAdvantage Aviator Red World Elite Mastercard offer $100 each day for up to five days. The reimbursement can apply after the airlines have delayed your luggage for six or more hours.
Chase Sapphire Reserve Card and Chase Sapphire Preferred Card offer up to $3,000 for lost luggage. The benefit covers the cardholder and their immediate family.
The Amex Platinum Business Card and Amex Platinum Card offer up to $3,000 for carry-on bags. The credit card issuers offer $2,000 for checked luggage.
3. Coverage for Trip Delays
Your flight has been delayed for over 18 hours. However, a storm caused the delay, so that the airline won't offer any compensation.
Trip delay coverage from the credit card issuer offers a solution. You can receive reimbursement for expenses arising from a delay in the trip. However, you must book the flight ticket using the card with the coverage to receive the benefit.
Credit card issuers can offer $500 per ticket for trip delays. The coverage kicks in after a flight delay of six or more hours. Credit cards offering the benefit includes Chase Sapphire Reserve Card, US Bank Altitude Reserve Visa Infinite Card, and the Platinum Card from American Express.
4. Coverage for Trip Interruption and Cancellation
You need to cancel or interrupt a trip for a lot of reasons. Some credit cards offer reimbursement for any prepaid and non-refundable expenses you wouldn't otherwise get back due to canceling or interrupting your trip.
Chase Sapphire Reserve Card and United Club Infinite Card offer up to $10,000 for each covered person. For both cards, the amount is capped at $20,000 per trip.
The IHG Rewards Club Premier Credit Card and Ink Business Preferred Credit Card are among the best rewards credit cards for travel as they offer up to $10,000 for each covered person.
However, credit card issuers impose limitations on the eligibility and coverage amount. That's why thousands of smart travelers like you buy travel insurance plans before their trips.
The best place to buy travel insurance plans is Insubuy. Head over to the website and compare the available travel insurance plans with the click of a button. Then, purchase the one you like right from the website, and save the policy documents online.
Here is why you should trust Insubuy:
BBB Rating and Accreditation A+
The PCI DSS compliance means your credit card information is safe
A Dun and Bradstreet verified tag means you can trust the authenticity of the site
5. Coverage for Roadside Assistance
Ran out of gas? Have a flat tire? Your credit card issuer might offer coverage for roadside assistance.
The Chase Sapphire Reserve Card offers up to $50 per service. In addition, you can receive coverage for up to four service events in a year. The United Explorer card offers an identical benefit.
The Chase Freedom Unlimited and Capital One Venture Rewards Credit Card offer a flat fee for each service event. Check with your credit card issuer for the exact coverage amount and get the list of covered roadside services.
6. Concierge Services
You are moving to a new city. You call up your concierge and ask them to research the best schools in the city. Within 24 hours, you have the complete list with you.
Credit card issuers offer such concierge services.
The Luxury Gold Card from MasterCard offers concierge services over call, live chat, and email.
Travel credit cards, including the Platinum Card from American Express and Chase Sapphire Preferred Card, offer this service as well.
You won't need to pay for the service unless you ask the concierge to buy something for you.
7. Entry to Airport Lounges
Fast Wi-Fi, free food, and showers. Airport lounges are a traveler's paradise. However, you must pay up to $50 for a daily pass. An annual membership can cost up to $550 for each person.
Your credit card can offer access to these benefits for much less or even free.
The American Express Green Card offers up to $100 in statement credits in a calendar year. The offer applies to airport lounges controlled by Loungebuddy.
The Alaska Airlines Visa Signature is a great travel credit card that offers a 50% discount on day passes at the Alaska lounge. In addition, the Hilton Honors American Express Surpass Card offers 10 free priority pass lounge visits per year.
Truly, a credit card travel benefit you can't resist.
Use More, Receive More Credit Card Travel Benefits
The more you use your credit card, the more credit card travel benefits you earn. This is how companies offer credit card benefits to encourage you to use your card more often. It is a win-win situation for both the customer and credit card issuer.
We are sorry that this post was not useful for you!
Let us improve this post!
Tell us how we can improve this post?