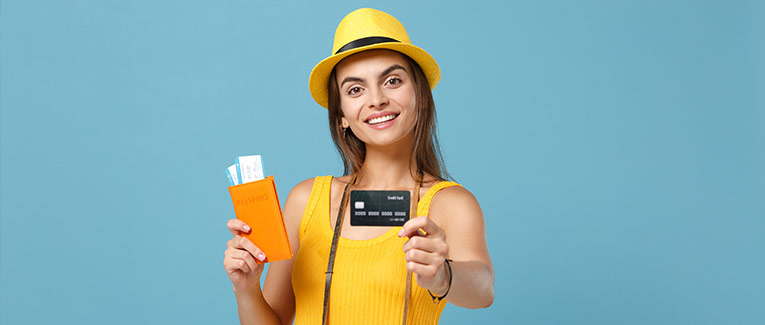 You won't have to stand in the hour-long security lines or pay for checked baggage, and you get free access to airport lounges.
Credit card reward points allow you to experience the aforementioned scenarios. Learn how to use credit card rewards for your next trip.
Priority Boarding
If you board the plane early, you'll get access to the overhead bin space. You can wipe the seating area including the armrest, the seatbelt buckle, and the tray table before fellow passengers board the plane.
Use travel credit card reward points to pay for priority boarding. Travel credit cards offer the perfect solution to those who don't travel with a single airline. Examples include The Platinum Card from American Express, Citi Prestige Card, and Chase Sapphire Reserve.
Co-branded airline credit cards often offer priority boarding as well. Examples include American Airlines personal cards, Amex Delta personal cards, and Southwest Rapid Rewards Priority Credit Card.
Southwest Rapid Rewards Priority Credit Card offers four upgraded flights each year.
Access to Airport Lounges
You can get access to free, high-speed Wi-Fi, charge your phone and laptop, or even take a nap.
Airport lounges offer you these benefits. However, you will typically pay a fee for a daily pass for one person, as well as an annual membership fee.
Use credit card reward points to get access to airport lounges for free.
Credit cards including Chase Sapphire Reserve and The Platinum Card from American Express offer access to Priority Pass lounges. Priority Pass offers a network of over 1,300 airport lounges worldwide.
If you want access to exclusive airport lounges including American Airlines Admiral's Club, use credit cards like The Business Platinum Card from American Express. The Citi/AAdvantage Executive World Elite MasterCard offers access to exclusive airport lounges as well.
Amex Platinum cardholders get access to the American Express Global Lounge Collection. The collection includes Air Space and Escape lounges, Plaza Premium, and Delta Air Lines SkyClubs.
Free Checked Baggage
Another great way to redeem travel reward points is for free checked baggage.
Airlines charge from $30 to $100 for checked baggage. You pay more for every oversized piece of luggage.
Credit card reward points allow you to avoid the fee. Alaska Airlines Visa Signature credit card lets you carry a free checked bag for seven people, including yourself.
If you want a card that lets you carry a free checked bag for every person on the reservation, choose the Delta SkyMiles Gold Business American Express Card. The United Club Infinite Card allows you to carry two bags on every United Flight.
Chase Sapphire Reserve card offers more than free checked baggage. If the airline loses or damages your bag, you receive $3,000 for each passenger. If you experience baggage delays for over six hours, you'll receive up to $100 a day for five days.
You should also make sure to invest in travel insurance to receive coverage for baggage delays, baggage loss, flight cancellations and delays, and many other benefits.
TSA PreCheck and Global Entry
TSA claims 97% of TSA Precheck members wait less than five minutes for security checks. Global Entry allows you to bypass the U.S. Customs and Border Protection Inspection lines.
You pay an $85 fee for a TSA Precheck membership for five years. For a Global Entry membership, the fee is $100 for five years.
Credit cards, including the Capital One Venture Card and Citi Prestige Card, allow members to use reward points to pay the fees. You can receive the fee as statement credit as well.
For a complete list of eligible cards, check the TSA website.
Discounts on Hotel Bookings
Another benefit of traveling with points is booking hotel rooms. Travel reward credit cards allow you to transfer points to hotel loyalty programs. Afterward, you can use the points to book hotel rooms.
The Amex Platinum Card offers complimentary elite status with Marriott and Hilton, and you receive a premium concierge service to help you with reservations and finding destination guides.
Hotels.com Rewards Visa Credit Card offers free reward nights. In the first year of card ownership, you receive free breakfast in the hotels as well.
If you prefer to stay with a brand hotel such as Marriott whenever you travel, choose a co-branded hotel credit card. The Marriott Bonvoy Boundless Credit Card allows you to earn three free nights. Each night costs up to 50,000 points. You must spend $3,000 on purchases in the first three months after you open the account.
The World of Hyatt Credit Card offers one anniversary night stay for free.
Hotel Room Upgrades
If you want to switch rooms but cannot afford the charges, you can use your credit card travel points.
The Amex Platinum Card allows you to use points for room upgrades, and if you book a hotel room with the card, you receive $200 in statement credit. You must book the room with American Express Travel. The card also offers complimentary Marriott Bonvoy Gold Elite Status.
Cards, including the Chase Sapphire Card, allow you to upgrade hotel rooms as well. You also receive complimentary Wi-Fi, bonus points on stays, and late check-out when available.
Co-branded hotel credit cards offer similar benefits. Examples of cards include the Hilton Honors American Express Aspire Card and the World of Hyatt Credit Card.
Check with your credit card issuer for more details.
Discounts on Rental Cars
Get discounts on rental car bookings with your credit card reward points.
Discounts vary with each card and car rental agency. The Chase Sapphire Reserve credit card offers 20% off on Silvercar Rentals. For Avis, you get discounts of up to 30%.
The Amex Platinum card offers 15% off on Avis rental cars.
Chase Sapphire Preferred card offers a primary damage waiver fee. The card issuer will reimburse the fee, and the coverage applies to rentals of 31 days or less.
Upgrade Airline Seats
You can use credit card points for flights by upgrading your seats.
Credit cards like the Amex Business Platinum Card allow you to spend flexible reward points to upgrade flight seats. You also receive a 35% Airline Bonus. If you spend 100,000 points to book a business class flight, you receive 35,000 points back into the account.
You can also use signup bonuses to book business class seats.
Receive Free Wine
Visa Signature and Visa Infinite cards offer free wine tastings with Napa Valley and Sonoma wineries.
Buy one standard wine tasting with the card, and you'll receive a complimentary tasting of equal or lesser price. Visa urges cardholders to check with the winery beforehand to know existing offers.
Amex cards offer cash back on purchases from wine companies and subscription services. The companies and services include Parcellwine.com, Vinesse Wines, and Beringer Vineyards.
Is it better to redeem points for travel or cash?
Credit card companies offer up to one cent per point. Amex and Capital One Miles offer a redemption value lower than one cent as well. You'll do better to use the points for travel purchases like hotel bookings and flight seat upgrades.
We are sorry that this post was not useful for you!
Let us improve this post!
Tell us how we can improve this post?