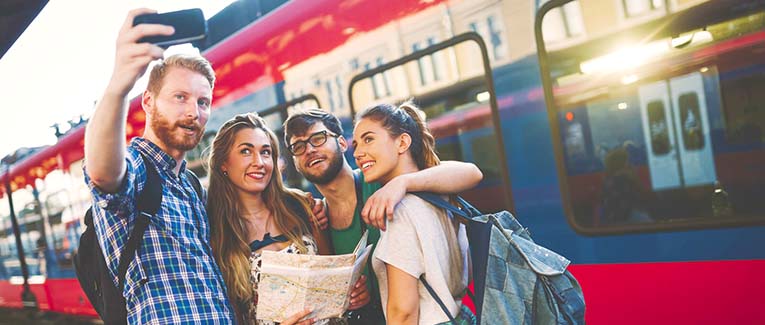 It has been two centuries since the first steam train started running in England. Since the 1800s, trains have come a long way. At present, bullet trains transport thousands of people at speeds 4x that of an average car.
Trains are a great way to travel, since train stations are situated inside the city, unlike airports. The security checks are more convenient to go through, and if you do not want to spend a lot of money on dining, you can just bring your own meals. If you play your cards right, you can save money on train travel easily.
1. Tickets vs. rail pass
The most significant difference between tickets and rail passes is that tickets can only take you from one place to another. On the other hand, a rail pass can help you travel over a course of time, usually a week or a month. In addition, you can either take a continuous trip, or use the pass throughout several days with breaks in between. This all depends on the kind of pass you buy.
Both tickets and passes have their own advantages. However, you have to know when to use either of them to save money on travel. Read on to learn some neat tricks.
2. Use the pass for costlier journeys
Make sure you buy a pass that allows you to pay for the days. For example, in Europe, you can get something called a flexipass. You pay for a specific number of days, and you can use the pass like a debit card to pay for the number of days you travel. However, with a flexipass, the number of days is not equal to the validity of the pass.
While using these passes, you can pay for shorter trips using cash instead of wasting days from the pass. But, you might ask, "Why would I want to pay cash when I have a pass?"
Take the price of your pass and divide that by the number of days it offers. This simple math will give you a mean price for each day of travel. When the ticket price for a journey is lower than the mean price, pay with cash to save money on that trip. For example, you could use the day you saved later on a travel-intensive day where you might have to spend a lot if you were to buy tickets.
3. One is better than two
If you are traveling across several countries, check to see if you can buy a global pass. These passes allow you to travel in and between different countries using a rail pass. However, buying different passes for each country and not using all the days you've bought can be an unnecessary expense.
In Europe, you can buy either a Eurail Global Pass or an Interrail Global pass. Unfortunately, you can't buy a Eurail pass if you live in the UK, and you can't buy the Interrail pass if you do not live in Europe.
The Eurail pass covers 33 countries. and allows you to travel throughout Europe. You can also take as many trips as you want in a day. If you are on a cross-continent trip trying to cover all the locations, passes like this can be helpful.
4. Learn your bonuses
If you didn't know this already, rail passes come with attached bonuses. For example, Eurail offers discounts on select cable cars, as well as unlimited traveling on boats. Interrail offers similar bonuses, and children can also travel for free. Contact your travel agent or your railway company to learn about any bonuses they offer.
If you calculate the amount you can save taking advantage of these bonuses, a rail pass is a great deal.
5. Using a shorter pass for a longer trip
During your 10-day trip, if you are spending three days in a single city, it makes no sense to buy a 10-day pass. Especially if commuting within the city costs less than the mean price per day of your pass.
You can buy a flexible seven-day pass to get the most for your money in such scenarios. You can use the pass to travel long distances, and pay for shorter commutes using cash, as discussed earlier.
6. Look for any promotional offers
Most companies give customers some sort of offer now and then to drive sales. So, subscribe to social media pages, emails, and SMS alerts from your railway company. You can learn and use any promotional offers that might be live during your travel plans.
You can also Google ("your railway company" + "offer") to look for offers or discounts.
7. Look for age-based discounts
Companies offer discounts to an age group either because of mandates, or to attract customers of the age group. You can look for such offers and utilize them to your benefit. If people your age don't have to pay full price for a ticket, why not use that?
E.g., if you are between age 12 and 27, you can get up to a 23% discount on your Eurail pass. With Interrail, children don't have to pay for their tickets.
8. Set up Google Alerts
Google Alerts is a service that can detect a change in content online and notify you. Then, the service sends you an email to find any new results from the search terms you have set. Think of it like a personal assistant who keeps searching all over the web for what you want.
You can automate the process of Googling for offers using Google Alerts. Log in to your Google account and visit www.google.com/alerts. This page will allow you to set alerts for whatever you want. For now, we'll stick to rail pass offers.
You have to enter the keyword or phrase that you want to track. You can also filter your alerts by a specific region, language, or even a website. For instance, you can track all your railway company websites and social media pages.
While using Google Alerts, narrow your search parameters down as much as you can. This will allow the platform to serve your needs more accurately. Also, avoid any unnecessary keywords, and use quotation marks. The quote will let Google know that you only want to track said words, instead of similar words.
You can also use a dash in front of a keyword to avoid irrelevant searches and spam. E.g., "offers – Interrail" means you will not receive any alerts about offers from Interrail.
Periodically adjust the search parameters to keep your alert system up-to-date.
Other Ways to Save
If you play your cards right, utilizing rail passes can be a great way to save on your trip. However, there's another tool at your disposal that has the potential to save you a lot as well: Travel insurance.
A travel insurance plan purchased before your trip can help you recoup prepaid, nonrefundable expenses if your trip needs to be cancelled or interrupted for a covered reason. It can also provide coverage for lost or delayed baggage, emergency medical care, and more. If you encounter a mishap during your trip, your travel insurance policy has the potential to save you from big unexpected expenses.
Visit Insubuy today to view and select from a variety of travel insurance plans that can provide coverage for your upcoming trip.
We are sorry that this post was not useful for you!
Let us improve this post!
Tell us how we can improve this post?