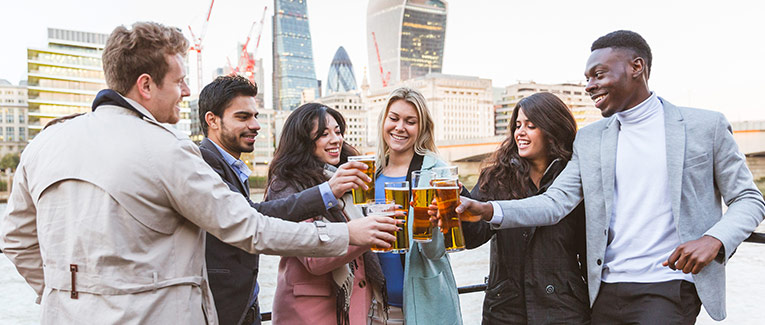 Traveling to a different city or country can be an exciting adventure. You can visit new restaurants and attractions, and you get to experience things that are exclusive to the city.
Each city offers its own version of nightlife, often including trendy parties and lively night clubs. As a tourist, though, you might not know where to find the best parties.
Do not be disheartened, because in this article, we will discuss the tricks that pro travelers use to find the hippest parties near them.
The Best Ways to Find Great Parties Near You
1. Stay at a Party Hostel
Party hostels offer you a place to meet with fellow party-seekers. People who stay here are open to connect with strangers and make friends.
You can book a dorm room with enough beds for up to 16 travelers. Or, if you are not comfortable with sharing your room, you can opt for a private one. This way, you can join the fun with fellow travelers whenever you please.
The hostels also organize fun events, which are a great platform to interact with strangers.
The hostels have built-in pubs and bars as well. Head over to them and meet fellow travelers from around the world.
The hostel staff will be knowledgeable about the places where you can have a taste of the country's nightlife. They have the most updated information about nearby clubs, bars, and pubs.
Hostels charge much less than hotels, so you can save on your accommodations, and put that money towards experiences instead.
Mad Hostel in Prague is a famous party hostel. Additionally, party hostels in Sydney, Australia have a reputation for hosting superb events.
2. Blogs, Guides, and Newspapers
A blog called Awesome Amsterdam writes about city guides and exciting things to do in Amsterdam. You can read through similar blogs talking about party agendas for many cities around the world.
People writing these blogs are typically either locals, or they possess detailed information about the cities. Either way, you get access to the information you wouldn't otherwise.
Major cities offer printed guides for local events. The guides cover nightlife, parties, and cultural events in the city for the upcoming week or month. You can find these guides in local cafes, record stores, and other local businesses.
City newspapers often dedicate a section for the same purpose.
3. Friends that Visited Recently
Friends who visited the city you're traveling to offer firsthand information. They partied in those clubs, drank the alcohol in the bars, and participated in those events.
In addition, you can use social media. Search for the country or city you're traveling to, and the search results will show you friends who have previously visited. The result will also show friends who work there, and those who have lived there in the past.
Ask your friends to share the best places to party in the specific city or country. Besides, these friends could connect you to their friends who live there, which is an added bonus.
4. Speak with a Local
If you want to know which club hosts the hippest parties, the shortest route to get to those clubs, and which bars serve the most exotic drinks, ask a local.
A local resident knows all of the answers and more. Try and make friends with them and strike up a conversation. Discuss non-sensitive issues such as their daily lives and work.
Once you have made a connection, ask them about the coolest places in town. They will be able to answer all of your questions.
If a person seems awkward or reluctant to talk, try not to bother them.
5. Event Apps and Websites
Couchsurfing is an app for a community of travelers searching for a free place to stay, and for hosts to offer up their couches.
However, the app does more than save you money. It allows you to meet new people, and you can browse through scheduled meetup lists.
If you want to try a new activity, you can list it on the app. If anyone else wants to join, they'll send you a message.
While Couchsurfing connects you with fellow travelers, Party with a Local offers a different feature. This app links you with locals who want to party, and who better than locals to find the coolest parties nearby?
Apps such as Partyfinder find parties near you, as well. Install any of these apps, meet new people, and head over to the party.
6. Organized Nightlife Activities
Party hostels conduct pub crawl tours offering an exciting experience of trying new drinks and making new friends. Some hostels also offer nightclub tours, so ask your hostel if those are available.
Search 'Pub Crawl' followed by the name of the city, and you will find a list of places involved in pub crawls.
7. Check Bar Schedules
Bar Republika in San Juan, Puerto Rico hosts different activities each night. The activities range from poker, to trivia, to name that tune. Bars everywhere follow this pattern.
Head over to the nearest bar and ask them what activities they have, and on which nights. They'll be happy to answer your questions.
Staying Safe
The opportunity to let loose and party with new friends in a different country is a big draw to many travelers, but it's extremely important to be vigilant about your safety when partying abroad. Be wary of strangers who want to know too much personal information, never leave your drink unattended, and avoid dimly lit or isolated areas late at night.
To protect your health, you should always have travel medical insurance or travel insurance in place before your trip begins. If you plan to party during your trip, be aware of any alcohol exclusions that are a part of your plan. While we want you to have a good time, it's even more important that you return home safely. So, try to limit your consumption, and use your best judgement
We are sorry that this post was not useful for you!
Let us improve this post!
Tell us how we can improve this post?