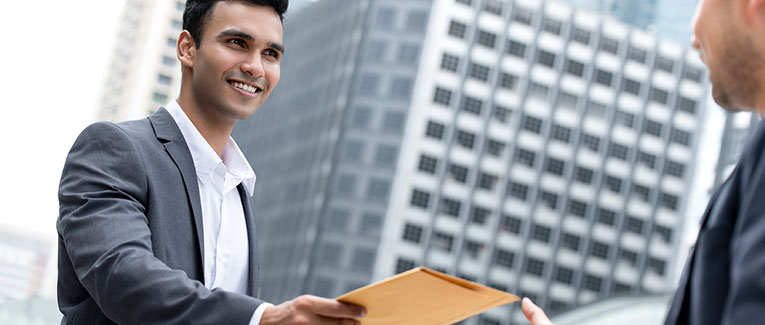 If you are a U.S. resident with business interests and/or property in India, you may need to grant Power of Attorney (PoA) to someone in India to carry out transactions on your behalf. PoA is a legal document that authorizes a third party to carry out activities on your part.
For example, as a U.S.-based NRI, you may need someone to sell a property for you in India. You'll then need to provide PoA to that person.
Note that granting PoA is necessary only for activities that involve commercial or financial transactions, as well as matters related to immovable property.
Important Terms
The legal term for the person granting the PoA is "principal". The legal term for the person receiving the PoA is "agent". "Property affidavit" and "financial affidavit" are other terms used to indicate PoA.
Types of Power of Attorney
General Power of Attorney: As a U.S.-based NRI with business interests in India, you might need someone to carry out financial deals on your behalf frequently. In that case, it is more practical to give your trusted representative a General Power of Attorney.
A general PoA is valid for an unspecified or specified period of time for all commercial, financial, and property-related matters.
Specific Power of Attorney: For a specific need such as buying or selling property, you can issue a special PoA, which is valid only for the activity mentioned in the PoA. The PoA expires after that transaction is complete.
Note that for a property purchase in India, you need to grant a special PoA. A general PoA is not acceptable. However, you can use the same special PoA for purchasing the property and securing a bank loan for the same.
Sample Specific Power of Attorney
How Do I Grant Power of Attorney to Someone in India from the U.S.?
To be valid in India, the PoA needs to be attested by the Indian Embassy or any of the Indian consular offices in the U.S. This is possible either by appearing in person or making arrangements through the mail.
Different consular offices have marginally different rules, but the following are mandatory everywhere for an "in-person" application:
Download the Miscellaneous Application form and fill it out, but do not sign it.
The principal must be present at the designated consular counter to sign the PoA document at the consular office in the presence of consular staff.
Your signature needs to match with that on your most recent and valid passport. You'll need to sign again if it does not match.
Two U.S.-based persons need to be with you as witnesses. If they cannot be present at the consular office with you, you need to get their signatures notarized.
The witnesses cannot be immediate family members.
In case both spouses are principals in a PoA document, all of the above apply to both of them.
You will get the attested document on the same day unless some technical glitch happens to delay the process.
Documents You Need
Your most recent and valid passport: You'll need both the original for verification and a photocopy for the records. For Indian passport holders, you need to photocopy the first five non-blank pages and the last two pages of your passport.
Both the original and the photocopy must reflect valid visa status in the U.S. B-1/B-2 visa types do not qualify for creating PoA.
Original visa approval number and extension records.
Two recent, passport-sized photographs attached to the application.
Any one of the following documents as proof of residence in the U.S.: lease agreement or mortgage deed, state identity card, U.S. driving license, or utility bill.
Attach photocopies of all these documents to your application and carry the originals for verification.
Procedural Details for Application by Mail
The same documents as above should be attached as photocopies with your application. Don't forget to include a self-addressed envelope with postage paid with your application. Make sure the envelope is easily trackable.
The signatures (both yours and those of your two witnesses) need to be notarized when you apply for a property affidavit or a financial affidavit by mail.
Fees
There are marginal differences in the fee structure at different Indian consulates.
For in-person applications, the usual non-refundable fee is $20 per person, per page. The Indian consular office in New York, however, charges per document rather than per page.
The Indian consular office in San Francisco, on the other hand, charges $20 per attestation, along with an additional $2 as the Indian Community Welfare fee. So, if you have a document that needs attestation on every page, you'll need to pay more.
The San Francisco consulate also charges $10 per photograph, if you need your photographs to be attested.
The Indian consulate in Chicago charges $22 per person for property-related affidavits and $12 per person for other affidavits.
For applications through mail, there's an additional, nonrefundable fee of $2 only.
Note: These charges may be different at the time you check; the purpose is to give you a fair idea of the amounts.
As explained above, fees can vary among the consular offices. To be sure that you send the right amount, call your consular office to determine the exact amount. You can pay the fees only by cashier check or money order when you apply through mail.
The processing time for applications by mail is 10 days, provided all the necessary documents have been submitted, and there's no technological glitch.
Apostilling Power of Attorney
Apostilling PoA means you get a certificate from state authorities that the notarized PoA is valid. The relevant page on the Indian Embassy website also mentions that apostilling is not necessary.
Registering the PoA
Whether it is a PoA attested by an Indian consulate or an apostilled PoA, the registration needs to happen in India.
We are sorry that this post was not useful for you!
Let us improve this post!
Tell us how we can improve this post?