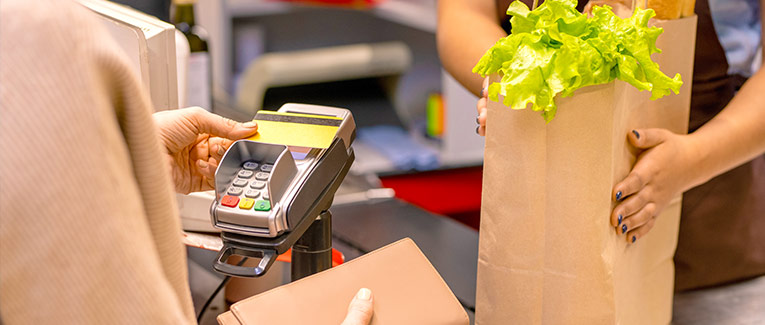 Imagine this scenario: You check your travel rewards points and see that they expire in a month. You glance at your work schedule, but you have no availability for a vacation. Now, you are wondering what you should do with your travel rewards points.
Read this article to learn techniques that pro travelers use to prevent wasting their rewards points if they're not planning to travel soon.
Buy Groceries and Consumer Products
Buy milk and other groceries with your travel rewards points.
Credit card companies including Chase and American Express allow cardholders to redeem travel rewards points to use when grocery shopping.
You can also redeem your points by dining at restaurants, or even with delivery and takeout.
Southwest Airlines partnered with brands including Adidas, Apple, and Clarks. Use your travel rewards points to make a purchase on any of the websites. Make sure to check the airline's website for the complete list of brands that will accept your reward points.
Other airlines like Emirates and United also allow members to use their points for shopping.
Donate to Charities
If you want to donate to charities, but lack the money, your travel rewards points offer an alternative.
Visit your loyalty program's charity page and find the list of eligible charities. Then, you can select a charity and donate. You'll receive a confirmation email once the process is complete.
American Airlines allows you to donate your travel rewards points to the Make-A-Wish foundation, while Delta Airlines is partnered with the American Red Cross and UNICEF.
The card issuer chooses to convert the points into cash, with the amount depending on the point redemption value.
With American Express, the charities receive one cent per point for the first 50,000 points in a year. After 50,000 points, the value jumps to five cents per point.
Discover donates an additional $25,000 to the charity that receives the highest donations each year.
Some charities receive the points as travel credits. Fisher House covers travel for injured and ill veterans, and their families with the donated points.
Swap Miles for Hotel Points
Swap 5,000 American Airlines Miles for 10,000 Hilton Honors Rewards points and book the room of your dreams. The offer applies only to members of the Hilton Honors Program.
If you are not part of the Hilton Honors Program, you can stay at a mid-priced Hilton hotel for 15,000 American Airlines miles.
Log in to your airline loyalty account to find the complete list of partnered hotels.
Rent a Car
While public transportation might be more convenient in some places, other destinations require a car to get around. However, renting a car can be sort of expensive.
Travel rewards points offer a solution.
Redeem 1.5 cents per point for car rentals with the Chase Sapphire Reserve credit card. You must book the car through the Chase travel site.
The point redemption value varies depending on your loyalty program. Make sure to check the details before you book the car.
Subscribe to Newspapers and Magazines
Newspapers and magazines offer a sneak peek into a different cultures and lifestyles. However, a subscription to one of these might be outside of your budget.
If you have excess travel reward points, you might be able to use these to pay for your desired subscription.
For less than 4,000 miles, you can buy a yearlong digital subscription of the Financial Times through American Airlines. For 500 miles, you can subscribe to publications such as Travel + Leisure.
Head over to the airline's website to learn about the offers. MagsForFiles.com displays the offers as well.
Purchase Gas
Use your travel rewards points to buy gasoline.
Some credit card companies offer cashback on fuel purchases. You receive a 3% cashback at U.S. gas stations with Blue Cash cards from American Express. Chase Freedom Unlimited offers a 1.5% cashback on gas purchases.
Check your loyalty program to learn about your offers.
Book Air Travel for Friends and Family
Redeem your travel rewards points to book a ticket for friends and family who want to travel.
You'll receive the best redemption value when you book a ticket, as it's the primary purpose of these points. Just be sure to remind them to purchase travel insurance before they go. That way, all the money they saved on the ticket is less likely to be eaten up by an unplanned travel or medical expense.
Convert Points to Cash
Some credit card companies allow you to convert your reward points into money. The money credits directly into your checking account.
For cards such as Capital One Miles and Amex Membership Rewards, the trade value is less than one cent per point.
The point redemption values differ with each credit card. Check the specifics of your loyalty program to make sure you understand the details.
Keep the Points Active and Earn More
Airlines count any purchase or donation as an activity. The activity preserves the miles or points that you already have.
Furthermore, you earn additional points on each purchase.
So, as long as you buy and donate with your airline credit card, your travel rewards points won't ever go to waste.
We are sorry that this post was not useful for you!
Let us improve this post!
Tell us how we can improve this post?