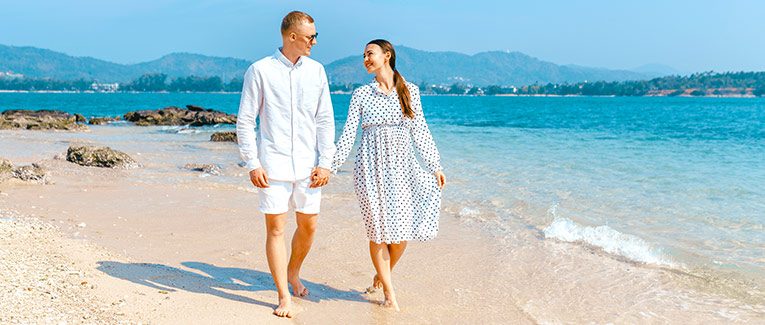 Since you want to understand how to plan a honeymoon, we assume you are probably married, about to get married soon, or it's time for that delayed honeymoon. In any of these cases, this information is for you.
How to Plan a Honeymoon: Explained in 7 Questions and Answers
1. How to Shortlist Best Honeymoon Destinations?
Early birds get the best deals on honeymoon packages. So, know when to go on a honeymoon. You can start looking for packages six to eight months in advance.
Look for destinations that are ideal to visit during your vacation window.
Pin down honeymoon destinations that you and your partner would love to visit.
Calculate your budget and shortlist the destinations that fall under your budget umbrella.
By now, you'll have at least three or four honeymoon destinations shortlisted.
Look for honeymoon packages for these destinations and check the itinerary.
Shortlist the package that offers you everything that you both would love to do.
2. Which Mobile Apps Help You Find Best Honeymoon Destinations?
The following applications are easily downloadable on Android as well as Apple phones:
Airbnb
TripAdvisor
TripIt
Booking.com
Hopper (for booking cheap flights)
Roadtrippers
MyGola
3. How to Plan a Honeymoon on a Budget?
Wedding expenses often break the budget, but planning your honeymoon trip in advance can help you keep expenditures to a minimum. Setting up a budget for the honeymoon trip is a vital step while looking for a honeymoon destination. You won't want to be caught off-guard with last-minute expenses on your honeymoon trip. Follow these steps to set up the right budget:
Determine how much you intend to spend on your honeymoon trip.
Determine the length of the trip.
Factor in the exchange rate of your destination.
Make a checklist of the highlights of your trip. Those highlights often take up most of your budget.
Spend a couple of hours picking your choices for accommodations and comparing them. Keep a note of the inclusions and exclusions of the accommodation you finally pick.
Add in the approximate costs of meals and activities that you plan to engage in on your trip.
Set up a separate shopping budget.
4. Where Does Travel Insurance Picture In Your Honeymoon Planning?
Once your destination is finalized, the next step is to apply for a visa/passport and a travel insurance plan. This is the step for which you must plan your trip months in advance. Applying and receiving your visa or passport are processes that take a significant amount of time.
Wondering why you even need a travel insurance plan for a honeymoon? Here's why!
Life is uncertain, and we can't predict an obstacle or a mishap. In the unfortunate event that your honeymoon trip gets cancelled, you would be left with a ton of nonrefundable expenses like hotels and flights. But, with travel insurance, you can be covered for the money spent on bookings.
You should be prepared for such unforeseen events. Adding a shield of security to your trip with a travel insurance plan from a trusted provider will keep you at peace. On Insubuy, you can compare travel insurance and travel medical insurance plans to pick the right policy for your honeymoon.
Wondering what coverages you can get in your travel insurance plan? Check it out:
Unexpected trip cancellation or interruption
Reimbursements on hotel bookings due to delays or trip cancellations for a covered reason.
Flight ticket cancellation
Loss of passport
If you add a medical insurance plan to your package, you can also get these coverages:
Hospitalization expenses and medical bills
Dental bills in cases of emergency
Unexpected deaths
Accidents or injuries/ illnesses
It's important to remember that the coverages offered, and level of coverage, will vary by plan. Not all plans will off the same coverage. Research the plan you intend to purchase thoroughly, so you have a good understanding of the inclusions and exclusions.
5. Do You Need a Travel Agent For Honeymoon Planning?
Do you need a travel agent to plan your trip, or do you want to do it yourself? If you've traveled internationally before, planning a great honeymoon won't be a problem for you.
If you are not a regular traveler, you should hire a tour operator or an agent to help you plan a great honeymoon. Here's how an agent can help you plan a honeymoon:
A travel agent will help you customize your trip as per your dates of travel and preferences.
It'll save you time and money, while helping you get some luxury experiences and additional amenities.
They can also help you scout the right destinations, or curate the right itineraries for your trip.
From booking the right accommodations to finding you romantic dine-ins, your travel agent will have you covered.
A travel agent can provide you with a realistic insight into your honeymoon destination.
6. When Should You Book Flight and Hotels?
Assuming that your budget is ready, booking a flight and accommodations should be your next step. If you have hired an agent, they will take care of the bookings. They might also suggest that you book the flight tickets and hotels in advance.
There are two reasons why you need to book flights early:
If you have connecting flights, booking your tickets in advance will be a big help.
Early birds get exciting deals on economy as well as business class tickets.
There's one thing that you should choose carefully while planning your honeymoon trip; it's your accommodation. Most honeymoon trips are about one week long.
To get the best deals on cottages, resorts or hotels, you need to book in advance. Here are some tips to help you book the right accommodation for your honeymoon:
Book directly with the hotel. Don't let a third party get involved. You may scout for hotels at mobile applications like Hotels.com, Hoteltonight, and Travelocity.com, but always call up the hotel reception to finalize your booking.
Find accommodation that is in proximity to the airport, or some of your travel destinations.
Always get a package that has breakfast included.
7. How To Plan a Honeymoon Trip Minus The Last-Minute Packing Blues?
Of course, you're busy planning the most important event of your life, but don't forget the most important trip while you're at it. Start making a list of all the things that you'd need or might need on your honeymoon trip.
Seek tips from fellow couples, or read first-hand experiences of honeymooners who visited the destination that you have decided to visit.
Plan activities that match both of your interests, and pack accordingly. For example, if you both are lovers of the marina, pack your sailing gloves and boots, your buoyancy aids, sunglasses, shorts, and boat shoes. Don't pack heavy wetsuits; you can always rent them.
We hope you know now how to plan a honeymoon, to prevent over-expenditure, stress and hassle, and last-minute packing troubles.
Honeymoon Planning Checklist: 15 Days Before Your Trip
Visa, Passport and Travel Insurance Plan
Hotel and Flight Confirmations
Honeymoon vouchers, if any
Money exchange, if required.
Photocopies of all your important documents
Honeymoon Planning Checklist: 2-5 Days Before Your Trip
Check with your neighbors for their availability while you are away, or hand over your keys to a family member to oversee your house in your absence.
Pack your medicines, first-aid and prescriptions, if any.
Check the weather of your destination two days before your trip.
We are sorry that this post was not useful for you!
Let us improve this post!
Tell us how we can improve this post?