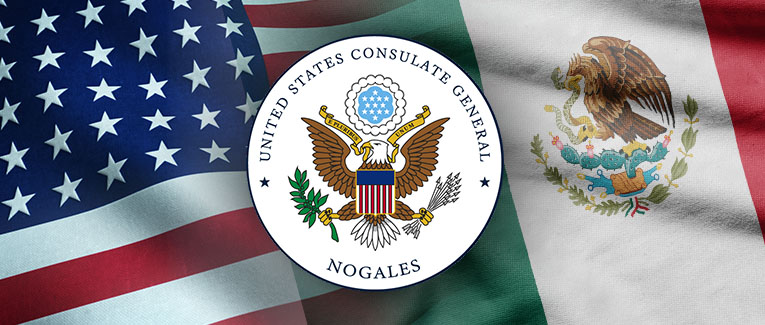 Nogales is located 60 miles south of Tucson, Arizona, and 140 miles north of Hermosillo, Sonora, on the U.S./Arizona-Sonora and Mexico border. The U.S. Consulate in Nogales is the most convenient for people staying in Arizona (such as Phoenix or Tucson) or any nearby states for visa stamping. There are not too many people who visit this consulate besides locals, and hence, it's easier to get appointments and it's not as crowded as other consulates.
Before making arrangements to go to Nogales, check out the consular holidays. Consulate office hours are from 8:00 AM to 5:00 PM, Monday to Friday, except on U.S. federal holidays and on Mexican holidays.

ASC Appointment
The ASC in Nogales is about 3-4 miles away from the consulate, and the drive between them is about 10 minutes by taxi. At the ASC, you will have to show your appointment confirmation email and passport. Taking fingerprints and a photograph takes around 5 to 10 minutes. They will stamp your appointment letter as verified and complete.

At the Consulate
You should either leave all electronic items at the hotel or expect to pay the security personnel to hold onto things like your cell phone. Alternatively, you can ask the nearby stall person to hold your bags and pay them $1.
Even though the consulate is within walking distance of the hotel, it is advisable to take a taxi to the interview. The walk will likely be dusty and hot, and you don't want to appear sweaty and dirty during the interview.
While they state that you are not required to appear more than 15 minutes before your scheduled time, they usually let you in earlier if there is no rush.
Your belongings (like a transparent bag for visa papers and other documents) will be scanned through the X-ray as you walk through the metal detector. You will be given a token number once you are inside. First, your appointment will be verified and your I-797 will be collected. When your number is called, your fingerprints will be verified again with some basic verification questions. You will be asked to wait until your number is called again for the actual interview. You can sit in the group facing the interview counters. When your number flashes, go to the respective counter and hand over the stapled documents to the visa officer.
If your visa is approved, you will have to collect your passport at the DHL location that you specified at the time of taking an appointment, at the earliest not until the next day.
After Getting the Visa
Take your cab back to the border. You can buy duty-free goods at the border if you like, or just head straight to the immigration line. Crossing the border back into the U.S. is quite time-consuming. The officer will ask you basic questions like the purpose of the visit, why you are entering the U.S., what you do in the U.S., etc. You may have to wait for an hour or more in line to get your I-94. You will be asked for your current address, fingerprinted, and photographed. You will be guided to an office upstairs, where you will be issued a new I-94. The fee is $6 for each I-94. Please remember to keep exact cash only. Also, make sure to check the I-94 for accuracy, as errors are quite possible. You will walk up the same ramp you came down into Mexico.
You can take a shuttle from any of the vendors around back to Tuscon and catch your flight back home. The drive to the nearest airport in Tucson is around an hour and fifteen minutes. There are many more flights from Phoenix than Tucson.
Getting to Nogales, Mexico, for U.S. Visa Stamping
If you are not from the Phoenix or Tucson area, you can fly to either of those airports. It is best to take a rental car from there and drive to the U.S./Mexico border.
There are no shuttles between the airport and the border unless you happen to come across one dropping someone off. The shuttles are located at Columbia and 6th Ave., and there are plenty of independent operators. You may want to take a cab to these operators and then shuttle from there to the border.
The nearest town to the U.S. border is Nogales, Arizona, on the U.S. side. Interstate I-19 goes to Nogales, Arizona. When you are near the end of I-19, you will start noticing signs directing you to the international border. You will also see pay-to-park spots. Most of them charge around $5/day. There is plenty of parking space available. However, it is best to park as close to the border as possible. The closest parking lot is the UETA parking, which is pretty safe.
You can stay overnight at nearby hotels, such as Best Western, on the U.S. side and cross the border to Mexico in the morning after parking your car on the U.S. side. Signs to the border are posted everywhere. You can also ask the parking lot attendant to guide you.
You will walk down the ramp and follow signs to walk through some revolving gates and enter Mexico. Just before you enter, there is a table where a Mexican border officer may casually check your passport and let you through.
Make sure to eat breakfast before going to Mexico. Many hotels, such as Best Western, provide a complimentary breakfast.
The U.S. Consulate is about 5 kilometers from the border. It may cost you around $7 in a cab. You can tell the cab driver to take you to "Americano Consulado". Since U.S. dollars are accepted everywhere, you don't need to exchange any currency.
As most people in Mexico don't speak English, it is advised to make a cheat sheet with translations for common words and numbers. Since it is generally hot and dusty, it is advisable to drink lots of water and try to remain in the shade.
Crossing the border into Mexico is straightforward and easy. Generally, no documents are required or checked. If you have a visa, enter the immigration area and get it signed. You can also just pay $22 and walk into Mexico.
Hotel Stay and Food for U.S. Visa Stamping in Nogales, Mexico
Hotel Stay
Since the visa stamping is a multi-day process, you will have to stay in Mexico in a hotel. The town itself is much like a small city in a developing country with developing infrastructure. However, it has good transportation and decent places to eat and stay.
You can practically walk to the consulates from these hotels in Mexico if you wish.
Hotel Marques De Cima
Carr. Internacional KM 4.5,
Nogales, Sonora, Mexico
Phone: +52-631-311-2000
This is a well-situated hotel and is within walking distance of the consulate, places to eat, and the DHL office. It's a decent hotel, but don't expect anything fancy. The front desk staff does not speak English and can follow very little. You can email them for a reservation using Google translate. The hotel is safe, and you can leave your bag at the front desk after you check out. You don't need to book your entire stay at one go. You can book your room one night at a time, depending on how long your visa process takes. There is a cab stand at the bus stop down from the hotel.
Hotel Granada
Av. Lopez Mateos
Y Calle Gonzalez
Nogales, Sonora, Mexico
Phone: +52-631-311-3000
Caribbean Hotel
This costs around $50, and the rooms are good. The restaurant in the hotel is good as well.
Fray Marcos is closer to the border, and there are pretty shops there.
Another hotel towards the end of the city is Fiesta Inn. This hotel is comparatively expensive: around $80 per night. Rooms are pretty good, and they also provide a shuttle service to the U.S. Consulate, which drops you off in front of the consulate at 8:30 AM.
A cab ride to the consulate to or from this hotel is around $8. It is always wise to fix the rates before you get into the cab.
Everything except the ASC fingerprinting center is within walking distance.

Food
For coffee, water, or beer, you can walk down to the OXXO store, which is open 24 hours. For dinners, you can walk down to El Marco's, a popular site for great Mexican food. For lunch or snacks, you can walk across to the mall and grab food at the food court.
If you are a vegetarian, you will have to walk to Peter Piper Pizza to get a vegetarian pizza for $16. Even though the area is relatively safe, it is dusty, like in India. Since you will be carrying all your documents, which can be very heavy, walking up and down the elevations may be very tiring.
There is also a nearby "LEY" supermarket.
We are sorry that this post was not useful for you!
Let us improve this post!
Tell us how we can improve this post?