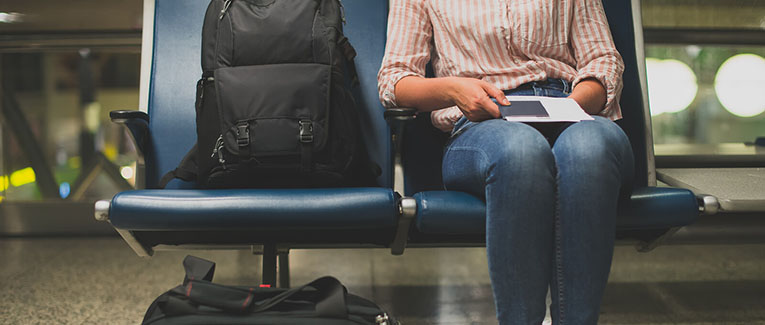 Before traveling to Canada or Mexico, make sure that you have the following documents.

Required documents
One photograph (Only for dropbox appointment)


Appointment letter from consulate


An application fee payable in advance. You will get a receipt that must be presented at the time of the visa interview.

Some visas may have an additional visa issuance fee. (Citizens of India don't have visa issuance fees, except for blanket L-1 applicants.) In that case, payment needs to be made to the U.S. Consulate cashier. Only U.S. dollars and Mexican pesos are accepted for payment. Credit cards are NOT accepted.


Confirmation page of the online-submitted DS-160 form with bar code. You do not need the entire form.


Original bachelor's and/or master's degree certificates or transcripts. If this is not available, get a letter from your school stating a valid reason why.


Copies of tax returns


Latest bank statement proving that you have sufficient financial resources to take care of your expenses


In case of a lost or stolen previous visa, present the policy report. Complaints will be accepted at no charge by calling 01-800-719-2525 in Mexico.


H-1B

The original approved Notice of Action Form I-797, top and bottom parts.
Samples: New H-1, Extension

The consular officer does not accept Form I-797 as sufficient evidence for visa adjudication. Petition approval and visa eligibility must be confirmed in the Department of State's Petition Information Management Service (PIMS) database. PIMS verification takes an average of 24-48 hours to complete. A visa will not be authorized in the interim.

When scheduling the appointment, you will be asked for the approved I-129 petition receipt number. If you schedule an appointment earlier, you should fax a copy of your approved I-797 to the NIV section at least 72 hours prior to your interview date. Please include the date and time of your appointment, as well as the confirmation number given to you by the appointment call center. The consular staff will determine whether your petition is registered in PIMS, and if it is not, they will request that the petition be verified and added to the database.

Even though the consular endeavors to provide the most expeditious service possible, there is no guarantee of same-day service, and the visa processing may take some time. Therefore, you should make trip arrangements accordingly.


Employment verification letter from the employer. It would be helpful to mention employee strength, offices, turnover, projects, and clients of the company.


Letter from your current client stating your current work experience


Initial job offer letter


Copy of the I-129 petition


Copy of the LCA (Labor Condition Application) approval


Current resume


Last few pay stubs


W-2 and tax returns for the prior year


Company profile. If unavailable, bring printouts of company information from their website. You can do this for your previous employers, as well.


Copy of labor certification and/or an I-140 approval notice if you are beyond 6 years on an H-1


Original degree transcripts and education evaluations, if any


Prior work experience letters


Education evaluation


Photos of your current employer showing cubicles, nameplates of the company, etc.



H-4
In addition to the documents mentioned for an H-1B, the following additional documents are required:

Copy of spouse's passport



F-1 to H-1B

Form I-20


All requirements mentioned under the H-1B visa



H-2B

The original approved Notice of Action Form I-797, and its copy for every 10 workers.
Samples: New H-1, Extension


Copy of I-129 petition


Fax in advance a copy of the approved petition (I-797) and a list of the workers' names, including any substitutions and reasons explaining the substitutions. The fax must be sent to the consulate's appointment coordinator.



F-1

Form I-20


Before the appointment date, all F, J, and M visa applicants must have confirmation from the sponsoring institution (such as the school, program exchange organization, etc.) that your name and your dependents' names, if applicable, have been added electronically to the SEVIS (Student and Exchange Visitor Information System). The confirmation must also address your acceptance in the school or exchange program. Visas can't be issued until your data appears in the SEVIS system.


F-1, M-1, and the majority of J-1 applicants must pay an additional $100 for SEVIS fees, made payable to the Department of Homeland Security (DHS), before the issuance of the visa. You can pay online at FMJFee.com with a major credit card.

You must carry proof of payment for the SEVIS fee to the interview.


Evidence of financial means to pay for the costs of the program. Actual documentation may vary, but it can be documentation from the institution verifying that the program has been paid for, bank account statements, letters from sponsors or parents, etc.


Letter of admission to the program



F-2 to F-1

Copy of your spouse's I-20


Your spouse's recent pay stubs, if any


All requirements mentioned under the F-1 visa



H-4 to F-1

Your spouse's recent pay stubs


Copy of your spouse's H-1B approval (Form I-797), I-129, LCA


Employment verification letter from your spouse's employer


All requirements mentioned under the F-1 visa

Optional documents
Business cards


Driver's license


Marriage certificate and marriage invitation card, if any dependent spouse is applying for a visa based on the marriage


W2's


Proof of U.S. address (pay stubs, utility bill, driver's license, etc.)


H-1B

Photos of your workplace


Company brochure or printouts of company web pages


Description of your job duties (brief and simple, not technical)


Recommendation letter from your supervisor


Information about your company's clients



F-1

Proof of proficiency with the English language


Recommendation letters


Bank statements


Assistantship letter, if any
We are sorry that this post was not useful for you!
Let us improve this post!
Tell us how we can improve this post?