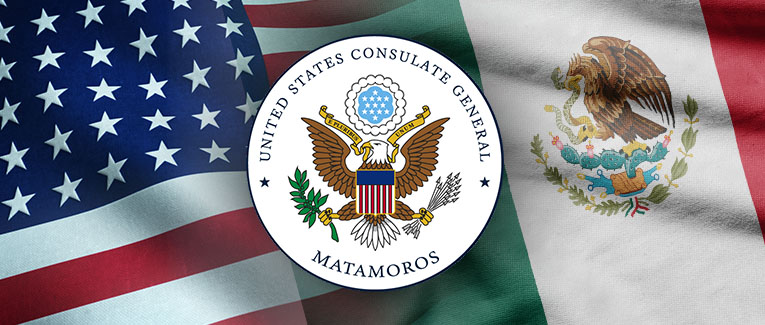 Matamoros is located south of the city of Brownsville, Texas, which lies at the southernmost tip of Texas. The Rio Grande separates the United States and Mexico in that area.
You can either make the arrangements yourself, or you can get professional help from agents in the area who can assist you with the following:
Getting a Mexican permit for legal entry into Mexico


Prepaid application fee bank draft. This helps ensure that you will be on time for your appointment.


Round-trip transportation to and from the U.S. Consulate in Matamoros, Tamaulipas


Round-trip airport shuttle service in Brownsville


Transportation to the Mexican office


Transportation to the USCIS office for a new I-94

Please note that such agents are not immigration attorneys and do not provide any legal advice, documentation assistance, etc. Also, they are not affiliated with the U.S. Consulate or any other government agency. They only provide support for logistics, as mentioned above.

Getting and Staying There
This border post is the most convenient for people living in the Dallas, Houston, Austin, and San Antonio areas. If you are flying from other areas, the nearest cities that you can fly to are either San Antonio or Austin. Though the cities of Brownsville and nearby Harlingen have airports, they are quite small.
Hotels in Brownsville, Texas
SureStay Hotel by Best Western Brownsville
825 N. Expwy. 77/83
Brownsville, TX 78520
Tel: 956-621-1099
Holiday Inn Express & Suites Brownsville
1985 N. Expressway
Brownsville, TX 78520
Tel: 956-550-0666
Other hotels in the area include Days Inn, Hawthorne Suites, La Quinta Inn, Best Western, Red Roof Inn, Super 8 Motel, Motel 6, Executive Inn, and Palace Inn.
There are not many restaurants near the Days Inn. There is one Chinese restaurant and a Burger King.
The Brownsville/Matamoros area has three border crossings. The "International Bridge" crossing is open 24 hours.
If you have spare time, you can visit the nearby South Padre Island. It is simply superb. If you have a small child, you can also visit a nearby zoo.

Process
Drive to the Mexican border and park nearby. Go to the Mexican immigration office at the border and get a border permit. You have to pay 50 cents to cross the border. Please keep the change ready. After crossing the border, take a taxi to your hotel or directly to the ASC for your fingerprint and photo appointment. After that—at least a day later, or possibly longer—go to the U.S. consulate for the interview.
If your child is a U.S. citizen, you should carry his or her passport or birth certificate. If your child is a foreign citizen, be prepared to wait an additional 2-3 hours as they perform additional checks in their database for stolen children.
Small children are allowed into the consulate even if they don't require visa stamping. There is a play area inside the consulate. If the line is very long and you have small children, you can request the security guard to let you in, and they usually will. It is very hot and humid outside. It is recommended that you carry a stroller for the baby, as it is useful not only at the consulate, but also at the airport and other places. Before going to the consulate, you should feed the baby properly so they are ready for at least 6 to 7 hours. You are allowed to carry milk inside the consulate. You can carry some cookies or other small snacks and keep them outside with an agent if you have one. Once your stamping is done, you can feed the child again at the I-94 office, as there is a long wait here as well.
Once you enter the consulate, your papers will be checked by the staff and you will be given a number. Pay attention to the numbers being called. If you miss your number, you will miss your interview. You will be called for an interview. You may be asked several questions relevant to your situation.
If your visa is approved, you will have to collect your passport from the U.S. consulate. Once you have your passport stamped with the visa, you can take a taxi back to the border to the I-94 office.
You must carry some sort of proof of address, like a driver's license or electricity bill, to the I-94 office. The officer will check your passport, I-797, and you will be called for fingerprints. Next, wait until you are called. You may be photographed and fingerprinted again. You will have to fill out another form, which contains questions similar to those in the DS-157. You will be issued an I-94. You have to pay $6 for each I-94.
Finally, surrender your Mexican border permit, and enter the U.S.
We are sorry that this post was not useful for you!
Let us improve this post!
Tell us how we can improve this post?