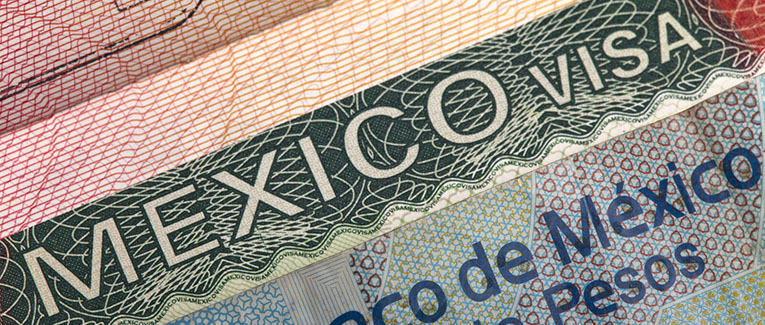 A Mexican permit is also sometimes referred to as a border permit or a visitor's pass. A Mexican permit is NOT a Mexican visa.
A Mexican permit is issued by Mexican immigration authorities. It is a dated legal document that allows you to enter Mexico by land. It is valid for 72 hours from your entry time into Mexico. With this permit, you are not permitted to travel more than 22 kilometers (13.75 miles) away from the U.S. border. The Mexican permit is a single-entry document, and you must surrender it to a Mexican Immigration Officer before your return to the U.S.
In order to get a Mexican permit, the following documents are required (all copies, no originals).
Confirmation letter for an appointment at a U.S. Consulate in Mexico


The biometrics page on your valid passport that shows your name, photo, etc.


Form I-20 for F-1 extension


Employment verification letter from your employer


Birth certificate


Your children's birth certificate(s), if applicable


Current transcripts, student ID, proof of enrollment


U.S. visa currently printed on your passport, even if it has expired

Depending upon your visa type, some of the above-mentioned documents may not be applicable to you.

Importance of a Mexican Permit
Even though some people think and report that a Mexican permit is not required and that it may be a waste of time and money to get one, it is very important to get one before entering Mexico.
In case your visa is refused (or delayed) under section Section 221(g) and put under MANTIS Clearance, you may have to wait in Mexico for 30 days. It is possible that the consular officer may require advanced-degree holders that are third-country citizens to go through special processing that can take weeks or months. Even though it may be possible to avoid such lengthy processing times in your home country, it may be too late to do so if you are stuck in Mexico. Your visa stamp might have already expired, and any previous visa stamp for a different category (or even the same category) would have already been canceled at the time of interview. Therefore, you can't enter the U.S. again, and it may be very expensive to travel from Mexico directly to countries like India. It may be around $3,000 to $5,000, one way.

Mexican Visa
A Mexican visa is just like any other regular visa from any other country. Mexican visas are issued by Mexican immigration officials. It takes around 4 weeks to get a Mexican visa.
Visas can either be single-entry or multiple entries.
The process for getting a Mexican visa is not described here in detail, as you are not supposed to get it for visa stamping purposes at the border.
We are sorry that this post was not useful for you!
Let us improve this post!
Tell us how we can improve this post?