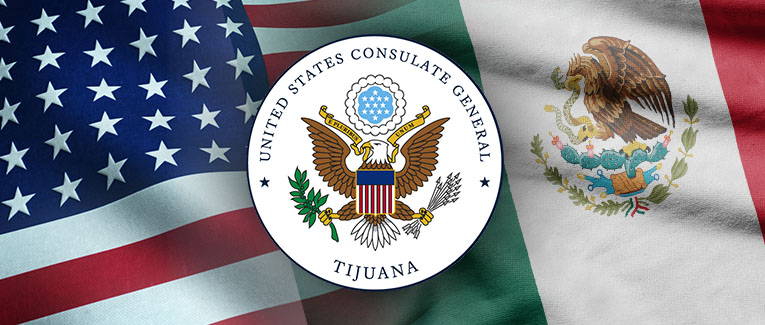 Tijuana is located in Baja California, Mexico, less than 20 miles south of San Diego, California. San Ysidro, California, a district of San Diego, is a community on the U.S. side that borders Tijuana. San Ysidro is the world's busiest land-border crossing, where U.S. Interstate 5 (known as I-5) crosses into Mexico at Tijuana.
Lines are long and crossing times are very high, especially by car. Therefore, many people prefer to park their cars on the U.S. side and cross the border on foot. Pedestrian crossing lines are usually faster.
The information provided on this website should be sufficient for your visa-stamping trip. U.S. dollars are accepted at the bank and at most other places. Therefore, you do not have to convert any U.S. dollars into Mexican pesos. However, if you want to pay people in exact pesos instead of rounded dollars, you can get some Mexican pesos, equivalent to $25 or $30.
Getting to Tijuana, Mexico, for U.S. Visa Stamping
For those arriving a day in advance of the appointment, there are some motels in San Ysidro. For example, Travelodge is a decent motel directly across the street from a Burger King. Travelodge is a 5-minute walk from the Greyhound bus station. There is also a Motel 6 near the border.
By Air
You can travel to Los Angeles, Orange County, or San Diego airports in California. You will then need to follow the bus or car instructions below.
You can also fly directly into Tijuana International Airport, which is located 5 miles east of downtown and right across the street from the fence separating Mexico and the United States. The airlines Aero Mexico, Aero California, Mexicana, and others operate several commercial flights daily. However, not many people travel via air to Tijuana.
By Bus
Greyhound offers daily service from San Diego to San Ysidro.
By Trolley
The San Diego Trolley takes around 45 minutes and operates from downtown San Diego.
By Car
You can drive all the way to the border and park at one of several paid parking lots on the U.S. side and cross the border on foot. Parking charges vary from per half-hour to per 24 hours.
If you are going to Mexico in your own car, you will be required to have Mexican auto insurance before crossing the border. Most U.S. insurance policies are not valid there. It may cost around $25 per day to insure your car for travel in Mexico. It is best to park your car on the U.S. side and cross the border by foot, as taxis are easily available in Tijuana and the travel distances are not very long.
Plan to be at the border around 2 hours prior to your scheduled appointment.
At the border on the west side of the highway, there is a parking lot and entrance to cross the border by foot into Mexico. The east side is where the U.S. Customs border post is located and is only for people entering the U.S.
Car Parking
Jack in the Box restaurant: Located at 721 E. San Ysidro Boulevard, San Ysidro, CA 92173. Phone: (619) 428-4679
While driving on I-805 South, take the exit that mentions "Last USA Exit" and drive for 0.3 miles. Turn left on Camino de la Plaza and drive for 0.3 miles. Turn right on E. San Ysidro Blvd. and you will immediately see a Jack in the Box. There are numerous parking lots. As soon as you take a right on San Ysidro Blvd., you will see an $8 parking lot. Further, if you take a left at the first stoplight (after you take the right on San Ysidro Blvd.), you will see a $5 parking lot.
If you miss the "Last USA Exit", you still have a chance to make a U-turn. In order to make a U-turn, you will have to be on the right side of the freeway and will probably have to take the exit. If you still miss it, you will end up in Mexico in your own car.

Crossing the Border into Mexico
From the parking lot, you can walk across the bridge to the border. The bridge has steps and can be inconvenient if you are carrying luggage. Just follow the fence (west side of freeway I-5 on a road called "Camiones Way"). At the end of the ramp, you will come across an intersection. Follow the sign for Mexico. After the ramp is over, keep walking on the pavement. You will see a duty-free shop on your right. You may pass police officers with dogs who might sniff you and your belongings. Go through the turnstile. Then, go through another turnstile. You are now in Mexico. Between two turnstiles, there is a tourist information booth, money changers, and travel agencies.
A Mexican visa is technically required to enter Mexico. However, if you are crossing the border on foot, and there is no one to check while you are entering Mexico, it is not compulsory to do so. You might need a Mexican visa if you are flying by air and arriving at the airport.
Alternatively, you can rent a bicycle for $5 for 5 minutes, pedal right up to the bicycle-only lane, and cross the border faster. You can return the bicycle at the U.S. side of the border where the bike rental company has a drop-off point.

Once in Mexico
As soon as you cross the border, you will see many yellow taxis standing around there. Most of the drivers speak English and know what to do because many of them know you are there for your visa. Tell them that you want to go to the hotel. Taxi drivers are generally helpful. They know about the hotels in the area. You must fix the price before you ride the taxi. They quote prices in U.S. dollars. Tipping is not expected but appreciated.
Around Tijuana, Mexico, for U.S. Visa Stamping
Hotel
Hotel Real Del Rio and Marriott are decent hotels that are close to each other in a safe neighborhood. Hotel Lucerna is a couple of blocks from Hotel Real Del Rio.
Some of the hotels have their own designated cabs printed with the hotel logo. In any case, you can ask the hotel to get you a cab.
Hotel Real Del Rio

It is a decent and good-quality hotel. Most of the staff speak English, and they are familiar with people who stay at the hotel for U.S. visa-stamping purposes. They have spacious rooms with good lighting, work stations, and wall-mounted flat-screen TVs with a couple of English channels.
Food
Vegetarian options are quite limited, as most of the food items have meat in them. Even the beans have lard (pig oil).
Hotel Real Del Rio has a decent in-house restaurant with nice breakfast options.
You can also consider visiting Catavina Bar. They serve a nice lunch and dinner.
There are many restaurants within one mile of the Marriott, but none within walking distance. However, the hotel does provide a reasonable selection of food and drinks themselves.

Around Tijuana
Plaza Rio
Within walking distance of Hotel Real Del Rio, directly opposite to the Banamex Bank, you will see a shopping mall called Plaza Rio. It has many restaurants including Starbucks, McDonald's, Burger King, Sanborns Cafe, ice cream shops, etc., and other stores such as Sears. You can get a medium combo meal at Burger King for approximately $6. You may find some good deals on clothes and perfumes here, as well. It is located in an upscale community, and the prices may be higher compared to U.S. stores.
Avenida Revolucion
It is located in downtown Tijuana. From the consulate, it costs $5 in a taxi to get to Revolucion. There is a big arch located in that area. It's not a particularly scenic location, but it's an okay place to kill some time. This is definitely not somewhere to bring children, as it has a lot of shops with bars, clubs, and adult places. Shop wisely, as they will initially quote you outrageous prices—sometimes four to five times the actual value. There is a lot of bargaining. This area has several restaurants such as Burger King, McDonald's, KFC, etc.
Mundo Divertido (Fun World)
This is a family-oriented amusement park on the Avenida Paseo de los Heroes, the Zona Rio's main road. This area has a series of statues celebrating Mexican history.
Consulate Interview for U.S. Visa Stamping in Tijuana, Mexico
The consulate is about a 20-minute drive from the city. It is located in a big building by itself with no other buildings nearby. There is no taxi stand at or near the consulate. However, taxi drivers constantly come and loop around the block a lot of times as they are not allowed to park. If you are driving, please note that no car is allowed to park near the entrance, but you can park a little bit further away.
Approach the security guard outside the consulate around half an hour before your interview time. Let him know about the type of visa stamping you are there for, and he will direct you to the appropriate line. After you enter the building, you will see a small window where you will be asked for your appointment letter and passport. You will be given a token with a number on it.
Next, you have to go through a security check. You are not allowed to take any items such as cell phones, electronics, cigarettes, lighters, food, or any bags inside the U.S. Consulate. There are employees at the nearby parking lot who will hold your items for $5 a piece and give you a token. You can only bring a small bag inside containing all your documents.
Once inside, there is a large waiting area with air conditioning, a water cooler, and a bathroom. There are many interview windows.
If you are there for H-1B visa stamping, you can ignore the token number given at the consulate; there is a special line for H-1B people.
If you are not sure about something, feel free to ask the security guards, who are always willing to direct you through every step.
Mexican staff will later ask to check your documents. They will verify your I-797, passport, and DS-160 and make sure that all the information is correct. If the bar code is not printed correctly, they will have to enter the information all over again.
Next, you will be asked for a quick fingerprint to verify your identity.
Next, you will go through the interview. They may ask to see various documents and ask you various questions.
If your visa is rejected, you will not be able to enter the U.S. again. You will have to fly to your home country from Mexico, which can be a nightmare and very expensive! It can easily cost you $3,000 to $5,000 for a one-way ticket to India from Mexico.
Back to the U.S.A. after U.S. Visa Stamping in Tijuana, Mexico
Back to the Border
Take a taxi back to the border. Before riding in the taxi, confirm the fare. The taxi driver will drop you at the border.

Crossing the Border Back into the U.S.A.
Once you arrive at the border, you will see a long line of people waiting to enter the U.S. Waiting times are approximately 45 minutes or more. There are two security officers at the front of the line.
After you pass them, you will see another massive line. Do NOT immediately join that line, as it is the customs line to enter the U.S. Instead, go to the small building located on the right side and stand in line. An immigration officer will check the visa stamping and its validity. You will get your new I-94 here for a cost of $6. Make sure you have exact change for this $6. Please note, even if you received a new I-94 with your I-797, you will most likely be required to get a new I-94 and pay $6. The customs officer serving you will be able to determine if you need a new one or not.
After getting your I-94, come out of the building and join the U.S. Customs line. As they don't check much, this line moves fairly fast. Show your passport, visa, and I-94 to the customers officer. Then, enter the U.S. and proceed to the parking lot.
Alternatively, you can take a cab to downtown or Revolution Street and take the Mexicoach bus. For $5, they take you to the border, where you can head directly to the front of the pedestrian line.
We are sorry that this post was not useful for you!
Let us improve this post!
Tell us how we can improve this post?