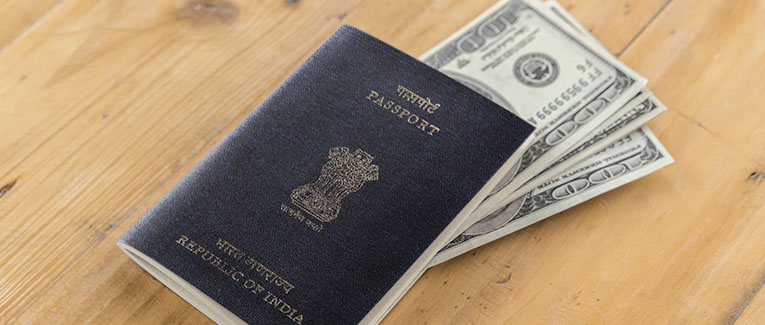 $1 = Rs. 69.55
To apply for a U.S. visa, each applicant, including children, are required to pay a visa application fee. Such fees are also called MRV fees. U.S. visa application fees are non-refundable and non-tranferrable.
Even though the U.S. visa fees are fixed in U.S. dollars, the Indian Rupee equivalent amount of application fee must be paid, and it is subject to change depending on exchange rates.
General information about U.S.A. visa fees
Application Fee (MRV Fee)
The following visa fees apply for nonimmigrant visa application:

Visa Type
U.S. Dollars
Indian Rupees
All non-petition based applications, including, but not limited to,
Business and/or Tourist – B1/B2
Ship/Airline Crew – D
Transit – C-1
Student – F, M
Journalist and Media – I
Exchange Visitor – J
Victim of Human Trafficking – T
NAFTA Professionals – TN/TD
Victim of Criminal Activity – U

Payable in advance to the bank
$185
Rs. 15,143
All petition based applications

Temporary Workers – H, L, O, P, Q, R
Transitional Worker – CW

Payable in advance to the bank
$205
Rs. 16,780
K (fiance) visa

Payable at the Consulate.
$265
Rs. 18430.75
E visa

Payable at the Consulate.
$315
Rs. 25,785
L1 (Not L2) Blanket Visa Fraud Prevention and Detection Fee

Payable at the Consulate.
$500
Rs. 34,775
Biometric Entry-Exit fee for certain H-1B, L-1A, L-1B

Payable at the Consulate.

Blanket L-1 applications for petitions with more than 50 employees in the US and with more than 50 percent of those employees in H-1B or L status. Applies to both first-time and renewal cases.
$4,500
Rs. 312,975
F1 and M1 Sevis Fee (F2 and M2 Exempt)

Pay SEVIS Fee
$350
Rs. 13,910
J1 Sevis Fee (J2 Exempt)

Pay SEVIS Fee
$220
Rs. 12,519
Non-Refundable
U.S. visa application fees are non-refundable.
If you run into any technical issues while paying visa fees, do not make a second payment as it will not be refunded. Instead, send an email to [email protected]
Do not request a chargeback. If you do, your case will be promptly investigated, which may lead to fines and/or other legal action.
Fee Restrictions
Once you make the payment for a U.S. visa application fee, you will receive a receipt. This receipt is valid for one year from the date of payment for the purpose of scheduling an appointment for an interview at the U.S. Embassy or Consulate. You must schedule your interview within that timeframe. Beyond that, you will have to pay the visa fee again.
We are sorry that this post was not useful for you!
Let us improve this post!
Tell us how we can improve this post?