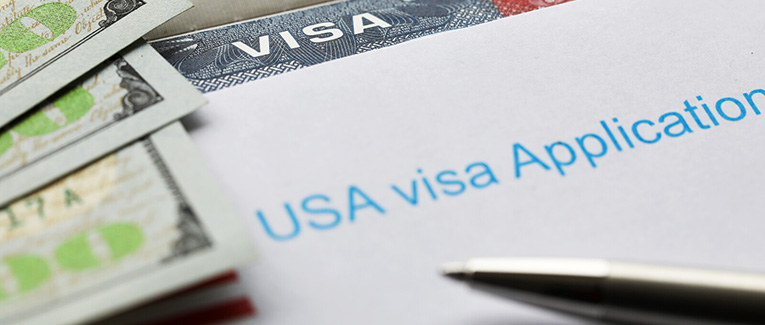 In order to get a nonimmigrant US visa, you will need to pay several fees. Except for very few US visa types, everyone has to pay the visa application fees. Depending upon the visa type and country of citizenship, some applicants may also have to pay an additional issuance fee in case the visa is issued.

Application Fee (MRV Fee)
The following visa fees apply for nonimmigrant US visa applications. Each applicant, including children, is required to pay a non-refundable and non-transferrable visa application fee. This fee must be paid irrespective of whether a visa is issued or not.

Visa Type
US Dollars
All non-petition-based applications, including, but not limited to:
Business and/or Tourist – B1/B2
Transit – C-1
Ship/Airline Crew – D
Student – F, M
Journalist and Media – I
Exchange Visitor – J
Victim of Human Trafficking – T
NAFTA Professionals – TN/TD
Victim of Criminal Activity – U 

 

 

$185
All petition-based applications

 

 

Temporary Workers – H, L, O, P, Q, R

$205
Additional fee for certain H-1B, L-1A, L-1B applicants

 

 

Applicants for H-1B, L-1A, L-1B visas need to pay an additional $2,250 if the petitioner has more than 50 employees in the US and has more than 50% of those employees in H-1B or L (including L-1A, L-1B, and L-2) status. This applies to both first-time and renewal cases.

$2,250
Fiancé/Fiancée – K visa
$265
Treaty Trader/Investor, Australian Professional Specialty – E visa 

 

 

Payable at the Consulate.

$315
L1 (Not L2) Blanket Visa Fraud Prevention and Detection Fee
$500
Biometric Entry-Exit fee for certain H-1B, L-1A, L-1B

 

 

Payable at the Consulate.

Blanket L-1 applications for petitions with more than 50 employees in the US and with more than 50% of those employees in H-1B or L status. This applies to both first-time and renewal cases.

$4,500
F1 and M1 Sevis Fee (F2 and M2 Exempt)

 

 

$350
J1 Sevis Fee (J2 Exempt)

 

 

$220
Diplomat passport holders, applicants for A,G, C-2, C-3, NATO, and US Government-sponsored J visa
None (zero)
Border Crossing Cards (Age 15 and older)
$185
Border Crossing Cards (Under age 15)
$17
The current fees have a two-tiered fee structure for nonimmigrant visas. Petition-based applications are charged a larger fee because they require significantly more processing than non-petition-based applications. The rate difference is for improvements in the manner and speed with which visa applications are processed, and in particular for fraud-detection efforts. The total fee covers the cost of accepting, adjudicating, and issuing nonimmigrant visa applications.
Certain categories of US visa applicants are exempt from paying the visa application fee.

US Visa Issuance Fee
Issuance Fee: The Issuance Fee is based on the reciprocity and differs by the nationality of the applicant. This fee is refundable if the visa is refused. You need to carry the fee with you when you go for your visa interview.
Issuance fee schedule for various countries
Furthermore, applicants applying for the following types of visas do not have to pay this fee for applicants from any country:
A-1: Diplomatic employees
A-2: Officials or employees of foreign governments
C-1: Transit Visa, for passing through at a US airport or seaport
C-1/D: Crewman
F1, F2, J1, J2, M1, M2: Students
G: Employees of international organizations who are representing foreign governments
T: Women and children who are in the United States because they are victims of human trafficking

Visa issued: You must pay the issuance fee immediately at the appropriate counter in the consulate/embassy. The visa will not be issued without this fee. Once the visa has been issued, the issuance fee is non-refundable.
Visa refused: Go to the bank where you purchased the demand draft to cancel and claim the money back.

Country-Specific US Visa Fee Information
We are sorry that this post was not useful for you!
Let us improve this post!
Tell us how we can improve this post?