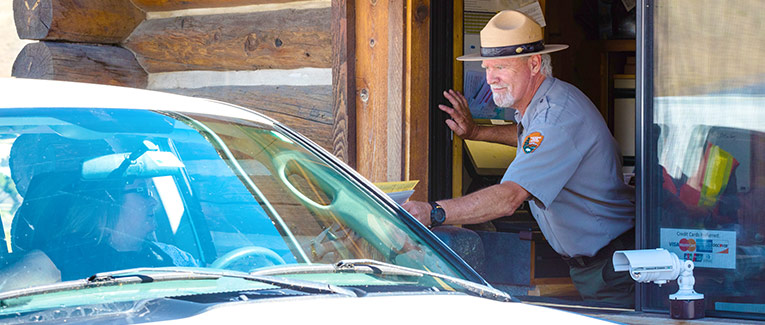 Visiting national parks isn't just an American tradition. For over a century, travelers from all over the world have flocked to U.S. National Parks to explore snow-capped peaks, magical coral reefs, pristine grasslands, and immense deserts.
A trip to any one of the 423 national parks in the U.S. is adventurous, educational, and soul-satisfying. What makes it even more rewarding is that you can visit most of them for free.
Golden hacks for free entry to national parks
Entry to a U.S. national park usually costs between $5 and $35. You can get around the admission fee and save money by using these hacks:
1. Plan your trip during national parks 'free days'
To promote tourism, the U.S. National Park Service allows visitors free admission to national park sites on select dates. These fee-free days typically change every year. You can access this information by visiting nps.gov – the official website of the U.S. National Park Service.
2. Head to a zero-fee national park
About 307 national parks in the U.S. don't charge any admission fee. Great Smoky Mountains National Park, one of the most popular national parks in the U.S., offers free entry to all visitors year-round. Here are some other famous national parks you can visit without having to pay an admission fee:
While there's no admission fee at these national parks, be mindful of the costs of getting there, parking, lodging, and other activities. You can only reach the Gates of the Arctic National Park by a bush plane. A trip to Channel Islands National Park will require you to charter a plane or boat, or arrange a kayak.
Research will help you identify the various costs involved in visiting a particular national park. You can also look for cheaper alternatives. Buying your own kayak or renting one well in advance can be a lot more economical than purchasing or renting one on location. If you have friends who've visited before, they may have some tips for you.
3. Use a special pass
A special National Park Pass under the America the Beautiful pass series covers the admission fee, day-use fees, and the standard amenity fees. It allows free admission to 2,000 sites, including many popular national parks and wildlife refuges. Based on your eligibility, you can apply for the following passes:
• U.S. Military Pass
If you're actively serving in the U.S. military, you're eligible for a U.S. Military Pass. This pass allows all military personnel and their dependents year-round free entry into the country's national parks.
• Access Pass
U.S. citizens and permanent residents that have a permanent disability are eligible for an Access Pass. This pass allows free entry into U.S. national parks and is good for a lifetime.
• Senior Pass
If you're a U.S. citizen or permanent resident and over 62 years of age, you're eligible for a Senior Pass. The pass comes with lifetime validity and can be purchased at an annual cost of $20, or a one-time cost of $80. It's not really free, but it is quite a bargain.
• Volunteer Pass
Anyone with 250 volunteering hours with a federal agency that participates in the Interagency Pass Program is eligible for a Volunteer Pass. The list of participant agencies includes the Bureau of Land Management (BLM), Fish and Wildlife Service (FWS), U.S. Army Corps of Engineers, Bureau of Reclamation, USDA Forest Service, and National Park Service (NPS). This pass comes with 12-month validity.
• Fourth Grade Pass
A Fourth Grade Pass allows all fourth-grade students in the U.S., as well as all 10-year-old home-schooled kids, free access to every National Park Service site that charges entrance fees and day-use fees. The pass also covers the kids' families, and is valid for the full duration of the fourth-grade school year (September to August).
• Annual Pass
Not eligible for any of the aforementioned Special Passes? Don't worry, the Annual Pass is available to all who wish to experience the wonders of the U.S. national parks. The Annual Pass isn't free, but at $80, plus $5 for processing and handling, it's a great deal.
You can apply for these passes and glean further information at nps.gov. Note that these passes allow free entry to the pass owner and up to three co-passengers. They must be traveling in a single, private vehicle, and will be required to provide photo identification at the park's entrance. Also, all Special Passes are nontransferable and nonrefundable.
Tips for getting the most out of your national park visit
Being amongst the country's most popular tourist attractions, national parks are almost always crowded. This high demand can cause a surge in the costs of traveling, lodging, and other activities. Here are some tips you can use to get the most out of your visit without breaking the bank:
1. Book your lodgings in advance
Planning on spending a night in a national park? Make your reservations as soon as you're done finalizing the trip's details. Lodgings and campsites located in national parks can sell out in a hurry. If you wish to grab a good camping spot, reach the National Park early in the day.
Most lodgings and hotels located close to national parks are quite pricy, more so during the peak season. Aim for popular chain hotels in nearby towns where you can use your hotel points. This will help you keep lodging costs manageable.
2. Schedule your trip in shoulder season
Shoulder season – the period between peak season and the offseason – is ideal for budget-conscious tourists. Depending on the time of the year that you want to travel, you can find at least a few National Parks whose location and weather conditions are good for a visit.
The high tourist influx during the peak season and holidays causes a huge surge in costs of everything from accommodations and food, to adventure sports and other activities. A visit during shoulder season will help you enjoy the natural wonders minus multitudes and over expenditure.
3. Buy travel insurance
If you don't have travel insurance, or your policy doesn't cover trip cancellation, natural disasters, and medical emergencies suffered while traveling, it's essential you buy a travel insurance policy that covers these situations. If you're interested in partaking in extreme sports, make sure to check whether those activities are covered by your insurance policy.
U.S. National Parks are some of the world's most rewarding and unforgettable tourist destinations. With these hacks, you can look forward to savoring all their offerings for less expense.
We are sorry that this post was not useful for you!
Let us improve this post!
Tell us how we can improve this post?