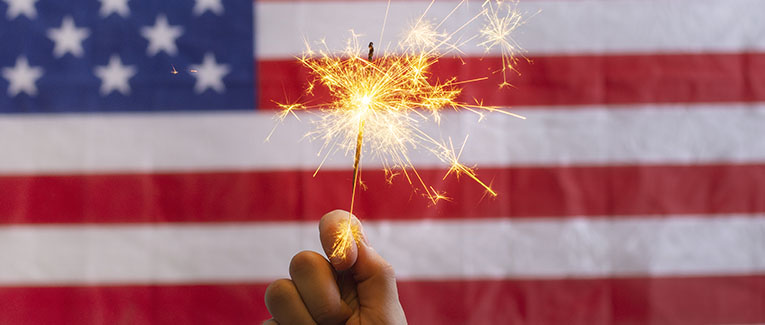 This article covers the widely observed federal holidays in the U.S.
Let this article be your chaperone to the federal holidays enjoyed by all U.S. residents.
Before we begin, you should know that the U.S. is a true federation. Not all federal holidays apply to every state. The U.S. Congress has designated the following holidays as the major ones. Do not confuse them with "national" holidays. The listed holidays are widely accepted by most U.S. states.
January
New Year's Day (January 1)
For the U.S., this day is a bit tumultuous, given the colonial roots of the country. The African-American population (then slaves) used to spend this day in apprehension of their fate.
On a brighter note, the modern New Year's Day is a day of togetherness. Americans join the world on embarking on a New Year. Festivities begin on December 31 and continue into the wee hours of the morning.
Martin Luther King Jr. Day (third Monday in January)
Martin Luther King Jr. was a civil rights activist famed for fighting against racial discrimination against African-Americans. An epitaph is not enough to capture Martin Luther King's eminence and significance. This day commemorates an incredible scholar and minister who played a big role in shaping today's America.
Inauguration Day (January 20)
Inauguration Day occurs every four years. This day marks the swearing-in ceremony of the President of the United States. It thus signifies the commencement of a new Presidential tenure.
A small political lesson, if you are unaware: America has a federal political setup with an elected Head of State, the President. Presidents are elected for four-year terms and can serve a maximum of two terms (8 years total).
Presidents who are elected to a second term still hold an inauguration ceremony in which they are officially sworn in.
February
Presidents' Day (third Monday in February)
The third Monday of February marks George Washington's birthday. The holiday is also widely known as Presidents' Day. This day was a celebration long before Congress declared it as a federal holiday.
George Washington, the first President of the United States, has numerous feats to his name. Being considered one of the founding fathers of the U.S. Constitution, is merely one of them.
He was the general of U.S. forces in the American Revolutionary War. This ultimately pushed him to become the first President of the United States. He was also a heavy influence in ratifying the U.S. Constitution at the U.S. Constitutional Convention in Philadelphia, Pennsylvania, in 1787.
May
Memorial Day (last Monday in May)
This particular day is always celebrated on the last Monday in May. It's a day to honor U.S. military personnel who were killed during the course of service to their country.
Its origin dates back to the Civil War, which filled the most graves in the country's history. This led to the establishment of national cemeteries. Every Memorial Day, the living visit these graves as a mark of respect.
July
Independence Day (July 4)
NOTE: In 2021, July 4 falls on a Sunday. A public federal holiday falling on a weekend usually gets compensated by shifting the date to a Friday or a Monday. This takes place to compensate for the pay and leave of employees.
There's no way you haven't heard of the 4th of July. Independence Day fanfare is as popular as the American hamburgers.
This day marks the passage of the American Declaration of Independence. The significance lies in the fact that this paved the way for the birth of a true democracy.
September
Labor Day (first Monday in September)
If you are part of the U.S. workforce, this holiday might please you. This day off from work marks the social and economic achievements of American workers (modern-day employees).
You could say this day is the American equivalent of May 1, which is Labor Day both in India and the rest of the world.
The founder of this day is controversial, but two names are synonymous with Labor Day: Matthew and Peter Maguire both held prominent positions in labor unions.
October
Columbus Day (second Monday in October)
This date is also variable, falling on the second Monday of October.
Traditionally, this was the day Christopher Columbus arrival in the Americas. This came at the cost of cornering the Native American population. Over time, an alternative to this "colonial" holiday has emerged. It is also celebrated as Indigenous People's Day.
November
Veterans Day (November 11)
Veterans Day is often confused with Memorial Day. While Memorial Day is for fallen soldiers, Veterans Day celebrates all current and former members of the U.S. Armed Forces. You might come across poppies sold as a sign of remembrance on Veterans Day. A ceremony takes place on this day at the Tomb of the Unknown Soldier in Fort Myer, Virginia, every year.
Thanksgiving Day (fourth Thursday in November)
Who doesn't know about the famous turkey roast holiday?
Given the much shorter history of the U.S., Thanksgiving holds great significance. Americans trace its origins back to the first meal between the English pilgrims and Native Americans.
The famous meal of turkey, stuffing, mashed potatoes, and gravy is a good blend of two cultures. They continue to be an integral part of the Thanksgiving meal, along with cranberry sauce and pumpkin pie.
Thanksgiving has evolved into a treasured family festival. If you get invited, do visit your host's home for a heartwarming experience.
December
Christmas Day (December 25)
Must we elaborate on this festival? Christmas gets celebrated worldwide, but perhaps the pomp is greater in the U.S.
Thanksgiving gives way to Christmas and makes for a harmonious holiday season. It will be cold. It might not be biting cold, but definitely colder than November in other parts of the world.
Irrespective of your religion, you should go Christmas shopping. Enjoy your community, and visit the major spots around the city to bask in the sights, sounds, and smells of Christmas.
Depending on your resident state, more holidays might exist. You can research holidays that might be unique to your state.
We are sorry that this post was not useful for you!
Let us improve this post!
Tell us how we can improve this post?