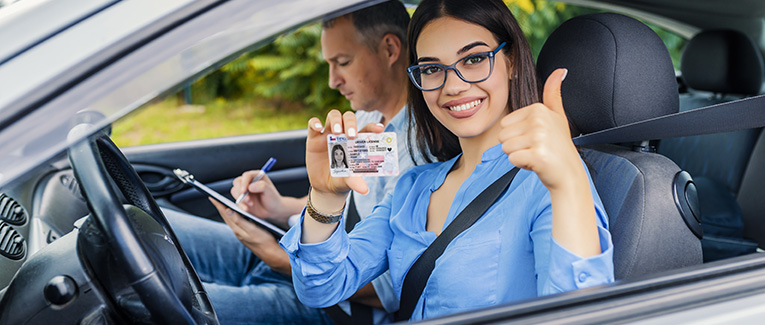 A driver's license is a very important document in the United States. It is typically the same size as a credit card. A driver's license allows you to operate a motor vehicle legally. Without a driver's license, it is illegal to operate a motor vehicle. Driver's licenses are issued by each state in the United States. The rules and regulations vary in various states. However, a driver's license issued from any state in the United States allows you to drive anywhere in the U.S. and Canada. Since the public transport system is only good (or reasonable) in some major cities like New York, most people need to drive a car. Driver's licenses are issued by a particular state's Department of Motor Vehicles (DMV), which is similar to the RTO (Regional Transport Office) in India. In some states, it may be called something other than the DMV. For example, it is the Registry of Motor Vehicles in Massachusetts and the Department of Public Safety in Texas. Please refer to DMV.org, an excellent unofficial guide to DMV rules in different states.
Since the United States has no national identification system, a driver's license is commonly used for identification. Because most people drive car in the U.S., the driver's license has become the standard use for photo ID. If you are writing a check for payment at stores, boarding a domestic flight, buying tobacco or alcohol, visiting bars or dance clubs where alcohol is served, you are required to present a photo ID. Many places accept only a valid U.S. driver's license as valid photo identification and not a passport. The DMV can also issue you a photo ID that looks similar to a driver's license, but you can't operate a motor vehicle with it.
Most people get a basic driver's license to operate a car. There are separate licenses for motorcycles, taxis, buses, or trucks. Some states issue driver's licenses with vertical orientation to people under the age of 21 to easily identify whether the person is of legal drinking age. In these cases, it also specifies the date the person will turn 21. Some states may print the picture on the right for drivers under 21 rather than the left. Some states write "Under 21" in bold red. Some states may give licenses of different colors to people below the age of 21. Some states show a picture of a small heart, or the term "Organ Donor" is printed on the driver's license, to indicate that he/she has agreed to donate his/her organs in case of a sudden death (an example would be a car accident). The minimum driving age is different in each state and may vary from 14 to 18 years. However, in most states, it is around 16 years. Many states have stopped printing social security numbers as driver's license numbers due to identity theft concerns. Driver's licenses generally have a license number, photograph of the person, copy of his/her signature, name, date of birth, address of primary residence, the type or class of license, restrictions and/or endorsements, and physical characteristics of the persons such as height, weight, and eye color.
In order to get a driver's license, you must generally follow these steps:
Get a Driver's Manual:
Either visit the DMV in person or go to their website and download a driver's manual. It describes the rules and regulations for operating a motor vehicle. It also has many diagrams and photographs that illustrate various rules.
Social Security Number:
Some states require you to have a social security number before you can get a driver's license. If you are not eligible to get a social security number (e.g., because you are on an H4 visa), you will need to get a letter from the SSA and apply for an ITIN (Individual Tax Identification Number). Some states may accept an ITIN, while others simply won't allow you to get a driver's license until you have a social security number.
Written Test:
Once you are confident that you have learned the written rules for driving, go to the nearest DMV to take a written test. You may either have to make an appointment, or you may be able to walk in during normal business hours. The test generally contains multiple choice questions (A, B, C, D). The test is usually on a computer as paper based test is rarely used. Generally, there is no time limit to answer the questions. When you go to the DMV, you will have to show proof of your identity, which can be your foreign passport, I-94 card (nonimmigrants), or a green card stamp (new immigrants). Sometimes, after you have given the correct answers to the minimum number of questions required to pass the test, the computer may stop asking you questions. In a computer-based test, you will know your score immediately. In a paper-based test, an employee at the DMV will look at your answers and tell you the score. Once you pass the test, you will be given a learner's permit allowing you to operate a car only if a licensed driver is sitting next to you. A learner's permit is required to take driving lessons. Duration of the validity of your learner's permit may vary by state.
Driving Lessons:
Even though you might have driven a car in your home country, it is still a good idea to take driving lessons. You can either go to a private teacher or to a driving school. Private teachers will usually cost less than driving schools. They will charge money on an hourly basis. Driving lessons allow you to get used to driving in the U.S., its rules regulations, parking, etc. Moreover, you will feel more confident about driving. Driving and parking rules are totally different in the U.S. compared to many other countries. Lessons will also help you pass the driving test and become a safe driver. Make sure to do a lot of practice for parallel parking as a lot of people fail in that section of the road test.
Road Test:
Once you are comfortable driving on U.S. roads, you will have to take the road test at the DMV. Again, it may either be a walk-in, or you may have to make an appointment. In some states like New Jersey, there may be a few weeks' waiting period to get an appointment. You will go to the DMV with your learner's permit. The car that you will use for your road test must have proper liability insurance. All controls, including indicator lights, brake lights, horn, etc., must be in working condition. Otherwise, you will not be allowed to use that car for a road test. An inspector will sit next to you and ask you to drive. He/she will check your various driving and parking skills. After the test, the inspector will immediately tell you the result. If you have made mistakes, they will generally explain them to you so that you can correct them later. If you passed the road test, you can go inside the DMV and get your driver's license, which is immediate in most states. In some states like Texas, you may receive a temporary paper license with no photo ID. It will allow you to drive a car, but the original license will come in the mail, which may take around two weeks. In other states like Virginia, you will get the driver's license instantly. If you fail the test, generally, there is no minimum waiting period to apply again. However, if your DMV requires an appointment for the road test, there may be a delay. Either way, don't try to take the road test again until you have worked on the mistakes you made during your original test.
Driver's License:
You will be required to pay a fee for your driver's license. You will also have to show proof of identity with a photograph, as well as proof of your date of birth. Be sure to bring proof of identity, like your foreign passport, I-94 card (nonimmigrants), or a green card stamp (new immigrants). In some states, you must provide proof of legal status in the U.S., which is usually your I-94 form. You may be given a driver's license that expires on the day your legal stay expires in the U.S. As described above, you may also require a social security number. You will have to provide proof of residence in the state in which you are applying. You can provide utility bills, a copy of an apartment lease agreement, etc.
In some states, you will also be required to provide proof of liability insurance. However, most insurance companies give insurance to a particular car and not to particular drivers. If you don't have a car, most companies won't give insurance. Some companies may give "non-owned" car insurance that gives insurance to a particular driver and not for a particular car.
Finally, before getting a driver's license, you will be required to take a vision test. There are vision testing machines located at each clerk's desk. Once you put your forehead against the machine, you will be asked to read specific lines located on the screen. If you normally wear glasses, you can wear them during the vision test. However, there will be a notation on the driver's license that you need glasses. Make sure to wear glasses appropriately while driving a car. Otherwise, you may be in violation of the law.
Your photograph will also be taken at the DMV and will be digitally printed in the driver's license.
International Driver's Permit:
Some states recognize an International Driver's Permit and/or the regular license from your country and may allow you to drive on that license, or they may allow you to skip some of the requirements listed above. It is extremely difficult to get car insurance on non-U.S. driver's licenses, though.
Always ensure that your full Name in your International Driving License & your country's driving License matches with that of your passport.

We are sorry that this post was not useful for you!
Let us improve this post!
Tell us how we can improve this post?