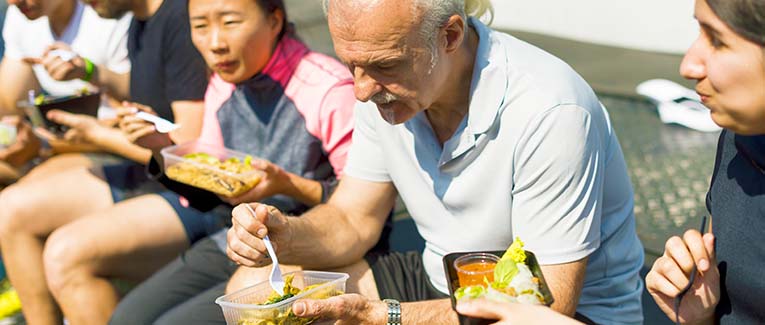 Happy hours aren't the only way to snatch up some free food while traveling.
From donation-based restaurants to free food apps and mystery shopping, here's everything you need to know about eating free (or at least cheap) on your next vacation.
Save Money on Food by Choosing the Right Hotel
While booking, look for hotels that:
Include kitchens in their rooms – Staybridge Suites, Homewood Suites, and TownePlace Suites are just a few of the hotel chains that come with kitchens or kitchenettes. Perfect for fixing up a simple meal.
Offer free breakfast or dinner – Best Western hotels offer free breakfast. They also provide free dinner and cocktails (on weekdays) at specific Best Western Navigator Plus locations. Comfort Inn and Suites offer complimentary breakfast bags and free dinner at chosen locations.
Host happy hours – Look up hotels like the Catalina Hotel & Beach Club in Miami to sip on free cocktails at the hotel bar between 7:00 and 8:00 P.M. At Hotel Lucia in Portland, you can indulge in locally produced craft beers between 5:30 and 6:30 P.M. for no charge.
Free Local Events
Scout for events like state fairs, gallery openings, music festivals, neighborhood street parties, etc. using apps like:
Eventbrite
Time Out
All Events in City
Many of these events will have free (or cheap) food and drinks available from vendors.
Tip:
Most restaurants and retailers offer free food, coupons, and promo codes on national holidays in the U.S.
Fish Around for Free Bar Snacks
Did you know that many places in Spain have a tradition of serving free tapas?
Just order a beer, wine, or a wine-based drink (cocktails don't qualify for free tapas). And watch the plates of tapas flow! The tapas can be anything from bread with jamón, queso, and olives, to croquetas, tortillas, and patatas bravas.
Why pay for the main course when you can have free bar snacks like these?
Tip: Google "free bar snacks" in your area, before you head out for a meal.
Dine at Donation-Based Restaurants
Feast on some delicious food. Pay what you want. Or if you can't, volunteer for an hour or so.
Sound good? Then, pay-what-you-want restaurants are right up your alley!
A few donation-based restaurants include:
Der Wiener Deewan, Vienna: A Pakistani restaurant serving a scrumptious all-you-can-eat buffet. Courses include five curry dishes, two meat dishes, and three vegetarian options
The Land Split, Pai, Thailand: Pamper your tastebuds with amazing produce including baked sweet potatoes, fresh Roselle juice, unlimited roasted peanuts, plantain chips, and alcohol
Seek Out "Kids Eat Free" Restaurants
Even if you can't get some free food, your kids sure can!
Dozens of restaurants offer freebies for kids, including:
Captain D's Seafood Kitchen: Kids eat free on Thursdays. Up to two kids get a free meal per paying adult
East Coast Wings: Kids eat free on Wednesdays from 3:30 P.M. to close, one per adult entrée
T.G.I.Friday's: Free food for kids on Mondays and Tuesdays
Tip: Google "kids eat free" deals or check out mykidseatfree.com for free deals in your area.
Yelp for Free Food
Look for check-in offers on Yelp
Scan through the various cafes, restaurants, breweries, or whatever you're in the mood for
Check-in and redeem your freebies!
Let Everyone Know You're Celebrating
What better excuse than your birthday or anniversary to score some freebies at a restaurant?
Don't feel shy! Tell your server that it's your big day and you might just get lucky. A free dessert, maybe?
Here are a few restaurants that offer some great freebies for diners on their birthdays:
Krispy Kreme: Free doughnut
Del Taco: Free premium shake
Black Angus Steakhouse: Free steak dinner
P.F. Chang's: Free Dessert or Appetizer
Be at the Right Place, at the Right Time
Hang around a bakery at closing time and you might get a great deal on those last few Danishes.
Or if you're an early bird, head out to the bakery near opening time for some cheap one-day-old bread.
Download Free Food Apps
This is the easiest way to score some free food!
For instance, Panera Bread runs different promotions every month. You could get a free bagel today, or a free coffee next month.
Most restaurant chains offer freebies and sweet deals on their apps, including:
Burger King
Chili's
McDonald's
Wendy's
Auntie Annie's
Look for Free Food Samples
For your free food sample fix, pop by:
Farmer's markets
Retailers like Walmart, Costco, Target, etc.
Local grocery stores
Bakeries, ice cream parlors, etc.
Or do it from your couch, using apps like:
Freeflys
Free Stuff Times
Bzz Agent
FreakyFreddies.com
Try Leftover Food Apps
What if you could get a perfectly safe discounted meal, and fight against food waste while you're at it? Try these apps:
Olio: Browse through surplus food items that restaurants, hotels, and other users have posted and pick them up for free.
Flashfood: Get amazing deals (up to 50% off) on grocery items at your nearest location.
Too Good To Go: Order a "magic bag" of surplus food at a reduced price from any of the stores and restaurants on the app.
Take Surveys to Earn Gift Cards
Did you know you can earn restaurant gift cards just by taking short surveys? Here's how you do it:
Join survey sites like Swagbucks, MyPoints, MySoapBox, Toluna, etc.
Receive surveys from time to time
Answer them
Earn points and redeem them for restaurant gift cards
Use your gift cards for free meals at restaurants like Applebee's, Starbucks, Subway, and more
Become a Mystery Shopper
As mysterious as it sounds, it's pretty straightforward.
So, how does 'mystery shopping' work?
Sign up with a couple of mystery shopper websites like Coyle Hospitality, A Closer Look, BestMark, etc.
Get assignments to dine at specific eateries.
Pretend to be a normal customer and have a meal there (the company will reimburse this meal).
Report back to the company on various features of the restaurant like cleanliness, attitude of the server, quality of the service, etc.
If you're lucky, you might find yourself getting a succulent meal for free.
Pro Tips to Save Money on Food While Traveling
Stock up on 'ready-to-eat' foods like nuts, biscuits, cereal, dry soup mixes, etc., before you leave for your trip.
Get dining tips from the locals – Fellow passengers on trains and buses, local friends, bartenders, and baristas are your best sources.
Ditch those overpriced restaurants and opt for some mouthwatering street food instead. Look out for stalls that are brimming with customers, so you're assured of good, safe food.
Sign up for a peer-to-peer dining program like Traveling Spoon to enjoy a good home-cooked meal, minus the taxes and service charges.
Carry a reusable water bottle. Bottled water = Bad for the environment, and your wallet.
Hunt for coupons and deals in local newspapers and magazines and also apps like Groupon, LivingSocial, and Valpak.
Let your cousin or school buddy know you're in town. Who knows? They might invite you over for dinner.
Purchase travel insurance before your trip to help protect your bank account from unexpected travel or medical-related expenses.
While Eating Out
Go out for lunch instead of dinner, as it's usually cheaper.
Eat out on weekdays instead of weekends.
Go vegetarian for the good of your health and your wallet.
Skip desserts whenever you can.
Choose local beer and wine over expensive cocktails, and only have one or two drinks.
Let the free food revelry begin!
We are sorry that this post was not useful for you!
Let us improve this post!
Tell us how we can improve this post?